Snow shovel - how much does it cost, what kind to buy ? What model ?
2023-10-14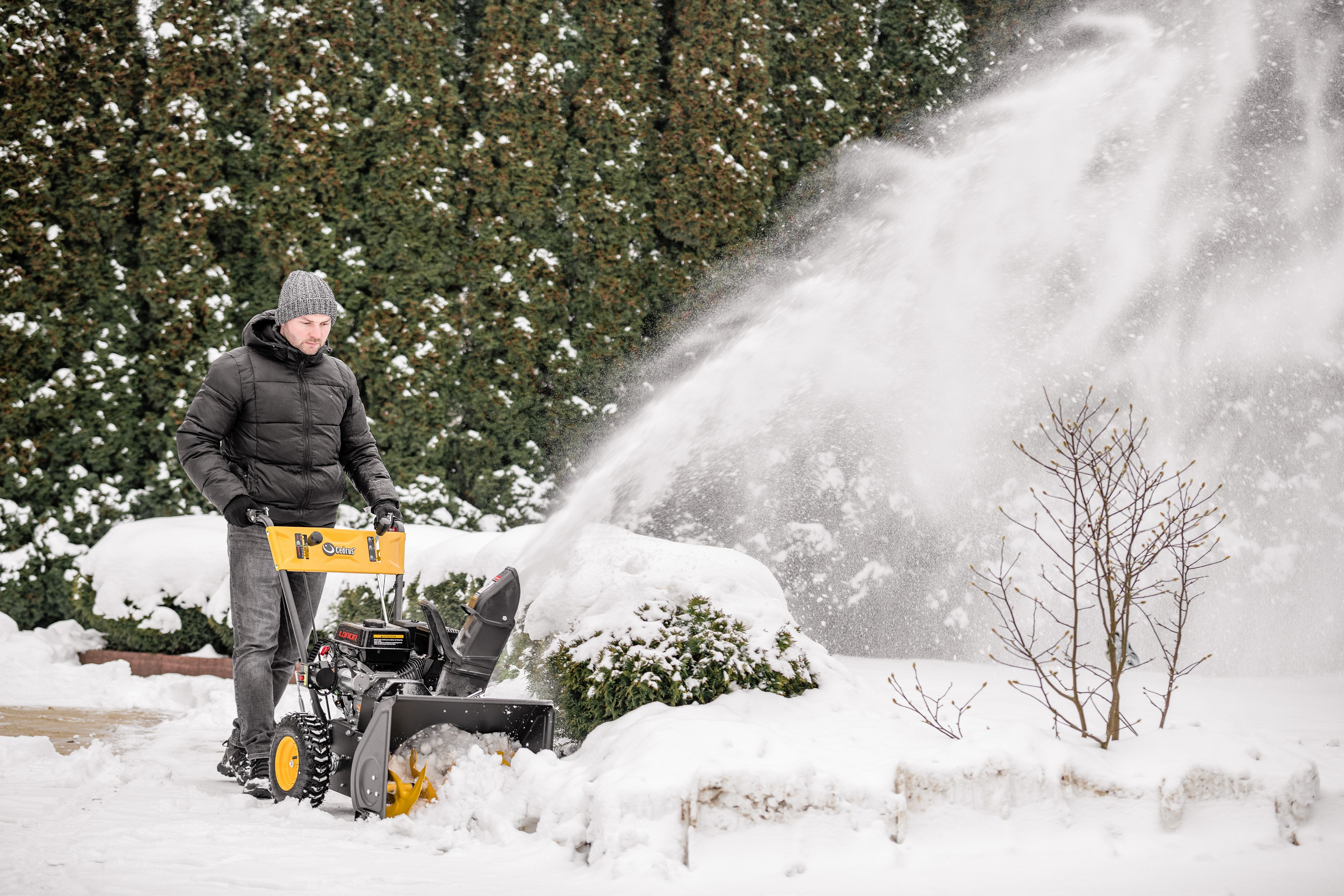 Snowblowers - which one to choose?
Shoveling snow from a property is not one of the most pleasant cleaning jobs, especially if the snowfall is intense and frequent.
Then the best solution may be to buy a snowblower, a device used to shovel the white fluff off the pavement. 
Its use will greatly facilitate and speed up the cleaning work on the property.
Diesel snowblower - what to look for when looking for a snowblower and snow sweeper?
You never know if winter will surprise us with snow, or if it will be warm. However, it is better to be prepared for snow removal. Diesel snowblowers and sweepers will help, replacing the snow shovel. There are quite a few models of diesel snowblowers for sale. We suggest how to choose a diesel snowblower to suit your needs.
Diesel snowblower - what it is?
Diesel snowblowers is the type of garden equipment that makes life easier in the winter months. The device should be especially appreciated by those who have a large area for snow removal - long driveways, or the access road from the main street to the house. Shoveling snow with a snow shovel in such situations is not only very tiring, but also takes a lot of time. The diesel snowblower answers these two problems. You don't have to get up at the crack of dawn to shovel your driveway and leave the house for work - with a snowblower you can do it very quickly and virtually effortlessly.
Electric or diesel?
Who said owners of small driveways have to fan a shovel? You can make this task easier for yourself by buying a small electric snowblower. The biggest advantage of electric snowblowers is that they are quiet. Your neighbors will certainly appreciate it when you're shoveling snow from your driveway at 5 a.m. The second advantage is power supply - you plug in and go. Gasoline can always run out at the least opportune moment. Electric snowblowers are cheap, so as long as you do not have to face a huge area and do not mind the cable, their purchase will be a good solution. They are also lightweight, so you can easily carry them down the basement stairs. With a combustion engine it may be harder.
Diesel snowblowers in turn have other advantages. First, do not have a cable, so you are not dependent on the presence of an outlet. It's hard to imagine clearing snow from a 100-meter-long vehicle with an electric snowblower, pulling an ossified cable. Second - are more efficient. Petrol mowers have an engine of 150 to 350 ccm, so they can quickly clear large areas of snow. They are also capable of throwing snow over a longer distance, which makes the job easier because we don't have to shovel the same snow over and over again. Which snowblower to choose - petrol or electric? Here the principle is similar to that of lawnmowers. Of greatest importance is the area you intend to clear snow, the availability of electricity and... your own tastes.
What to look for when buying a snowblower? top 10 parameters, features, equipment and recommended models
Snowblowers - Which Snowblower to Choose? Allaying Doubts !
In recent years, we have undoubtedly had gracious winters. However, this does not change the fact that massive snowfalls can come at any time, after all, as is well known - they always surprise road builders. In a particularly poor situation are those who need to clear snow from a large acreage or, for example, an exceptionally long driveway to a residence. However, there is a way around this - a snowblower. How to choose the best?
Snow rejoices the hearts of children and skiers, but does not necessarily please homeowners. They will again have to contend with snowdrifts. Unless they get their hands on the latest effective snow removal equipment. Then fighting the white element can make it fun for them too. Diesel snowblowers will help get rid of the white problem quickly and effectively. There is no faster or more convenient way to shovel snow.
Diesel snowblowers
Among snow removal tools and equipment, the following are becoming increasingly popular diesel snowblowers. These are devices that remove snow from the pavement. Metal auger feeders of the best models crush and break up even compacted and icy snowdrifts. The snow is quickly raked and directed to the nozzle (chimney), which throws it several meters. Unfortunately, weaker snowblowers can only handle relatively loose snow. A decent snowblower has a powerful 5.5 hp engine. It is equipped with wheels for comfortable movement and a handlebar somewhat similar to a motorcycle handlebar. If you have a large plot of land, you can buy a motorized snowblower, you will not have to use force to push it. This is a useful option when the snowblower will be equipped with a plow, because then it is easier to pave the way through deep snowdrifts. Another convenience, common in expensive and large snowblowers, is the power steering mechanism.
You can also find special snowblowers for paving stones in stores. They differ from ordinary ones in that their screw feeders are rubberized and thus do not scratch the pavement. Many snowblowers are multifunctional devices. They have interchangeable accessories. The feeder can be replaced with sidewalk sweeping brushes or a snow plow can be installed instead.
Diesel snowblowers. How to choose a snowblower?
Snowblowers are becoming more and more popular every year. Quickly remove snow from parking lots, driveways, sidewalks and yards. In combustion machines, metal auger feeders crush the beaten snow fragments and convey them through a chimney in the direction of our choice. On the other hand, quiet and environmentally friendly cordless or electric machines are cheap, lightweight and will work well in any home garden. What machine to choose and what to look for when buying it?
Drive
Basic electric snowblowers have no drive. We set them in motion manually. It won't cause us any trouble, since they can't be used to clear snow too high anyway. They are used for clearing a maximum of several centimeters of snow. They work best on a hardened surface, for example, on concrete or paving stones.
Motorized lawn mowers are slightly more convenient and both diesel and electric models have them. An additional advantage is studded tires, which easily bite into the ice. Diesel snowblowers are heavier, so they necessarily have better traction than electric ones. The heaviest diesel snowblowers are equipped with tracks instead of wheels. However, it is already equipment for the most difficult tasks.
One, two, three rotors?
Basic snowblowers have one rotor. It is used to simultaneously shredding snow and for its dumping. As is not difficult to guess, the effectiveness of such a solution is limited. For this reason, the more expensive snowblowers use two rotors. One of them rakes and shreds the snow, while the other dumps it. Over a much longer distance, of course. The best snowblowers have even more rotors, so they are able to throw a stream of snow up to several tens of meters.
Two types of diesel snowblowers
Single-stage snowblowers - smaller, equipped with a weaker engine, intended for owners of small properties. Their auger feeder scrapes the snow and immediately passes it to the nozzle, which is removed to the side.
Two-stage snowblowers - are larger, have more powerful engines and are even suitable for wet or frozen snow. Their efficiency is also higher. Between their screw feeder and nozzle there is still a rotor ejector, rotating at high speed. It shreds the snow before it is removed.
Width and height of the collector
The width of the picker obviously affects the rate of snow removal. The bigger, the better. Most diesel snowblowers have pick-ups with a width of 50-90 centimeters, while electric may have less. But it's not just the width that's important. It is also worth noting its height. Ideally, it should be a minimum of 30-40 centimeters in height. With a 20-centimeter-high picker, you won't clear a high snowdrift, and a simple shovel and muscle power will come into play. When choosing the height of the cutter, don't just suggest the amount of snow that most often piles up on your driveway. Keep in mind that as you accumulate more layers of snow, there will be more and more of it, so you will have to face a solid snowdrift when crossing the final lanes. Well, unless you are only clearing snow from a narrow strip of land.
Outlet nozzle adjustment
Basic snowblowers have only left-right adjustment, usually in 180 degrees. This is sufficient solution when they usually can't throw snow a long distance anyway. In more powerful snowblowers, however, you have to control the snow stream. This is done by adjusting the outlet, through which you determine how far it should be ejected. This helps create snow drifts more precisely and helps nurture inter-neighborhood relations. After all, no one would be happy with their neighbor's snow-covered yard.
Electric snowblowers
If you only have a short sidewalk leading from your house to your gate to shovel the snow, then you don't need to invest in an expensive combustion device. All you need is a smaller and cheaper single-stage electric snowblower. It draws power from the grid, so you won't go any further with it than the cable allows. Eventually you can make do with an extension cord. Such snowblowers work much quieter than internal combustion engines and, of course, they don't mound. They are more maneuverable and easier to use. They also take up little space in a garage or gazebo.
Diesel sweepers
Sweepers differ from snowblowers in that they have rotating brushes made of strong plastic instead of steel rotors. They sweep up the snow and toss it aside. Such equipment, unlike snowblowers, does not have a nozzle that throws the snow over a longer distance. On the other hand, it is a year-round device, as it can also be used to sweep up leaves or trash.
What to look for when choosing a snowblower
Working width - that is, the width of snow removal. Small electric snowblowers pave their way through the snow leaving a clear strip 30-40 cm wide. Combustion engines can have a working width of up to 80 cm.

Working height - determines how thick a layer of snow can be removed. Can range from 11 to 60 cm.

Snow ejection distance - from a few to tens of meters. It should not be too big, or you will cover your neighbor's plot with snow.

Motor power - the higher, the more compacted snow can be removed. There will also be greater efficiency in snow removal.

Starter - in winter, electric will work better.
Additional features
You don't have to be a gadgeteer to appreciate the power of additional features. One of the more useful ones is electronic start. Why bother with a line? Equally useful is additional headlight, after all, it brightens up quite late in the winter. Not to forget speed control. The heaviest snowblowers must also have a reverse gear. If you want the greatest possible comfort, choose a model with heated grips. Well, we can meet luxury in the least expected place.
Without a doubt, there is no more beautiful winter than one that is cold and snowy, with beautiful snowdrifts. If only you can control them, you will love it even more. Don't wait for the snow to fall, choose your snowblower today. Our ranking of snowblowers.
What to do with the collected snow
Shoveling the snow is one problem, the other is what to do with it, especially when it has snowed badly and huge drifts have formed. The best thing to do is to find some vacant space on the plot, away from the buildings and transport it there. Worse if the property is small. Then you will need to order snow removal. In any case, it cannot be accumulated just anywhere, especially not by blocking with it the entrance to the neighboring plot, the sidewalk, the roadway. The pile, which has been piled up, must also not obstruct the visibility of drivers traveling along the street.