OLEO MAC OM LINE PT48BS SELF-PROPELLED 6.5 KM B&S BRIGGS&STRATTON PREMIUM PETROL SOIL PLANTER - OFFICIAL DISTRIBUTOR - AUTHORIZED OLEO MAC DEALER

OLEO MAC OM LINE PT48 B&S is a modern 6.5 hp self-propelled internal combustion soil planter. Robust motor allows for very efficient operation. With the help of the machine, we will quickly dig up the soil in the garden and on the plot, preparing it for s


POWER RIPPER
OLEO-MAC

OM LINE PT48 BS
BRIGGS & STRATTON CR 950
Very Powerful 6.5 HP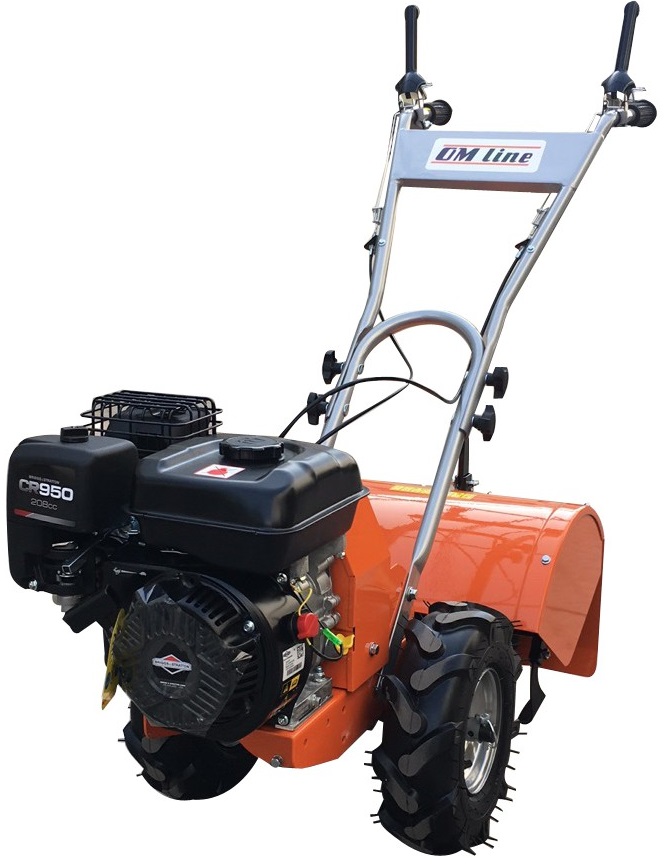 OLEO MAC OM LINE PT48 BS BRIGGS&STRATTON Self-propelled 6.5hp internal combustion soil tiller and a working width of 48 cm is a useful gardening tool designed for use in the garden, allotment or greenhouse, designed to shake up the soil before sowing vegetables, grass or flowers. The equipment features a modern design, which translates into great ease of use. Guarantees convenient and efficient work on small acreages.
Ideal for home garden users who need to prepare the soil for growing vegetables or ornamental flower beds, this model offers the perfect combination of simplicity of use and ease of maintenance.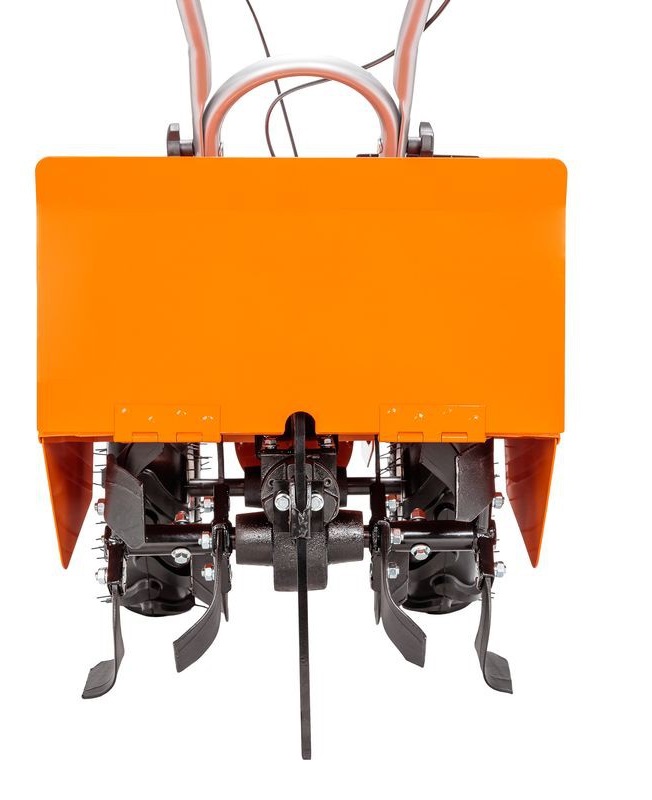 Self-propelled soil planter OLEO MAC OM LINE PT48 BS B&S is a useful horticultural equipment that will significantly improve the implementation of soil cultivation work, especially for small acreages of crops and in places inaccessible to a traditional agricultural tractor.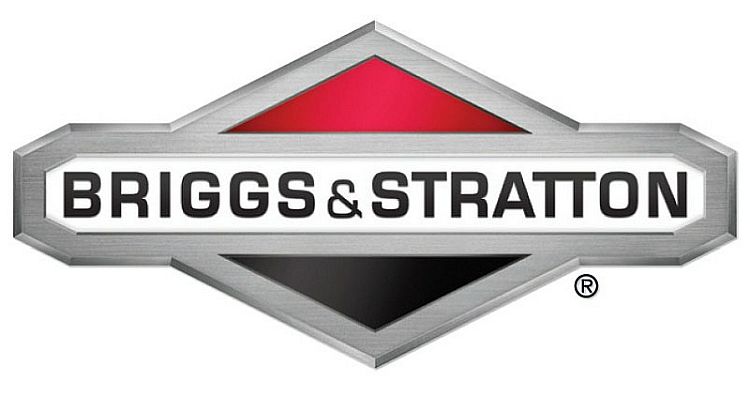 The choice of American Briggs & Stratton engines and the use of professional service is a guarantee of original parts and top quality service - this in turn will result in a long and reliable operation of the equipment in our gardens. After all, more than 100 years of tradition obliges - Bet on the Original !

Motorized soil cultivator moves autonomously, and as a result, its guidance is easy and does not require the use of significant physical strength. The steel cutting blades can penetrate the soil for up to 35 cm, which allows to shake the soil and thus prepare it for sowing selected species of plants. The self-propelled petrol soil planter is a good choice for private individuals, especially for owners of gardens and small plots of land.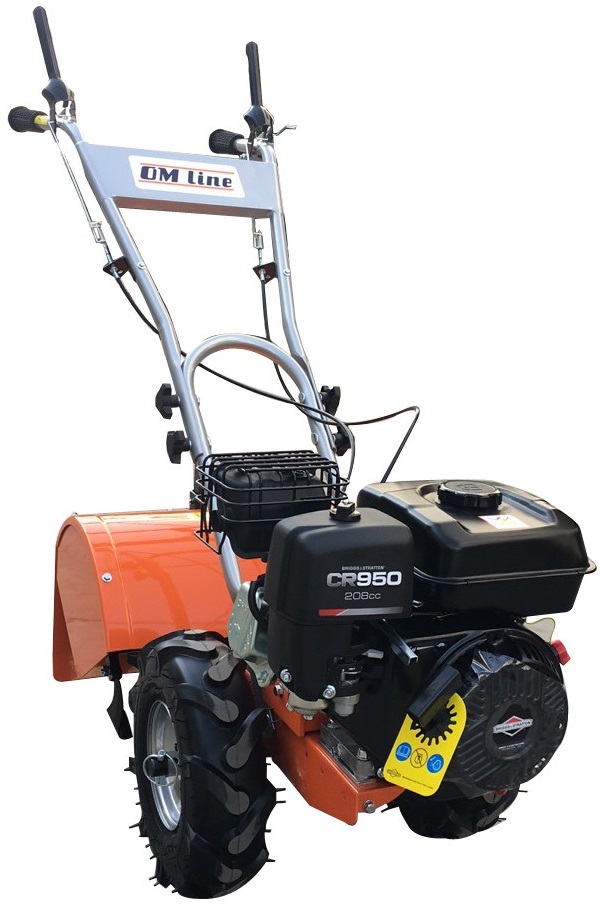 Available at ewimax online store.en ripper OLEO MAC OM LINE PT48BS B&S is a device characterized by a modern but fairly simple design, which on the one hand guarantees ease of use, and on the other hand ensures high reliability of operation. If you're tired of shoveling the ground by hand with a spade or pitchfork, order the presented equipment model or reach for other of the offered devices.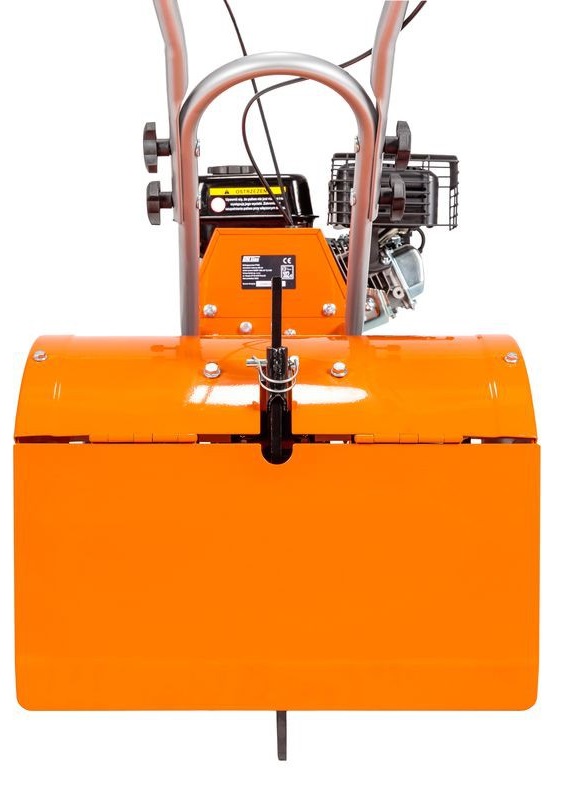 Self-propelled internal combustion soil planter with engine Briggs & Stratton CR950 engine constructed with OHV technology, with a capacity of 208 cm3 generates 6.5 horsepower. OLEO MAC OM LINE PT48 BS B&S is an excellent choice for any allotment holder, gardener and many others who grow small crops, mostly for their own use. This type of equipment guarantees a high comfort of work, allowing you to quickly dig up the land for growing vegetables or sowing lawn. Thanks to its uncomplicated operation, high reliability and high power of action, the soil tiller will help in the implementation of a number of works related to the preparation of soil for the cultivation of selected species of plants. The device will prove useful wherever the use of a classic agricultural tractor is impossible or very difficult, and where the preparation of soil for the cultivation of a selected species of plants requires a large amount of manual labor (using a spade or fork). A petrol soil compactor will be a good choice for the allotment, garden and greenhouse. With a small area of crops (a few acres), it can also work well in the field. It is modern equipment with high operating efficiency, easy to transport and daily operation.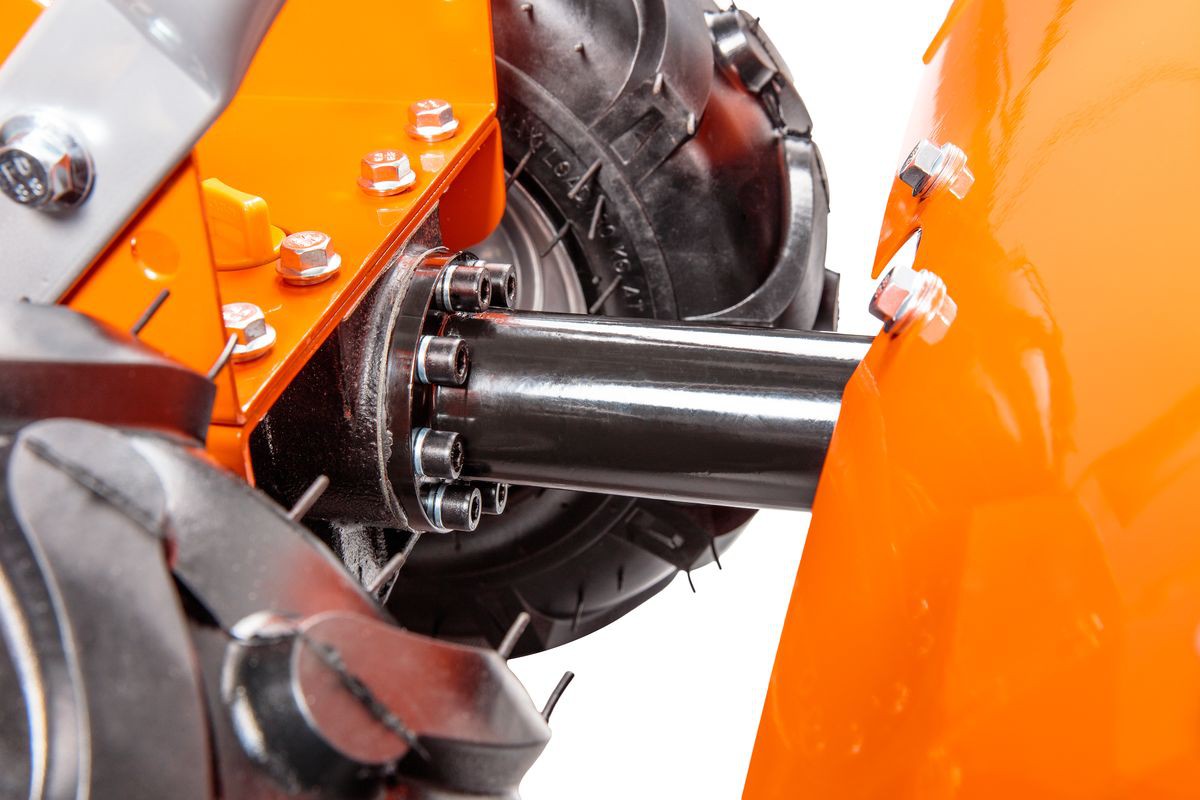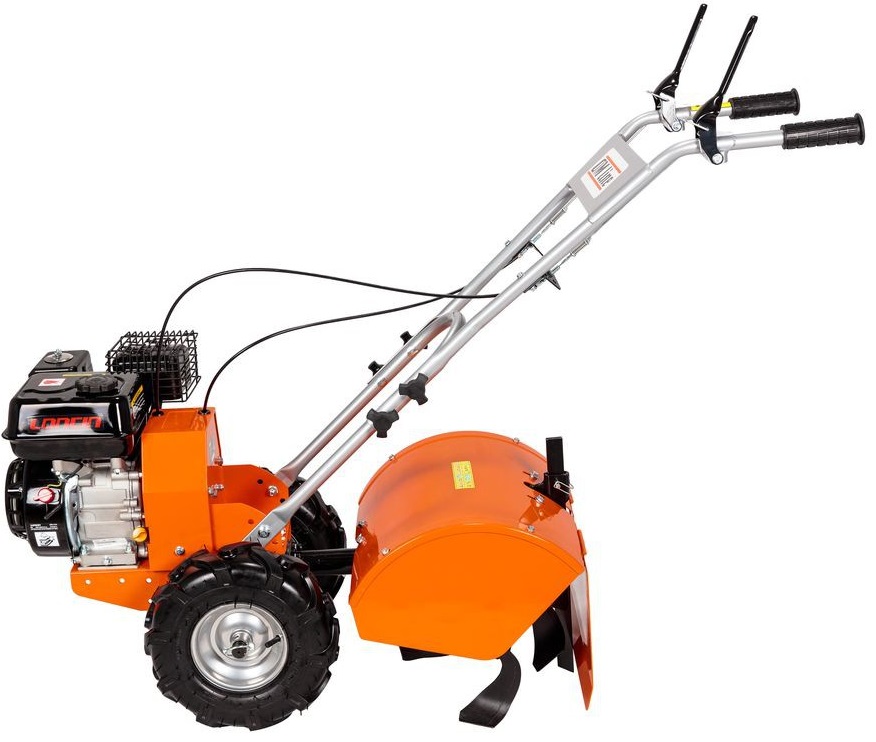 Soiler OLEO MAC OM LINE PT48 BS B&S is a device used to mechanically shake and loosen compacted soil, which in such a state would be by no means suitable for any crop or planting of plants. Gardeners are well aware of the fact that proper preparation of soil for cultivation is as important as the type of soil. It is not difficult to shake the soil in one bed with an ordinary pitchfork and spade, but already in a larger area such a typical manual method of preparing the soil for sowing will be tiring and laborious. The soil tiller is equipped with strong steel blades with a diameter of 35 cm and a special steel shield that protects the operator from chipping from stones or mud. The device also has large wheels with thick tires with large tread. They guarantee excellent grip during work and comfortable driving of the soil tiller even on very difficult terrain. The ergonomic handlebar type grip.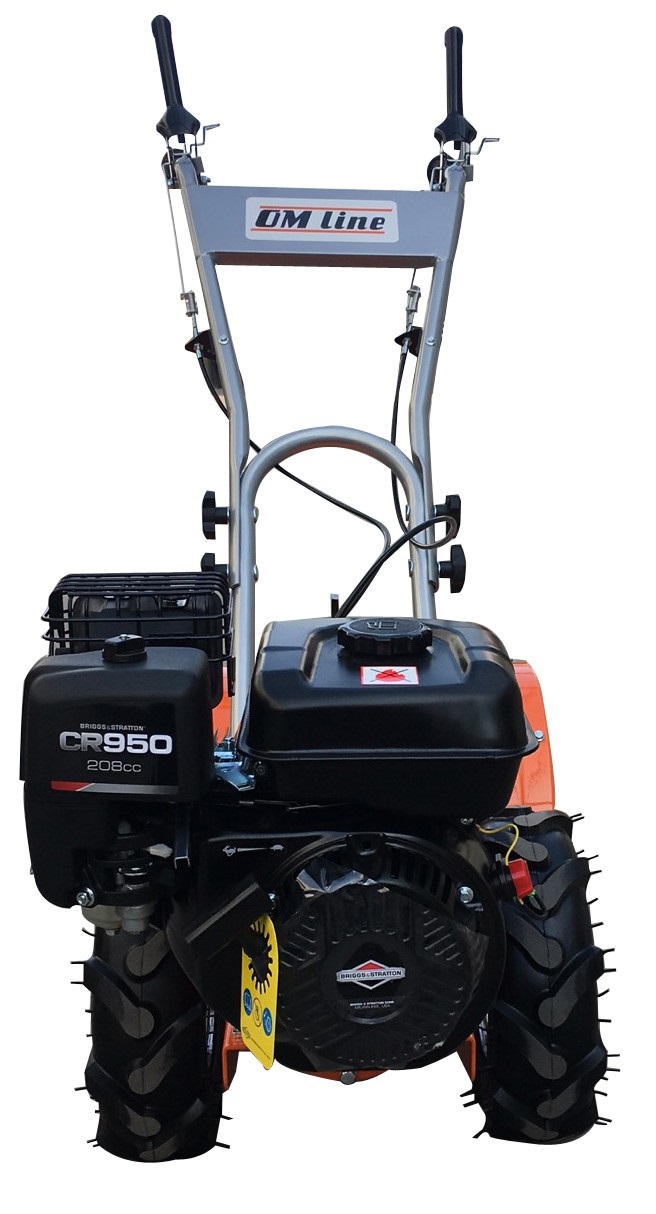 Using a soil tiller OLEO MAC OM-LINE PT48 BS B&S the work will be done much faster, more accurately and with less self-effort, and the results will be much better. With its help, you can prepare the soil for sowing or planting crops, without using additional machinery. It has powerful and efficient engine Briggs&Stratton CR950 allowing for long-lasting operation and featuring long life and high durability. It is equipped with cultivating knives located at the rear and driven by a shaft, the ability to change the position of the knives from the working position to the transport position, a steel knife guard and a reverse gear. In addition, the ripper has transport wheels for easy relocation. It is a maneuverable and handy device which greatly improves the work and its comfort and speed of execution.
Product characteristics:
Work will be faster and more efficient

Viable, durable and powerful Briggs & Stratton CR950 engine

Working width 48 cm

Cultivating knives are placed at the rear and equipped with their own shaft

Steel blade guard

1 Forward gear and 1 reverse gear

Ability to change the position of the blades from working to transport position

Transport wheels will make it easy to move

Knives working in tandem with the wheels (tire size 13 x 5.00-6)

A maneuverable and handy device to make gardening easier and more efficient
Technical data:
Type of subject:

OLEO MAC OM-LINE PT48 B&S soil tiller

Power supply type:

4 Stroke Internal Combustion Engine

Engine type:

Briggs & Stratton CR950

Power (hp):

6,5

Engine displacement (cm3): 208

Number of forward/reverse gears:

1/1

Working width (cm): 48

Working depth adjustment:

Yes

Minimum working depth (cm):

17,5

Maximum working depth (cm):

35

Knife diameter (cm):

34

Wheel diameter (in inches):

13

Material of construction:

Metal housing

Handlebar type holder

Wheel drive: yes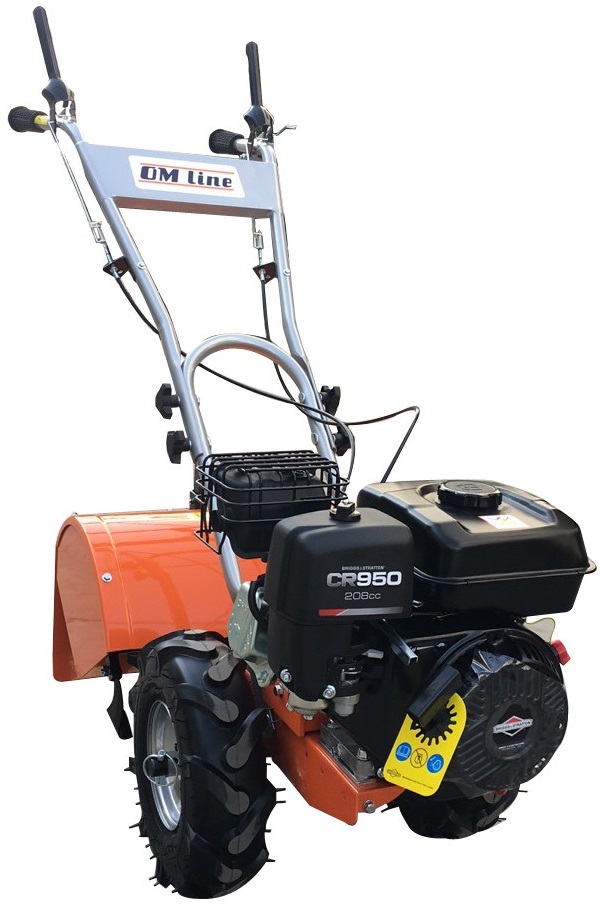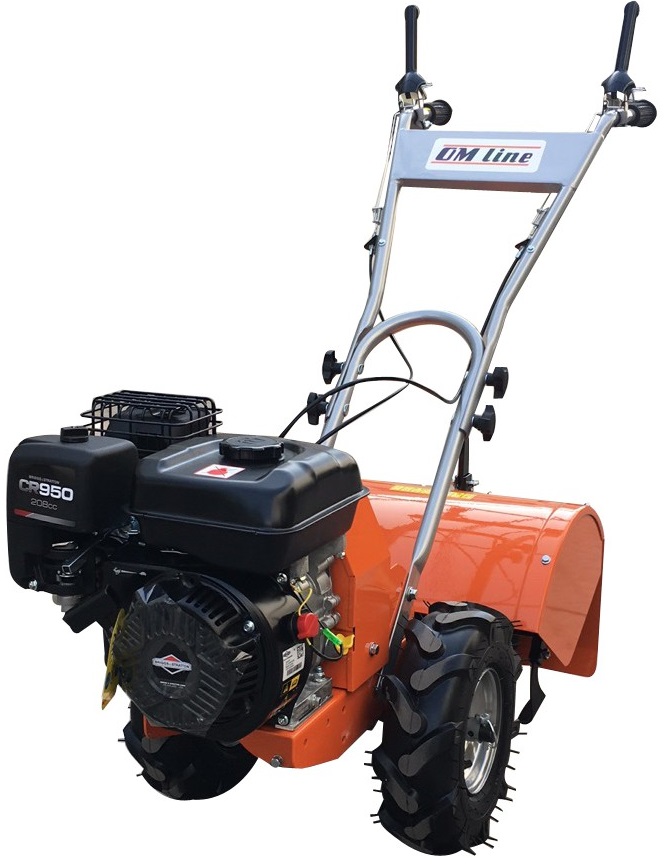 OLEO MAC OM LINE PT48 B&S BRIGGS&STRATTON GL
OLEO-MAC Warranty for 2 Years
WARUNKI GWARANCJI
Warunki gwarancji zawiera instrukcja obsługi znajdująca się w opakowaniu urządzenia. Urządzenia objęte wydłużoną gwarancją (3 oraz 5 lat) wymagają wykonania obowiązkowych przeglądów gwarancyjnych (płatnych) w terminach określonych w warunkach gwarancji.
Obowiązki gwaranta wynikające z udzielonej gwarancji polegają na naprawie wadliwego towaru, reklamowane urządzenie nie podlega wymianie lub zwrotowi gotówki.
1. Producent udziela gwarancji na swoje wyroby na okres:
- Kosiarki spalinowe Oleo-Mac 60 miesięcy dla użytku konsumenckiego i w pozostałych przypadkach 12 miesięcy
- Pilarki łańcuchowe Oleo-Mac, kosy Oleo-Mac, kosiarki elektryczne Oleo-Mac, przycinarki Oleo-Mac
TR 61 E oraz TR 91 E, traktory ogrodowe. Silniki spalinowe EMAK serii K napędzające kosiarki i
traktory 36 miesięcy dla użytku konsumenckiego  i w pozostałych przypadkach 12 miesięcy
- Pozostałe urządzenia dla użytku konsumenckiego 24 miesięcy i w pozostałych przypadkach 12 miesięcy
Dodatkowa gwarancja konsumencka na silniki Briggs&Stratton po upływie okresu gwarancji producenta 12 miesięcy -

Warunkiem zachowania 36 miesięcznego okresu gwarancji jest dokonanie dwóch, płatnych przeglądów urządzenia w autoryzowanym punkcie serwisowym - w 12 oraz 24 miesiącu od daty zakupu nie później niż 7 dni po wyznaczonym terminie.
Warunkiem zachowania 60 miesięcznego okresu gwarancji jest dokonanie czterech, płatnych przeglądów urządzenia w autoryzowanym punkcie serwisowym - w 12, 24,36 oraz 48 miesiącu od daty zakupu nie później niż 7 dni po wyznaczonym terminie. Wszystkie przeglądy wykonujący je dealer musi zarejestrować w elektronicznym
systemie rozliczania gwarancji B2B. Silniki spalinowe innych marek (Briggs & Stratton, HONDA, KAWASAKI, SUBARU itp.) oraz przekładnie hydrostatyczne są objęte odrębną gwarancją producenta. Szczegóły dotyczące warunków gwarancji zawierają odrębne instrukcje obsługi wymienionych podzespołów.
2. Gwarancja obejmuje wszystkie uszkodzenia powstałe w okresie obowiązywania gwarancji wynikające z ujawnienia się w tym okresie ukrytych wad materiałowych, montażowych lub technologicznych.
3. Personel techniczny przystąpi do naprawy w czasie, na który pozwolą wymagania organizacyjne, zawsze najszybciej jak to możliwe.
4. Wybór sposobu usunięcia uszkodzenia należy do gwaranta, który może usunąć usterkę poprzez naprawę urządzenia lub wymianę uszkodzonej części. Niezależnie od
sposobu usunięcia uszkodzenia gwarancja trwa nadal, przedłużona o czas usunięcia uszkodzenia przez gwaranta.
5. Naprawa gwarancyjna może zostać dokonana wyłącznie na podstawie rejestracji urządzenia w systemie B2B lub ważnej karty gwarancyjnej wraz z dowodem zakupu.
Brak rejestracji urządzenia, karty gwarancyjnej lub jej unieważnienie wykluczają odpowiedzialność gwaranta z tytułu udzielonej gwarancji.
6. Użytkownikowi przysługuje odwołanie od decyzji punktu serwisowego dotyczącej kwalifikacji zgłoszonej awarii. Odwołanie musi zostać złożone wyłącznie w formie pisemnej wraz z kompletem dokumentów stwierdzających przebieg dokonanych napraw oraz opisem stanu technicznego urządzenia w momencie pierwotnych oględzin dokonanych przez punkt serwisowy.
7. Okres gwarancji ulega wydłużeniu o czas niezbędny do dokonania naprawy gwarancyjnej. Obowiązują daty umieszczone w zgłoszeniu reklamacyjnym w elektronicznym systemie rozliczania gwarancji B2B.
8. Punkt napraw jest zobowiązany do dokonywania wpisów dotyczących zakresu napraw gwarancyjnych w elektronicznym systemie rozliczania gwarancji B2B.
9. Na wykonane naprawy odpłatne gwarant udziela 3 miesięcznej gwarancji pod warunkiem dokonania naprawy w warsztacie gwaranta oraz użycia do naprawy oryginalnych części zamiennych. Podstawą reklamacji jest dowód zakupu części oraz wykonanej usługi serwisowej.
10. Naprawie gwarancyjnej nie podlegają: uszkodzenia powstałe na skutek niewłaściwej eksploatacji, uszkodzenia powstałe na skutek zastosowania urządzenia do celów, do których nie jest przeznaczone, uszkodzenia powstałe na skutek zastosowania niewłaściwych materiałów eksploatacyjnych, uszkodzenia mechaniczne oraz
powstałe na skutek niewłaściwego transportu lub przechowywania, uszkodzenia powstałe na skutek braku konserwacji, elementy, które uległy zużyciu eksploatacyjnemu w trakcie prawidłowej eksploatacji.
11. Gwarancja traci ważność na skutek zmian konstrukcyjnych lub przeróbek dokonanych przez użytkownika, na skutek stwierdzenia przez punkt serwisowy ingerencji
wewnątrz urządzenia przez osoby nieuprawnione, na skutek zerwania lub demontażu blokad regulacyjnych gaźnika, w przypadku stwierdzenia dokonania wpisów w karcie gwarancyjnej przez osoby nieuprawnione.
12. Gwarancją nie są objęte elementy eksploatacyjne oraz ulegające zużyciu w trakcie okresu obowiązywania gwarancji, takie jak:
• Elementy eksploatacyjne np.: noże tnące, tarcze, listwy tnące, głowice żyłkowe, filtry, linki rozrusznika, świece zapłonowe, żarówki, koła, bębny i szczęki sprzęgła,
sprzęgła i tarcze cierne, paski napędowe, śruby bezpieczeństwa, łańcuchy tnące i prowadnice, lance myjek wysokociśnieniowych.
• Elementy silnika: cylindry, tłoki, pierścienie, wal korbowy, łożyska, panewki, membrany gaźników.
• Pozostałe elementy eksploatacyjne: piasty noża, wpusty zabezpieczające, amortyzatory, łożyska, panewki, koła zębate, bezpieczniki przeciążeniowe, szczotki węglowe, cięgna i linki sterujące
• Akumulatory rozruchowe stosowane w maszynach z rozrusznikiem elektrycznym
• Elementy niewymienione w niniejszych warunkach gwarancji , które w sposób oczywisty zużywają się w trakcie pracy, transportu i przechowywania (np. powłoka lakiernicza).
13. W zakres naprawy gwarancyjnej nie wchodzą czynności montażowe, regulacyjne oraz konserwacyjne.
14. Uszkodzenia takie jak zatarcie silnika, skrzywienie lub pęknięcie wału korbowego, zerwanie wpustu koła magnesowego lub piasty noża nie podlegają naprawie gwarancyjnej.
15. W przypadku gdy punkt serwisowy nie wywiązuje się ze swoich obowiązków, użytkownik ma obowiązek poinformowania o tym fakcie gwaranta. Odmowa wykonania naprawy przez punkt serwisowy musi być wpisana w kartę gwarancyjną. W przypadku nie uznania przez gwaranta naprawy jako gwarancyjnej koszty naprawy i transportu pokrywa reklamujący.
16. Wymienione w ramach naprawy gwarancyjnej wadliwe części zamienne są własnością gwaranta.
17. Reklamację należy zgłaszać w najbliższym autoryzowanym punkcie serwisowym lub bezpośrednio u gwaranta. Zgłoszenie reklamacji w punkcie sprzedaży może spowodować wydłużenie czasu naprawy.
18. W trakcie odbioru urządzenia po naprawie gwarancyjnej ma obowiązek upewnić się czy odbierane urządzenie jest kompletne i nieuszkodzone. Punkt napraw ma obowiązek uruchomienia urządzenia przed przekazaniem po naprawie użytkownikowi.
19. Punkt serwisowy ma prawo pobrać opłatę za dokonanie czynności konserwacyjnych, które należą do obowiązków użytkownika, a wymagają ich dokonania przed przystąpieniem do naprawy. Punkt napraw ma obowiązek wymiany na koszt użytkownika wszystkich elementów zapewniających bezpieczeństwo pracy, które uległy uszkodzeniu w trakcie eksploatacji niezależnie od zgody wyrażonej przez użytkownika.
20. Bieżąco aktualizowana lista punktów serwisowych znajduje się na www.victus.pl
21. Gwarancja na sprzedany towar nie wyłącza, nie ogranicza, ani nie zawiesza uprawnień kupującego wynikających z przepisów o rękojmi za wady rzeczy sprzedanej.
22. Koszty nieuzasadnionej reklamacji pokrywa reklamujący.
23. Niniejsza gwarancja obowiązuje na terenie Rzeczypospolitej Polskiej.
24. Ewentualne uszkodzenia powstałe podczas transportu powinny zostać natychmiastowo zgłoszone przewoźnikowi pod groźbą utraty gwarancji.
25. Gwarancja nie obejmuje ewentualnych szkód wyrządzonych bezpośrednio lub pośrednio osobom lub rzeczom z powodu usterek w urządzeniu lub wynikłych z przedłużonego przestoju w pracy urządzenia.