MAAD HSS-1270/1.2 SEGMENT BENDER 1270x1.2mm

MAAD HSS-1270/1.2 SEGMENT BENDER 1270x1.2mm
The bending machine, which is used especially to perform flashings such as chimney eaves roofs, fireplace ends and many others. Functional design provides great operating comfort and a wide range of practical applications.
Top and bottom beams equipped with segmented knives with dimensions: 25/30/35/40/45/50/75/100/150/ 200/250/270 mm. The knives are made of quality steel that allows the bending machine to work for many years while maintaining proper bending parameters. The clearance height between the base of the machine and the upper knives is as high as 102 mm, the maximum bending angle is as high as 155 degrees, and the width of the bending beam is only 15 mm, resulting in a very large capacity for sheet metal work.
Stable and massive construction (the weight of the device 350 kg) ensure trouble-free bending of steel sheets up to 1.2 mm thick.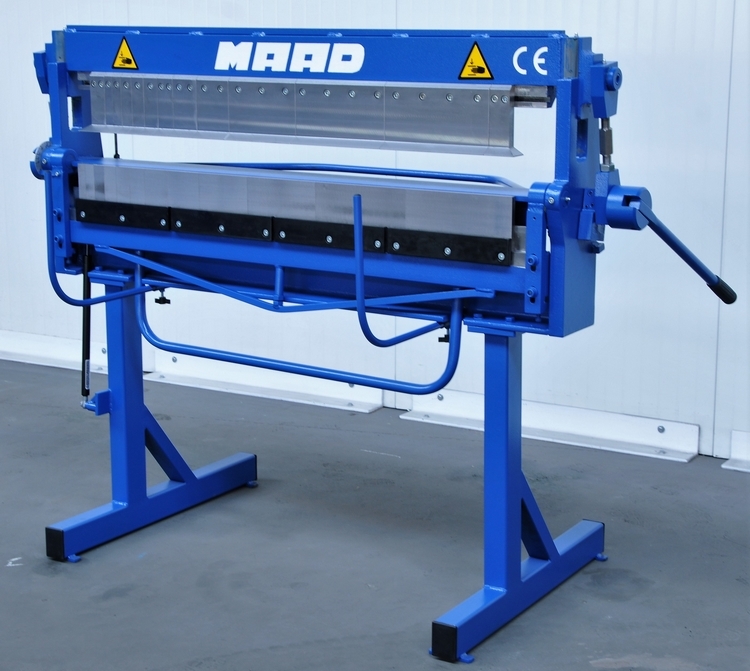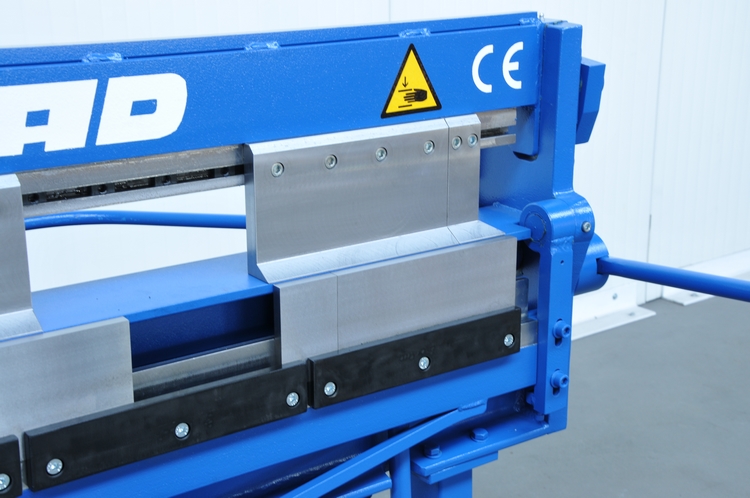 Technical parameters / equipment:
- working width - 1270 mm

- max thickness of bent sheet - 1.2 mm (for Rm<400MPa)

- maximum bending angle - 155 degrees

- width of the bending beam - 15 mm

- weight of the machine - 350 kg

- interchangeable segmented knives of the lower and upper beam

- detachable legs - makes transportation and loading much easier

- rack worn on the back of the machine to support sheet metal

- gauges for cutting sheet metal

- protractor as standard equipment

- gas cylinder to assist in lifting the bending beam

- two gas cylinders to assist in lifting the pressure beam
Machine dimensions:
height - 1,250 mm

width - 1,760 mm

depth - 990 mm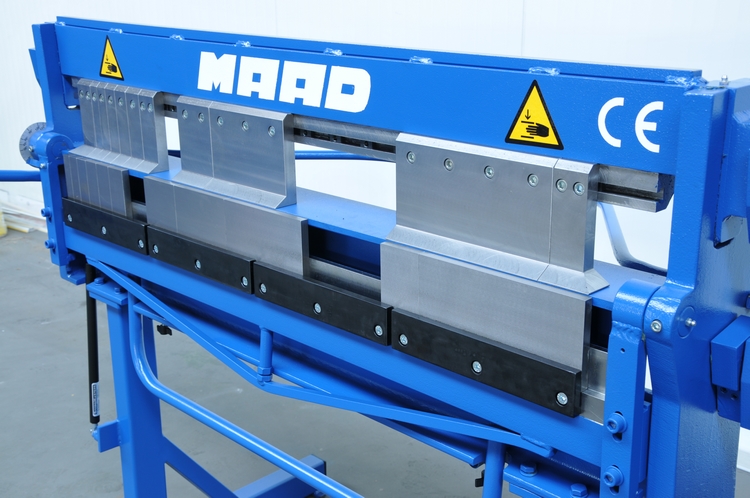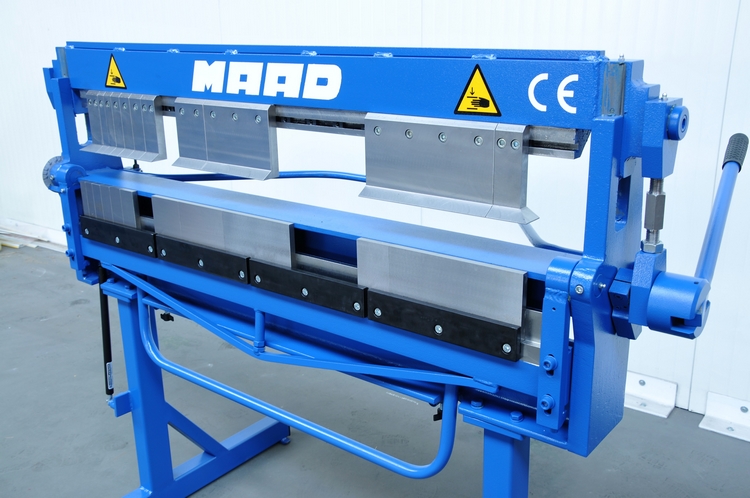 The main working elements of the bending machine are 3 working beams: fixed, clamping and bending beams.
The clamping bar is equipped with interchangeable segments that allow very complex machining to be carried out. It is raised and lowered by a lever. Two gas cylinders assist in lifting the pressure bar. The pressure beam is designed so that its upper part is a guide for the roller shears.
The bending operation is carried out by rotating the bending beam, which is also equipped with interchangeable segments, by means of a handle by a certain angular value. Angle gauge mounted on the left side of the bending machine when viewed from the front indicates the current angle of the sheet metal bend. Gas cylinder assists in lifting the beam.
The bending beam has an adjustable position in relation to the fixed beam. This parameter affects the bending radius of the sheet and its size also depends on the thickness of the sheet to be bent.
Bending machine components are made on precision CNC machine tools.
The bending machine is covered with a double layer of high-quality paint - the painting process is performed in a professional, heated and ventilated paint shop.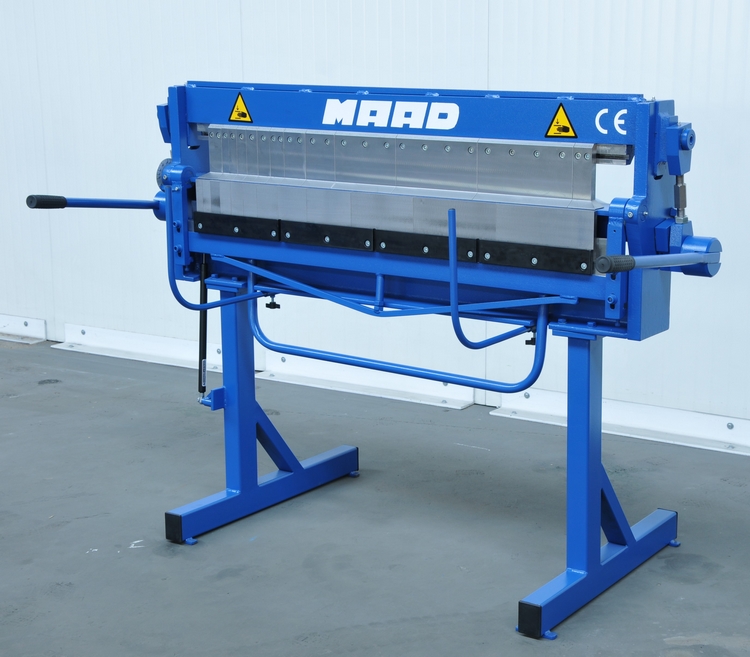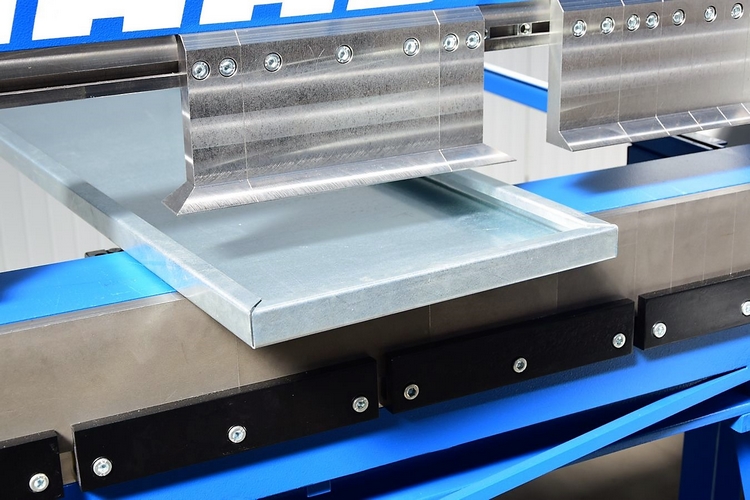 MAAD HSS-1270/1.2 ZAGINARKA GIĘTARKA SEGMENTO
WARUNKI GWARANCJI I SERWISU
Towary zakupione w naszym sklepie są nowe i oryginalne oraz objęte są pełną gwarancją producenta lub importera.
W przypadku reklamacji, należy zgłosić usterkę do Sprzedawcy lub Autoryzowanego Punktu Serwisowego producenta danego urządzenia. Jeśli uszkodzony produkt objęty jest gwarancją typu "door to door" należy postępować zgodnie z procedurą podaną w karcie gwarancyjnej. 

Okres gwarancji wynosi 12 miesięcy dla firm lub 24 miesiące dla 

osób

 prywatnych.