WEIBANG WB507SC V 3IN1 MOTOR VEHICLE MOWER 6.5 HP / 50 cm - OFFICIAL DISTRIBUTOR - AUTHORIZED WEIBANG DEALER

Weibang WB507 SC V 3IN1 petrol lawn mower with mulching function is equipped with a purpose-built 196 cc Loncin engine with high capacity. Engine power is 6.5 hp which gives plenty of power for mowing tall and dense grass.

PETROL LAWN MOWER WITH DRIVE
WEIBANG WB507SC V 3W1
HAS A CARDAN SHAFT !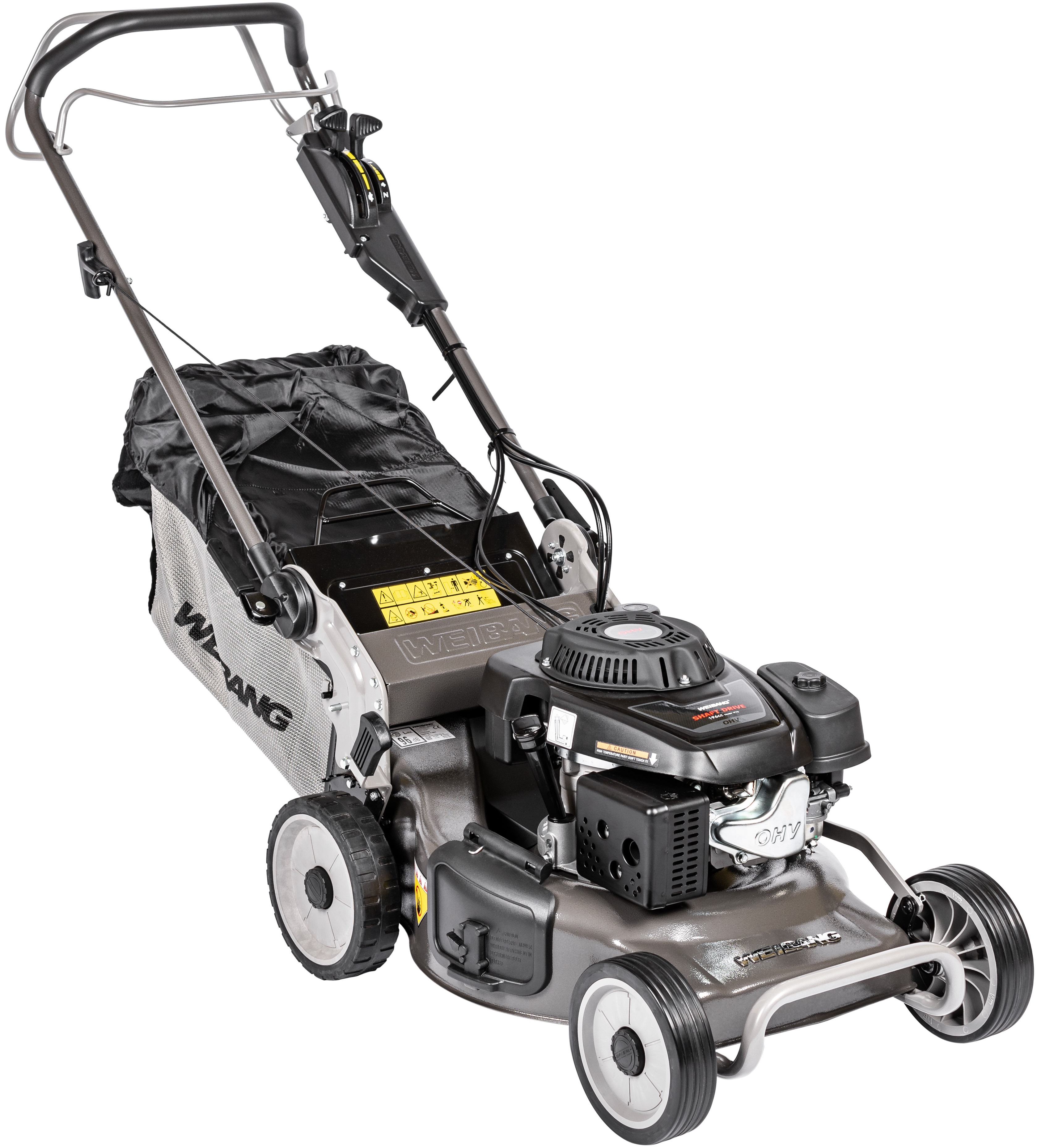 Petrol mower Weibang WB507SC V 3IN1 z mulching function is equipped with a specially designed loncin engine with a capacity of 196 cm3 with high performance. 3-speed transmission combined with a power transmission via cardan shaft makes it a mower designed for the toughest jobs. Engine power is 6.5 hp, which gives you plenty of power for mowing tall and dense grass. Mower housing without belt and guard combined with profiled blade perfectly collects cut grass without leaving residue on the lawn.
Weibang mower with Loncin 1P70FA engine
Petrol mower with steel housing coated with anti-corrosive paint protects the machine from corrosion for years to come. Shaft transmission makes the drive system of the mower extremely durable and maintenance-free. The mower weighs 46 kg and is equipped with a 6.5 hp Loncin engine with a displacement of 196 cm3 also used in other garden machines such as soilers. The mower has milling, side discharge and rear discharge functions and has 3 speed control gears.

Advantages of Weibang WB507SC V 3-in-1 mower
Professional 3-speed transmission, metal gears allow work in harsh conditions

Patented drive shaft, more reliable and durable

HAMMERITE type chassis and handle

Central control panel

3-in-1 function: basket, side ejection, grinding-option

Two-stage adjustable, folding handle - makes transport and storage easy

5 year warranty (on selected product groups) for consumer purchase and 1 year for all other cases (motor warranty by manufacturer)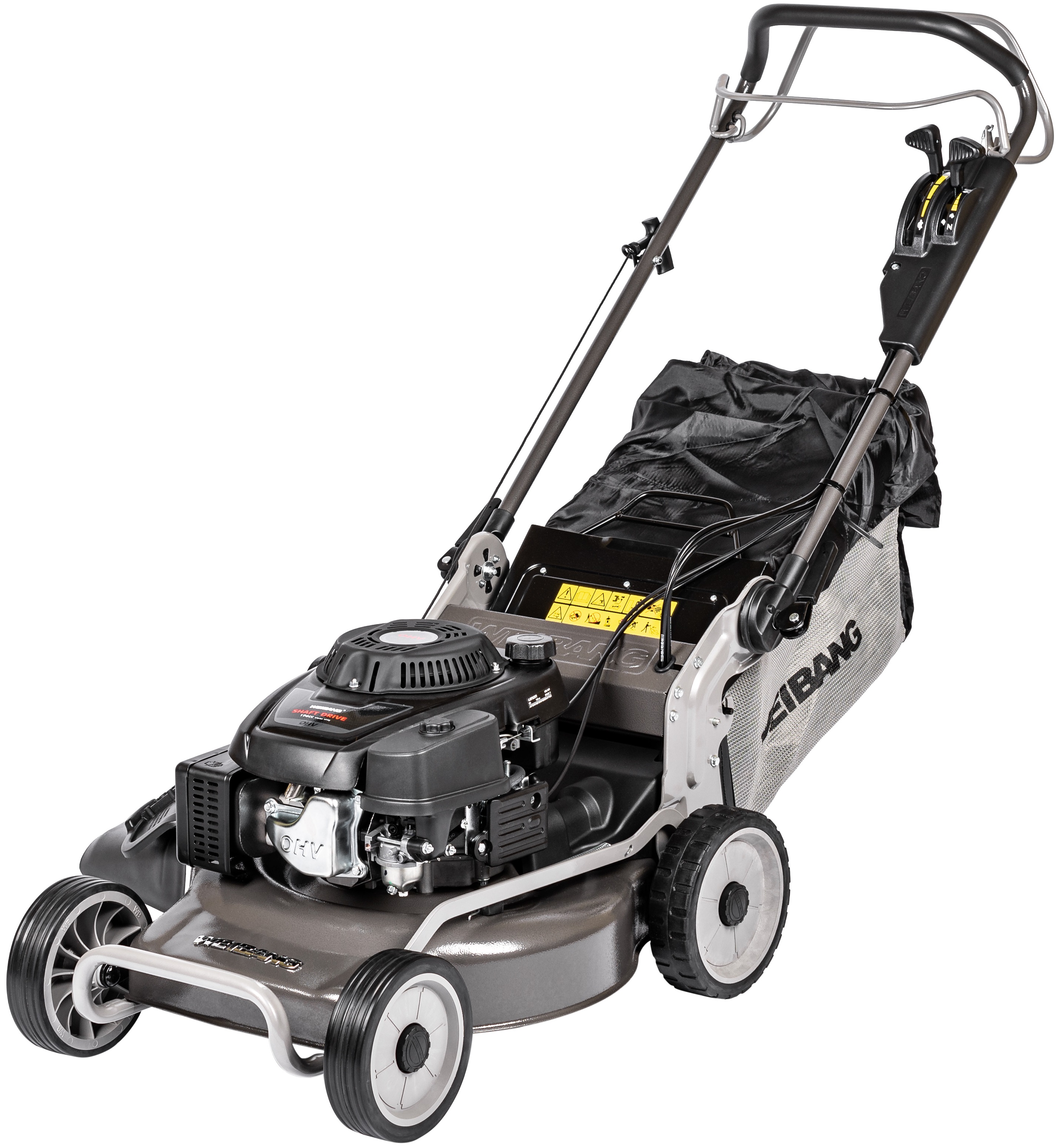 Functions of the Weibang WB507 SC V 3IN1 petrol lawnmower
Lever for quick change of working mowing height.

Patented drive shaft, more reliable and durable

3-in-1 function: basket, side ejection, grinding

It is powered by a Loncin engine provides enough power for highly efficient operation and guarantees a long-lasting performance

The working width of the mower is 51 cm

The mower is very easy to store, as there is an option to fold it up.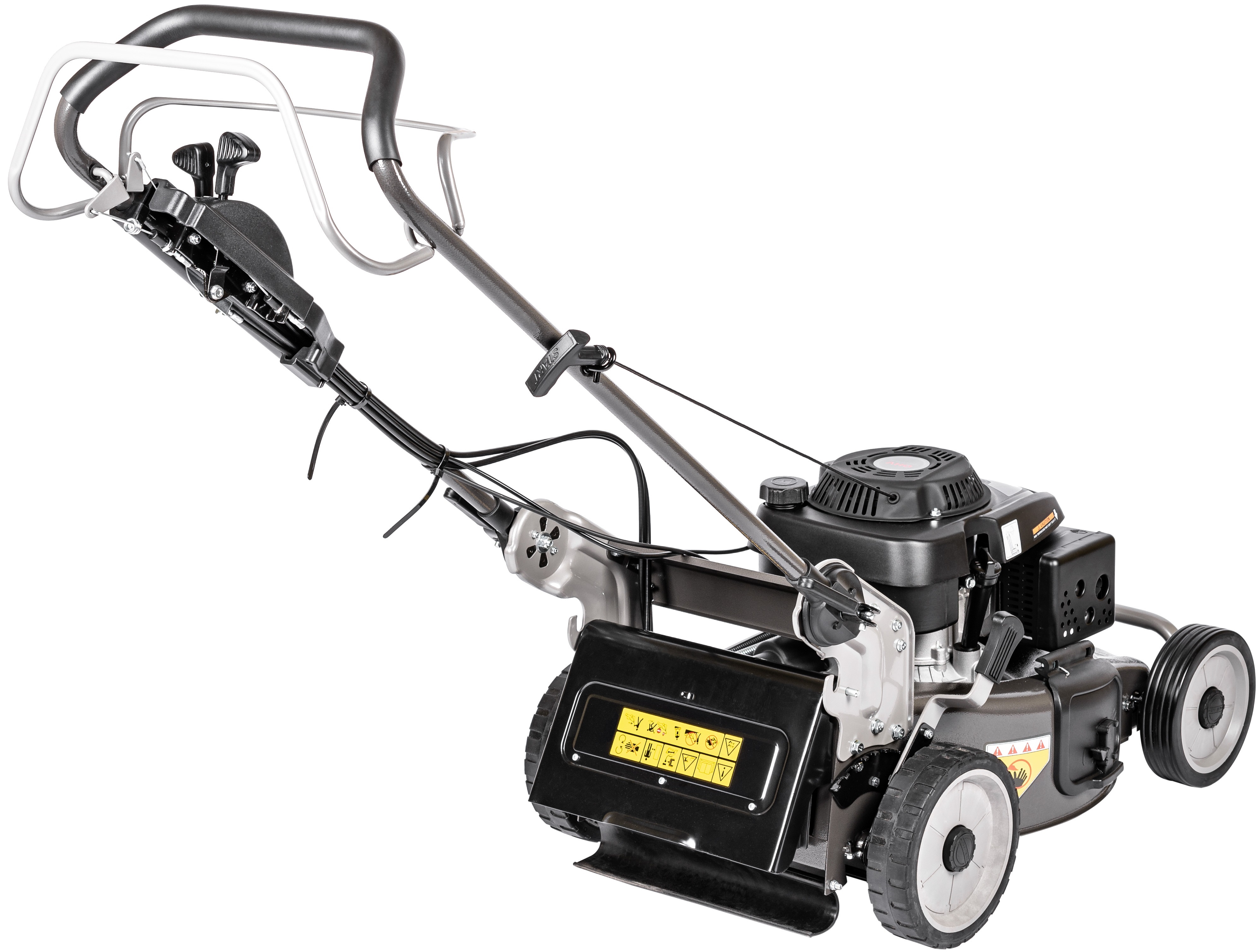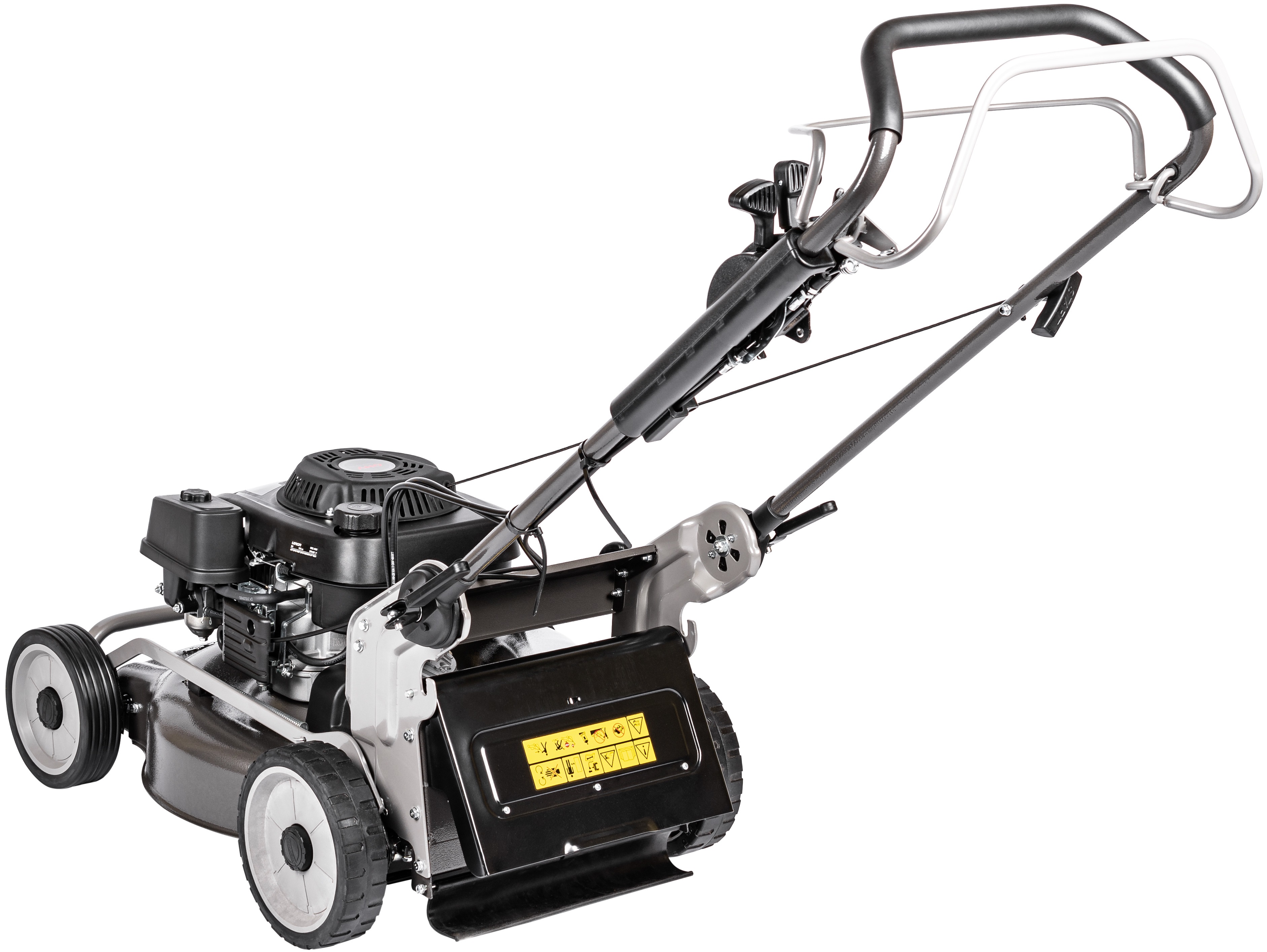 Technical data:
Weibang
Loncin
Weibang LONCIN 1P70FA
Central (8 degrees)
25 - 70 mm
507 mm
196 cm³
600 - 1000 m²
3.6 kW
8/8.6 inches
Side/Rear
Yes
Yes
Steel
Cardan shaft
Yes - 3-stage
60 l
94.5 db
46 kg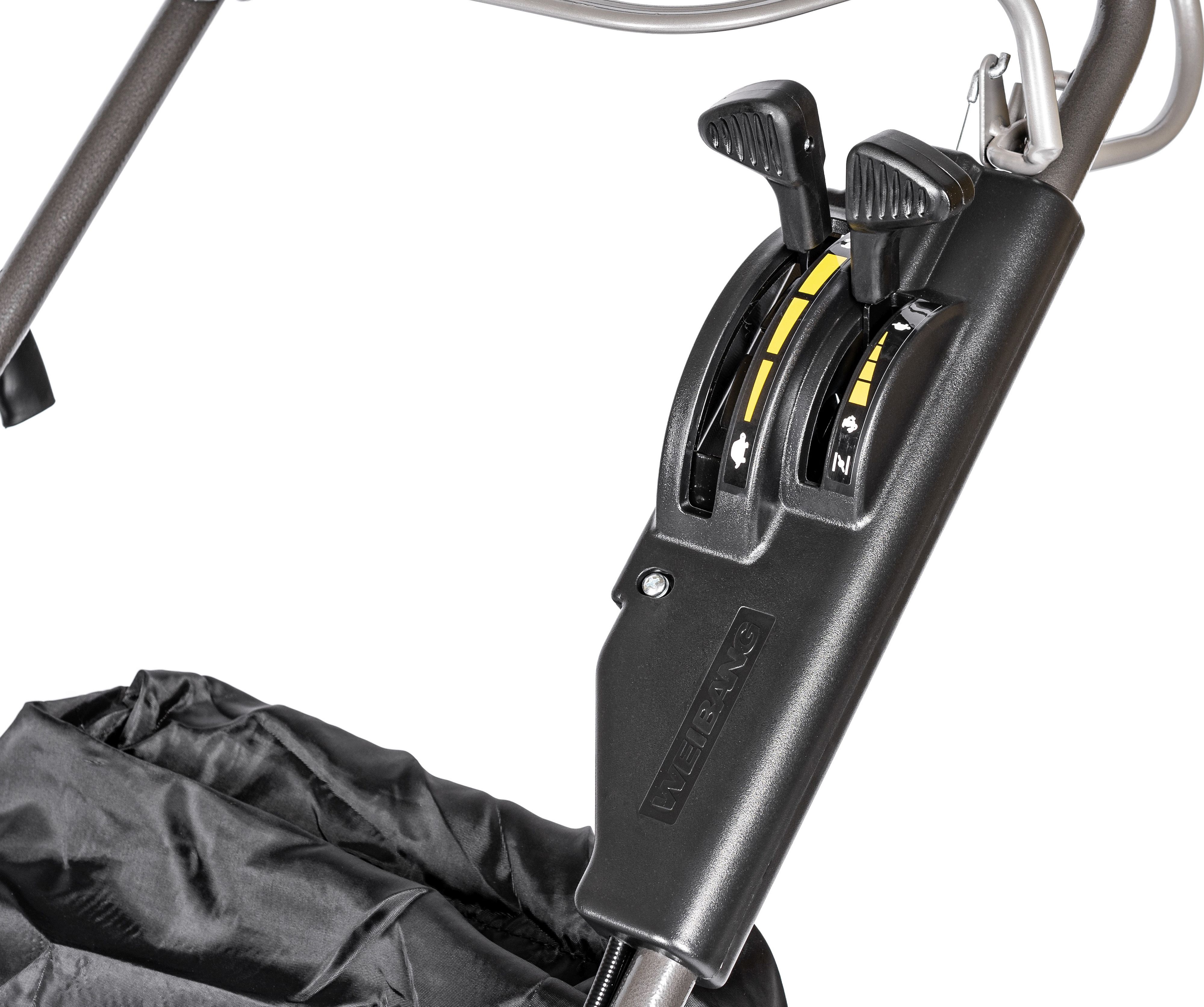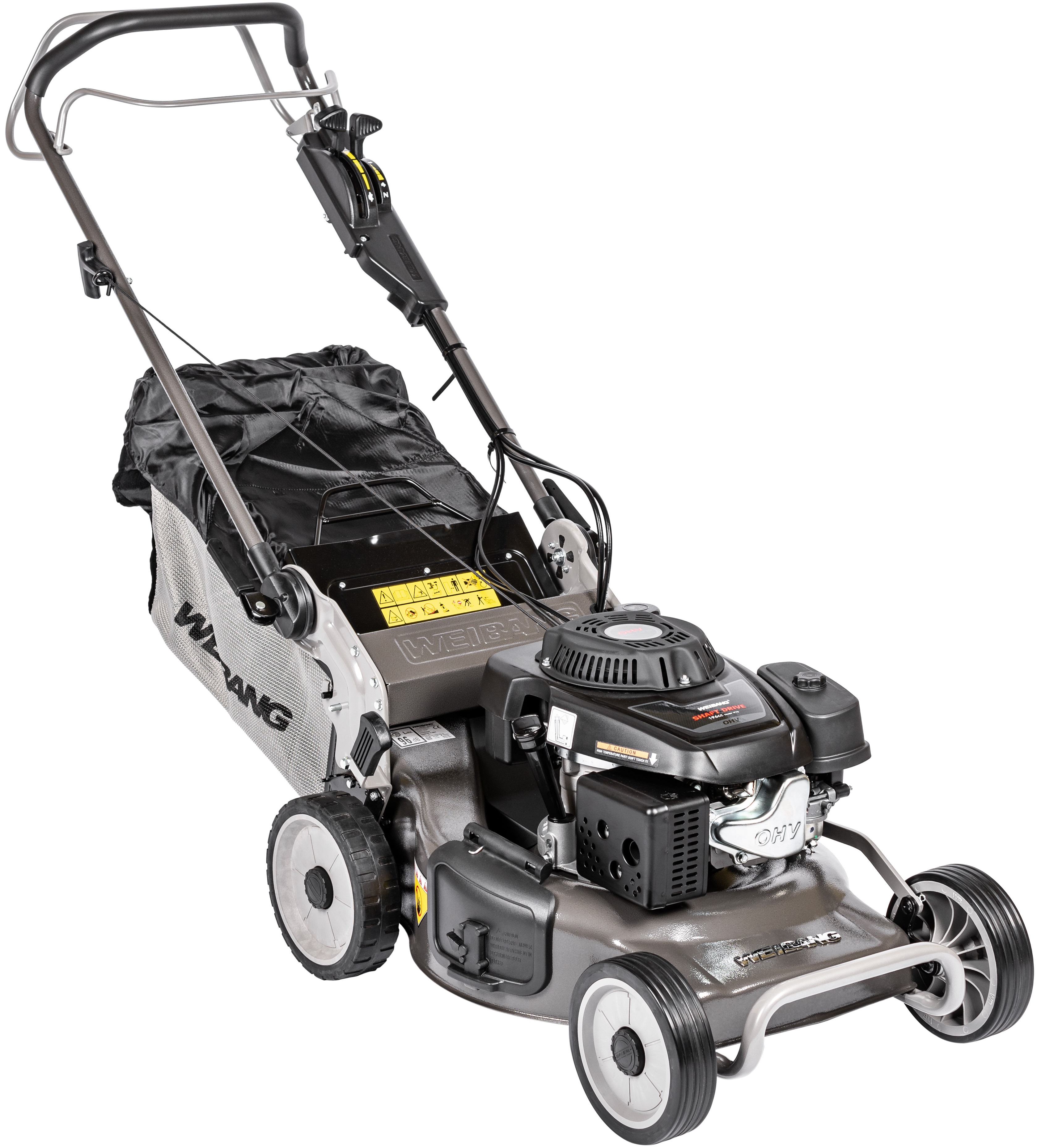 Weibang WB507SC V 3IN1 Kosiarka spalinowa do
WEIBANG 5 Year Extended Warranty
Warunki gwarancji

1. Gwarancji udziela CEDRUS Sp. z o. o. Sp. k. na okres 24 miesięcy od daty sprzedaży przy zakupie konsumenckim lub na 12 miesięcy od daty sprzedaży w pozostałych przypadkach. Gwarancja obejmuje towary/urządzenia zakupione na terytorium Rzeczpospolitej Polskiej. Uprawnienia z tytułu niniejszej gwarancji nie obejmują innych roszczeń związanych z uszkodzeniem towaru/urządzenia i roszczeń związanych z utratą zysków lub poniesionych kosztów wynikających z uszkodzenia towaru/urządzenia.

2. W przypadku przedłużonej gwarancji niektórych producentów powyżej 24 miesięcy wymagane są coroczne przeglądy serwisowe:
- kosiarki Weibang 5 lat, - 5 lat gwarancji dla klientów indywidualnych / gwarancja na silnik według producenta
- traktorki Cedrus, Simplicity 3 lata,
- glebogryzarki Pubert z silnikiem Honda 5 lat,
- wykaszarki Cedrus z silnikiem Kawasaki 3 lata,
- kosiarki automatyczne Worx 3 lata,
- Roboty Wiper 2-6 lat w zależności od modelu
3. Przez naprawę gwarancyjną rozumie się czynności o charakterze specjalistycznym, właściwym dla usunięcia wady fizycznej objętej gwarancją.

4. Gwarancją nie są objęte :
a) części podlegające normalnemu zużyciu:
- elementy układu tnącego (prowadnice, łańcuchy, noże, kółka, tarcze, wiertła, ściernice, uchwyty elementów),
- elementy napędowe (bębny sprzęgła , kółka napędowe, wałki napędowe, paski klinowe i zębate, koła jezdne urządzeń),
- fltry powietrza, oleju, wody, płynów hydraulicznych,
- świece zapłonowe, przewody zapłonowe, sprężyny, amortyzatory gumowe, membrany, dysze i zawory gaźników,
- przewody elektryczne, szczotki, szczotko trzymacze, bezpieczniki, żarówki, elementy sprzęgające rozruszników ręcznych i elektrycznych,
b) uszkodzenia mechaniczne, termiczne, chemiczne i wszystkie inne spowodowane działaniem bądź zaniechaniem przez Użytkownika.
c) uszkodzenia powstałe wskutek naturalnego częściowego lub całkowitego zużycia zgodnie z właściwościami albo przeznaczeniem sprzętu.
d) uszkodzenia wynikłe na skutek:
- przeróbek, napraw i zmian konstrukcyjnych dokonywanych przez Użytkownika,
- niewłaściwej lub niezgodnej z instrukcją instalacji, użytkowania, braku dbałości o sprzęt (używania nieoryginalnych materiałów),
- transportu.
e) celowe uszkodzenie sprzętu.
f) czynności konserwacyjne - czyszczenie, wymiana materiałów eksploatacyjnych, przeglądy serwisowe.

5. Reklamującemu przysługuje prawo do wymiany towaru/urządzenia na nowy, w przypadku gdy Autoryzowany Serwis stwierdzi na piśmie, że usunięcie wady jest niemożliwe lub nieuzasadnione z ekonomicznego punktu widzenia.

6. Reklamujący winien dostarczyć towar/urządzenie do Autoryzowanego Serwisu. Reklamowany towar/urządzenie powinien być kompletny i w stanie, w jakim znajdował się w momencie uszkodzenia. Powinien się też znajdować w odpowiednio zabezpieczającym opakowaniu.

7. Autoryzowany Serwis obowiązany jest do rozpatrzenia zasadności reklamacji w terminie 14 dni od dnia dostarczenia przez Reklamującego
towaru/urządzenia. W przypadku uznania gwarancji, Autoryzowany Serwis obowiązany jest wykonać swoje obowiązki w terminie do 30 dni.

8. Karta gwarancyjna musi być prawidłowo wypełniona. Uprawnienia z tytułu udzielonej gwarancji mogą być realizowane jedynie po przedstawieniu przez Użytkownika ważnej karty gwarancyjnej oraz dowodu zakupu. Samowolne zmiany wpisów w karcie gwarancyjnej lub dokonywanie napraw we własnym zakresie powoduje utratę gwarancji.