Forklift pallet jack pallet truck SFH 1016 1T 1000KG 1.6 meter with adjustable fork spacing and foot pump

Universal mast cart with a load capacity of 1000 kg, has double polyurethane rollers which ensures stable, quiet, long and trouble-free operation. Mast cart is designed to work in the warehouse, store or unloading loading pallets in cars

PALLET JACK
SFH 1016
Manual lift truck SFH 1016
with adjustable fork spacing and foot pump
Load capacity 1000 kG
Lifting height 1.6 meters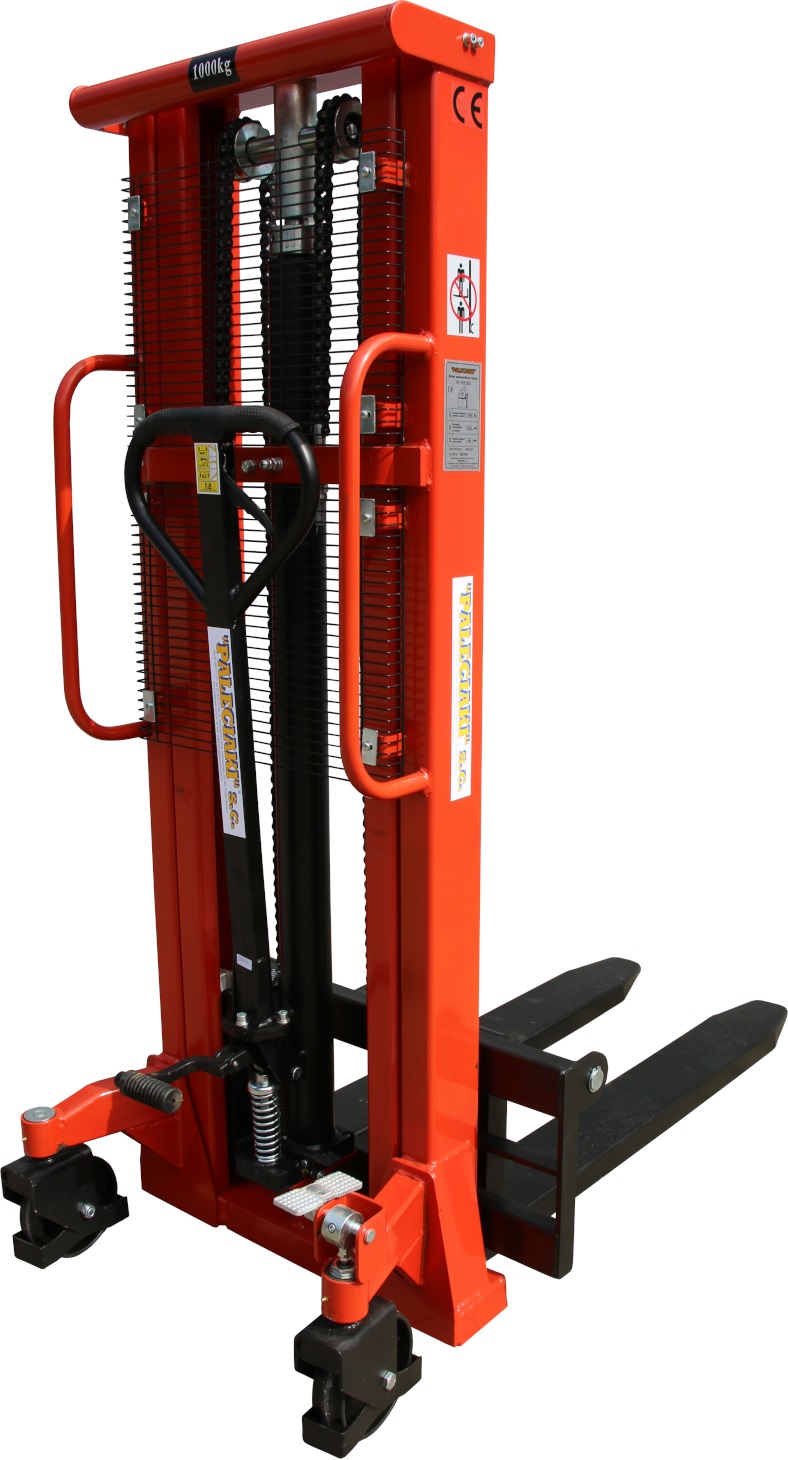 Machine description
Universal mast cart with a load capacity of 1000 kg, has double polyurethane rollers which ensures stable, quiet, long and trouble-free operation. Mast cart is designed to work in warehouse, store or unloading loading pallets in delivery trucks.
Technical Data
Load capacity of the cart 1000 kg

Available fork length 1150 mm

Adjustable fork spacing 300 - 850 mm

Minimum fork height 85 mm

Maximum fork height 1500 mm

Lift 100 full movements with or without drawbar lever

Total height of the cart 2030 mm

Fork width 150x50 mm

Total width of the cart 885 mm

Cart weight 215 kg

Steering wheels polyamide

Rollers in fork polyamide

Dimensions of control wheels Ømm 180x50

Rollers dimensions in forks Ømm 80x60 single

Color of stroller orange
ADJUSTABLE FORK SPACING
What sets us apart from the competition
payload up to 1000 kg

specialized hydraulic pump allows stepless lowering of forks

very strong construction (long service life) of the pallet truck

service and spare parts available immediately (shipping nationwide)
It has a wheel locking mechanism
SFH 1016 PALLET TRUCK CAN BE USED AS A WORKBENCH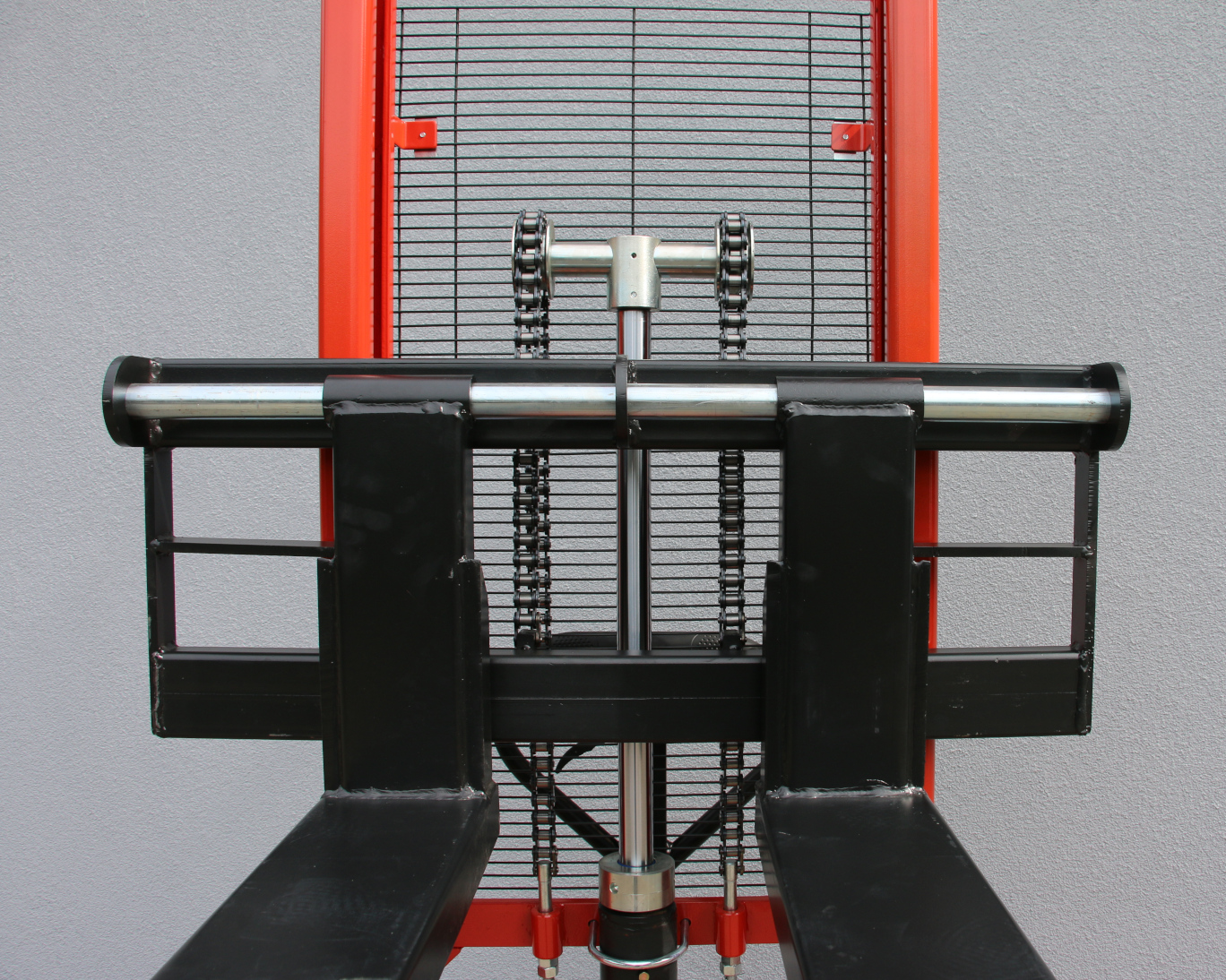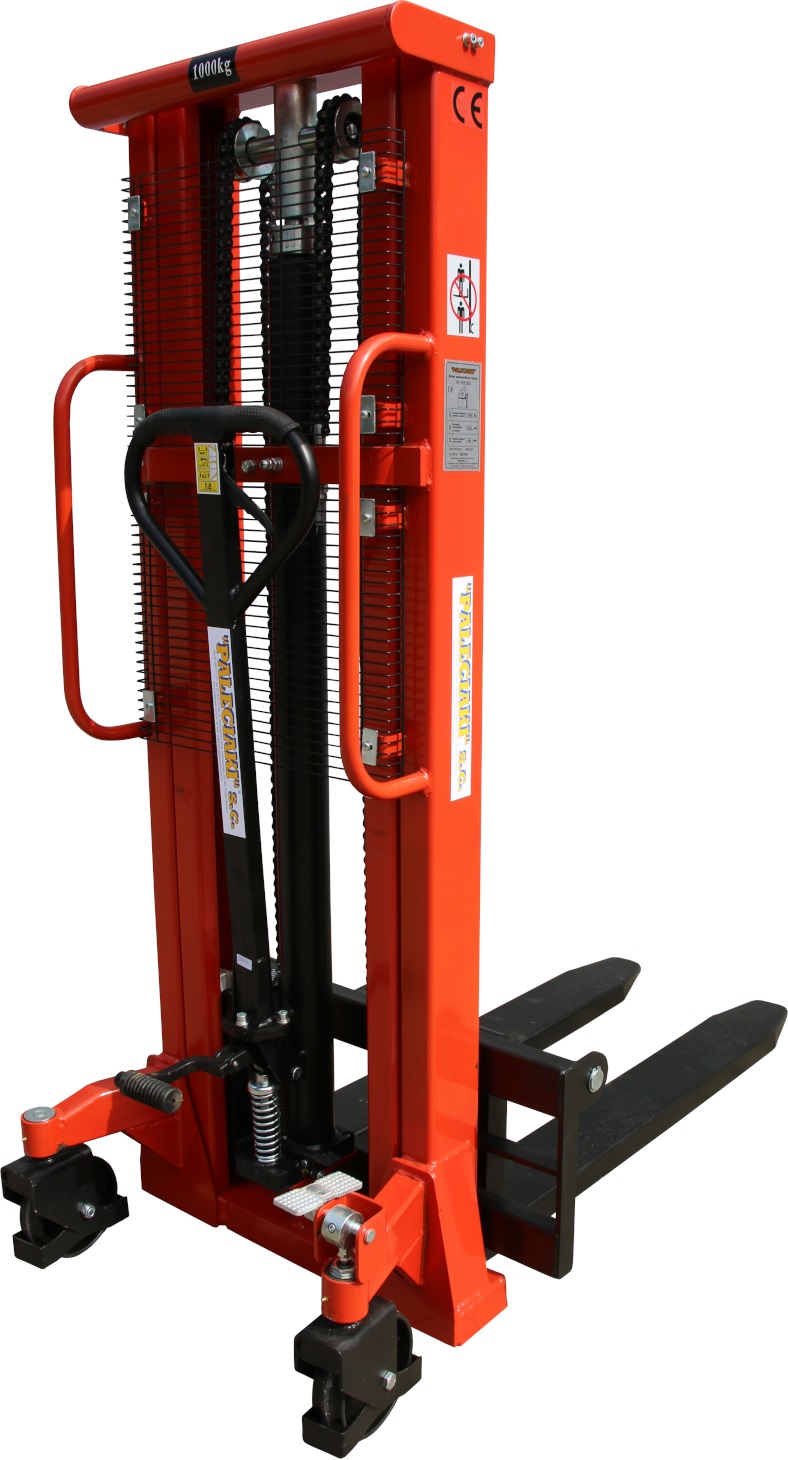 WARUNKI GWARANCJI

1. Gwarancja obejmuje wady ukryte i uszkodzenia wynikłe w okresie gwarancyjnym z winy
producenta tj. wskutek wady materiału, złej obróbki, montażu i polega na bezpłatnej wymianie
wadliwych lub uszkodzonych części a w przypadku nieprawidłowego działania na bezpłatnej
naprawie.
2. Okres gwarancji wynosi 12 miesięcy licząc od daty zakupu.
3. Sprzedawca zobowiązuje się rozpatrzyć w ciągu 4 dni zgłoszoną reklamację i w przypadku jej
uznania dokonać skutecznej naprawy w terminie nie dłuższym niż 10 dni. Zgłoszona reklamacja
będzie uznana tylko wówczas, gdy stwierdzona zostanie prawidłowa eksploatacja wózka.
4. Okres gwarancji ulega wydłużeniu o czas, w którym użytkownik z powodu wady nie mógł
eksploatować wózka.
5. Gwarancją nie są objęte:
- wady powstałe wskutek niewłaściwego i niezgodnego z instrukcją obsługi użytkowania,
przechowywania i niewłaściwej eksploatacji wózka
- koła jezdne (z wyjątkiem widocznych wad wewnętrznych)
- łożyska (korozja, uszkodzenia powstałe na skutek korozji)
- uszkodzenia łączników kół tylnych (boków wózka tandemu) spowodowane zatarciem
skorodowanych łożysk
- uszkodzenia mechaniczne powstałe w związku z niewłaściwą eksploatacją
- uszkodzenia wynikłe na skutek przeróbek i zmian konstrukcyjnych dokonanych przez
użytkownika lub osoby trzecie
6. Kupujący musi dostarczyć wózek na swój koszt w całym okresie gwarancyjnym.
7. Kupujący ponosi koszty naprawy nie uznanej przez sprzedawcę oraz delegacji eksperta do miejsca
eksploatacji wózka.
8. Uprawnienia z tytułu udzielonej gwarancji mogą być realizowane jedynie po przedstawieniu przez
kupującego ważnej karty gwarancyjnej. Karta gwarancyjna bez wpisanego numeru wózka, daty
sprzedaży, pieczątki punktu sprzedaży oraz dowodu zakupu jest nieważna.
9. Odstąpienie kupującego od umowy kupna, żądanie obniżenia ceny lub wymiany wyrobu na nowy,
może nastąpić w przypadku niespełnienia warunków gwarancji przez sprzedawcę.
10. W sprawach nieuregulowanych w niniejszej gwarancji mają zastosowanie przepisy
Kodeksu Cywilnego.