CEDRUS LS09 HYDRAULIC ELECTRIC WOOD SPLITTER CEDRUS LS09V VERTICAL CHIPPER PRESSURE 14 TONS CEDLS09V - EWIMAX - OFFICIAL DISTRIBUTOR - AUTHORIZED CEDRUS DEALER

Cedrus LS09V wood splitter - The offered Cedrus LS09V wood splitter is a solution for professionals looking for high-end, reliable and efficient equipment.

HYDRAULIC WOOD SPLITTER
CEDRUS LS09
Pressure 14 Ton
You will find that the CEDRUS LS09 electric splitter is a proven choice that will meet the expectations of all the most demanding professionals. Learn about its capabilities and technical specifications to see that it is a tool tailored to your needs.
Chopping wood has never been so safe. You no longer need to use a traditional axe, which required a huge amount of force to work with. CEDRUS CEDLS09V hydraulic splitter has the necessary safety features to eliminate the risk of accidents. The use of the mechanism is so simple that anyone can handle it - even if you have no experience yet.
Wood splitter CEDRUS CEDLS09V is equipped with a powerful 3500 W motor and comfortable caster wheels. As a result, it provides maximum work efficiency and operational convenience, as transportation does not require a lot of force. It can be stored in an upright position, which eliminates the problem of limited space in the garage, workshop or tool storage room. CEDRUS CEDLS09V is the ideal option for you and your household members. See that chopping wood doesn't have to be a problem.
We are an authorized dealer of the Cedrus brand. All equipment available in our offer is new, operational, free of defects and ready to use. As a result, we guarantee your satisfaction with your choice. If you have questions or concerns, we are here to help. We will be happy to help you complete your order from A to Z - no matter what stage you are at.

Offered wood splitter Cedrus LS09V is a solution for professionals looking for high-end, reliable and efficient equipment. Thanks to its robust construction and performance with high-quality components, the machine is ideal for those engaged in the professional production of firewood and fireplaces. Splitter cedrus vertical does a great job of handling large and heavy pieces of wood on a daily basis.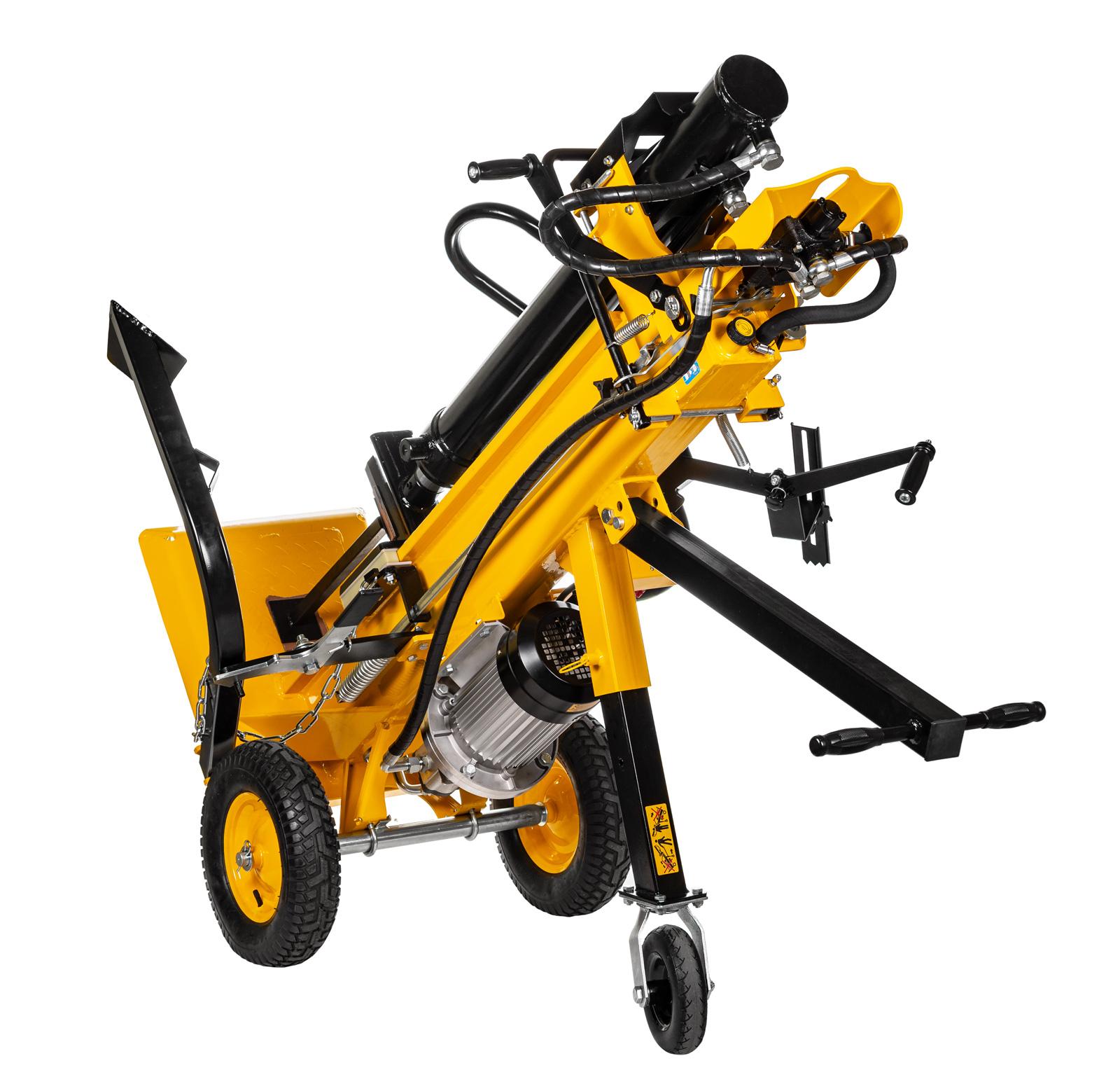 Top performance wood splitter
Cedrus LS09V is a wood splitter equipped with an extremely powerful three-phase electric motor with a power of 3500 watts. Thanks to this, the pressure that the actuator generates is as much as 14 tons. This allows any type of wood to be split effortlessly. Splitter it perfectly handles logs from 56 to 104cm long. As an added convenience for the operator, there is also a timber jack, which makes it easy to properly place the splitting material.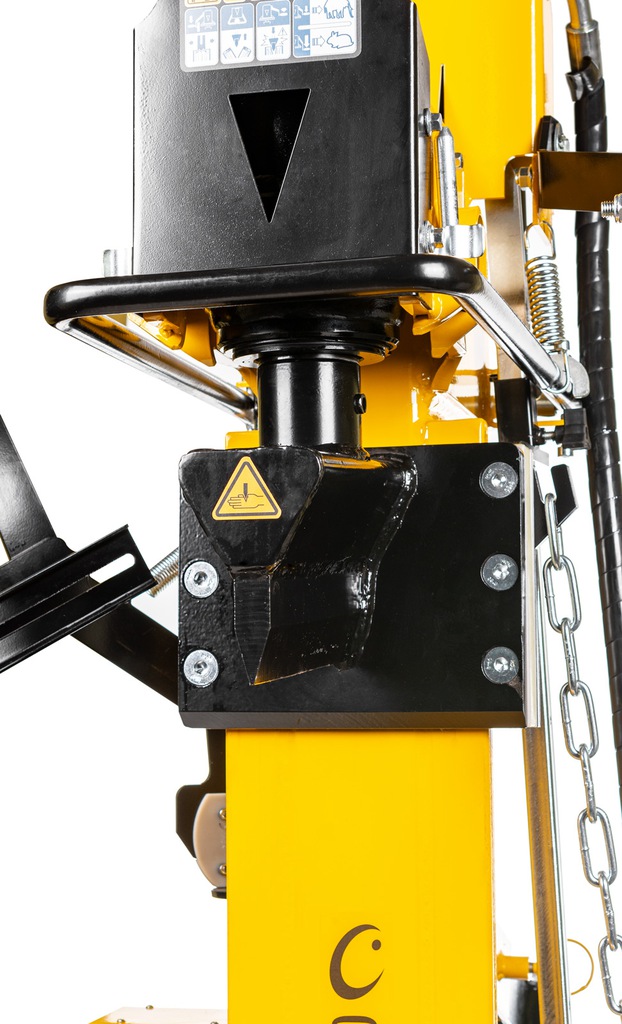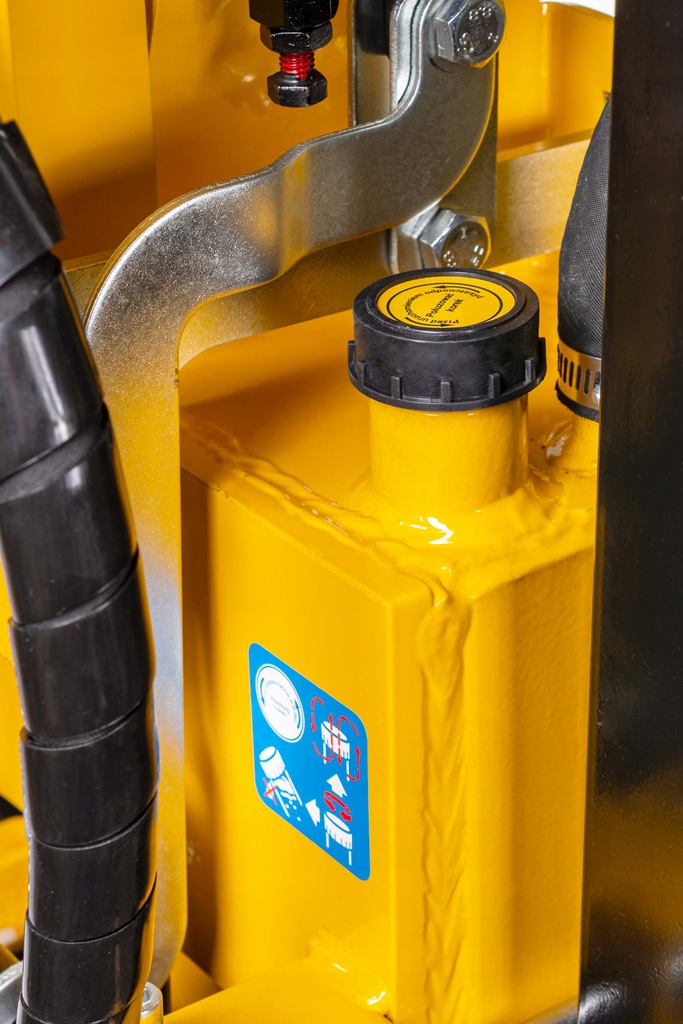 Convenient and efficient wood splitter for use
Splitter Cedrus LS09V features a compact, vertical design. Inflatable wheels, greatly facilitate its transportation and proper positioning. Work is also facilitated by a two-stage speed control (13.9 cm/s and 2.9 cm/s). It is also possible to install a wedge that splits the wood into four parts.
Wood splitter Cedrus is also a device with all the necessary safety features. Two-handed lever operation reduces the risk of accidents during machine operation. In turn, the robust design, ensures high durability and longevity of the machine.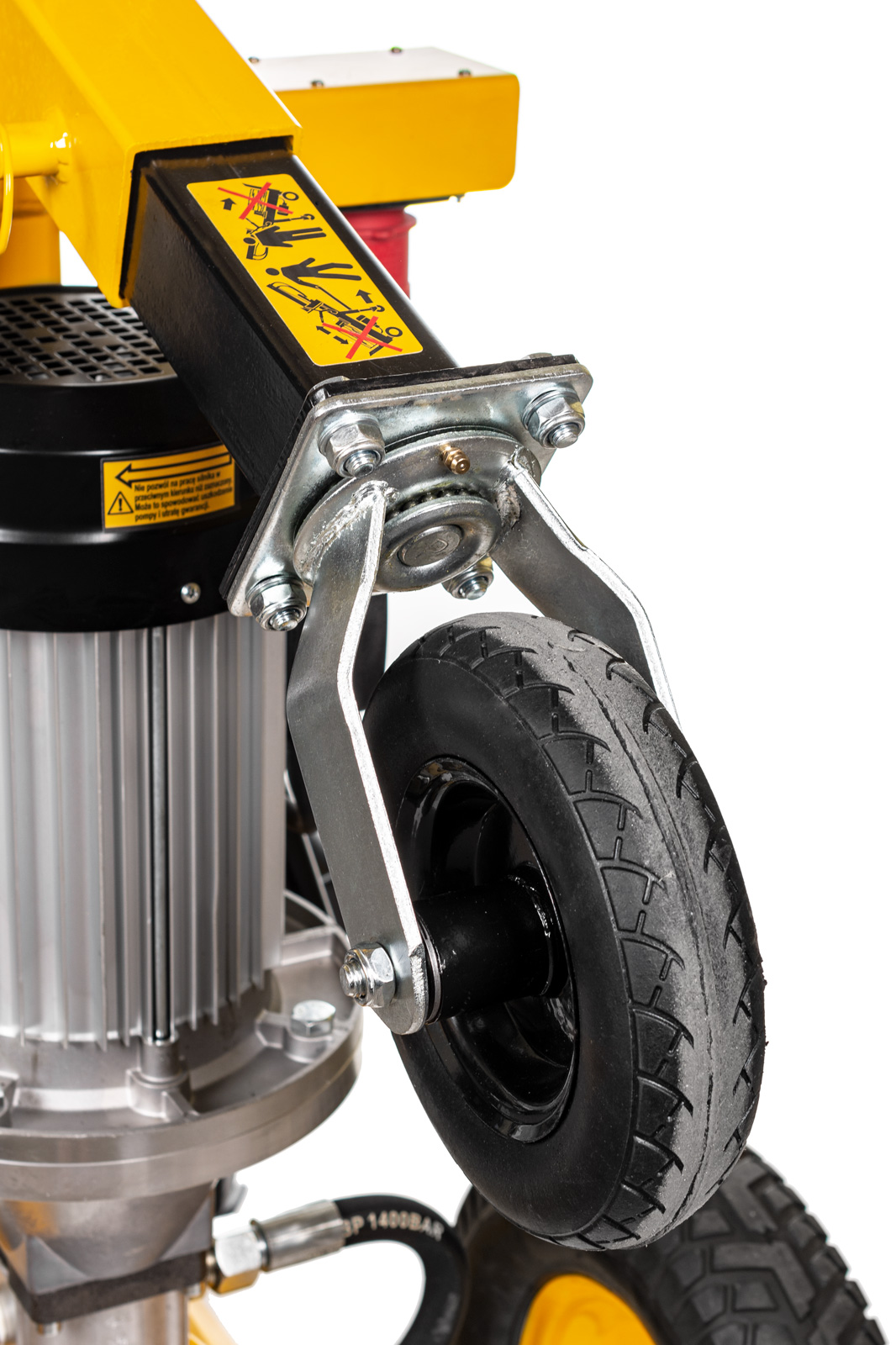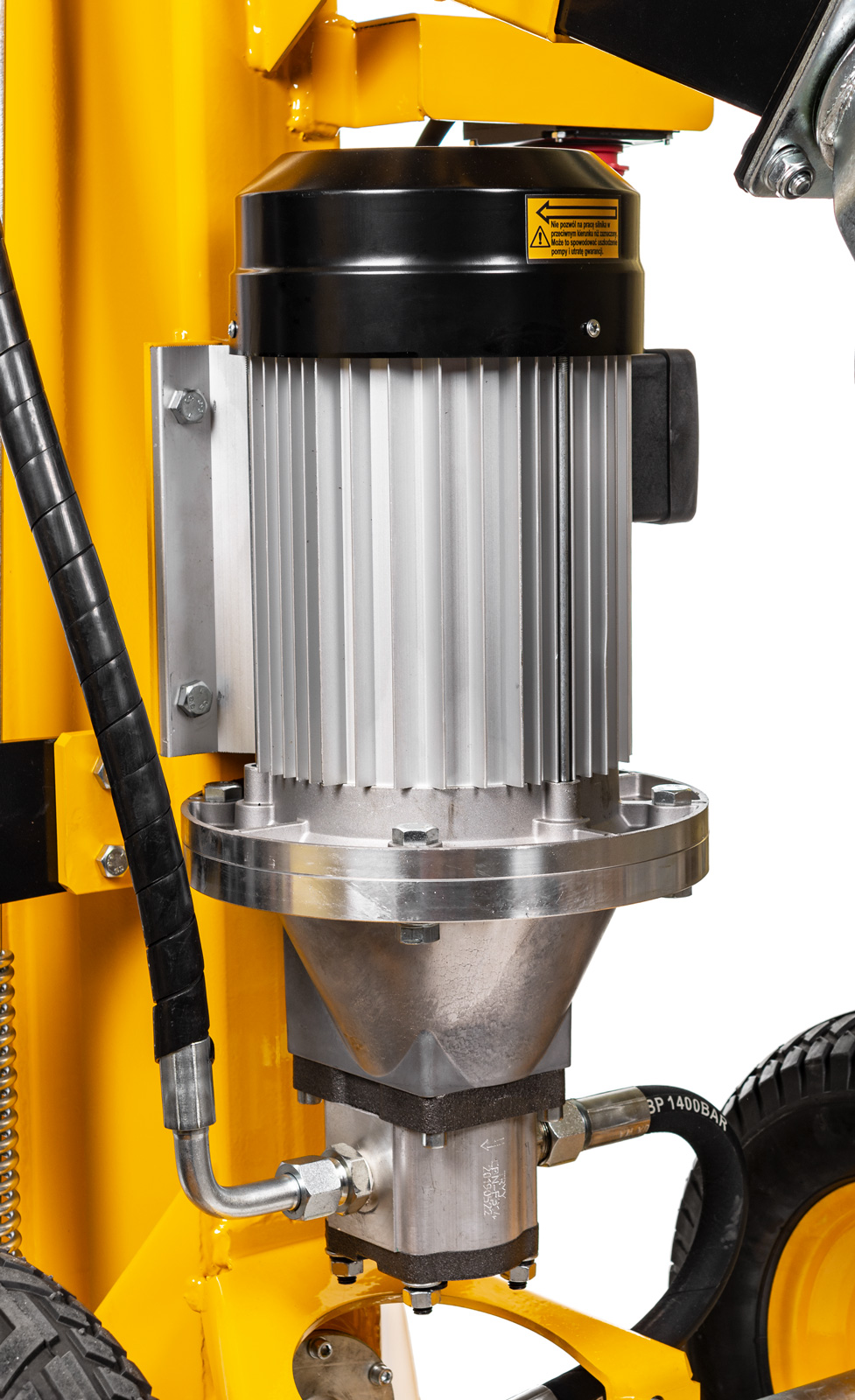 Cedrus LS09V vertical wood splitter
Brand: Cedrus
Max. timber length: 56 cm to 104 cm
2 operating gears :

(13.9cm/s and 2.9cm/s)

The force of pressure: 14 Ton
Max. wood diameter: 30 cm
Hydraulic pressure: 24 Mpa
Engine power: 3500 W
Vibration level: 2.5 (m/s2) awh
Oil tank capacity: 7 l
Engine type: electric
Additional benefits: transport wheels, log lifter
Voltage/frequency: 400V / 50Hz
Warranty: 2 years
Dimensions (L. x width. x height.): 144 x 133 x 228 cm
Noise level: 75 db
Weight: 178 kg
THE PRODUCT COMES FROM THE OFFICIAL DISTRIBUTION TO THE POLISH MARKET !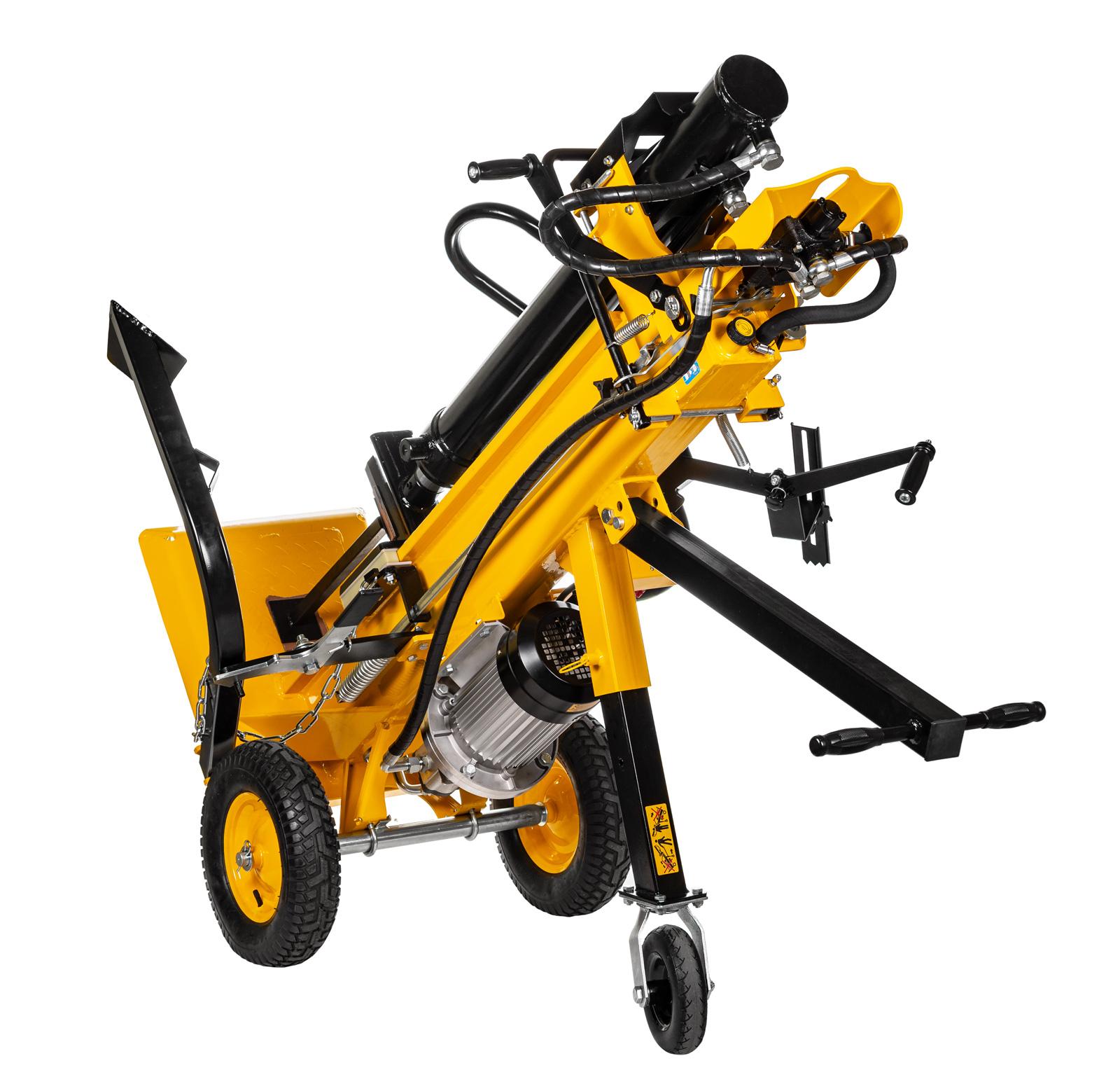 CEDRUS LS09V ŁUPARKA DO DREWNA HYDRAULICZNA E
CEDRUS Extended Warranty for 2 Years
WARUNKI GWARANCJI I SERWISU
Towary zakupione w naszym sklepie są nowe i oryginalne oraz objęte są pełną gwarancją producenta lub importera.
W przypadku reklamacji, należy zgłosić usterkę do Sprzedawcy lub Autoryzowanego Punktu Serwisowego producenta danego urządzenia. Jeśli uszkodzony produkt objęty jest gwarancją typu "door to door" należy postępować zgodnie z procedurą podaną w karcie gwarancyjnej. 

Szczegółowe Warunki gwarancji znajdują się w instrukcji obsługi
Warunki gwarancji

1. Gwarancji udziela Cedrus Spółka Akcyjna na okres 24 miesięcy od daty sprzedaży przy zakupie konsumenckim lub na 12 miesięcy od daty sprzedaży w pozostałych przypadkach.
Gwarancja obejmuje towary/urządzenia zakupione na terytorium Rzeczpospolitej Polskiej. Uprawnienia z tytułu niniejszej gwarancji nie obejmują innych roszczeń związanych z
uszkodzeniem towaru/urządzenia i roszczeń związanych z utratą zysków lub poniesionych kosztów wynikających z uszkodzenia towaru/urządzenia.
2. W przypadku przedłużonej gwarancji niektórych producentów powyżej 24 miesięcy wymagane są coroczne przeglądy serwisowe (adnotacje w karcie gwarancyjnej):
- kosiarki Weibang 60 miesięcy,
- traktorki Cedrus, Simplicity 36 miesięcy,
- traktorki Ariens zero-skręt seria Edge 24 miesięcy lub 150 godzin, Ikon Xd 36 miesięcy lub 300 godzin, Apex 48 miesięcy lub 500 godzin (w zależności od tego co nastąpi pierwsze),Zenith 48 miesięcy lub 750 godzin (w zależności od tego co nastąpi pierwsze)
- traktorki Ferris 24 miesiące bez limitu godzin, 48 miesięcy lub 500 godzin (w zależności od tego co nastąpi pierwsze). Paski napędu jazdy, opony, klocki hamulcowe, akumulatory, noże
objęte są gwarancją 90 dni. 2-pasowy układ napędowy stosowany w modelach IS 6200, ISX 3300, IS 3200Z, ISX 2200, IS 2100Z i ISX 800 objęty jest gwarancją na okres 36 miesięcy lub 300 godzin (gwarancja obejmuje w pierwszym roku części i robociznę, w drugim i trzecim jedynie części). Amortyzatory typu coilover i wszystkie elementy związane z zawieszeniem są objęte gwarancją 60 miesięcy bez ograniczenia liczby godzin.
Paski napędu noży w modelach FW35, FM35, SRSZ1 objęte są gwarancją 12 miesięcy lub 100 godzin.
- glebogryzarki Pubert z silnikiem Honda 60 miesięcy,
- wykaszarki Cedrus z silnikiem Kawasaki 36 miesięcy,
- kosiarki automatyczne Wiper: seria Trekker 72 miesięcy (adnotacje w karcie gwarancyjnej oraz aplikacji serwisowej Wiper).
3. W przypadku urządzeń z przedłużoną gwarancją niektórych producentów gwarancja na silniki (producenta) oraz przekładnie wynosi 24 miesiące zakup konsumencki lub 12 miesięcy w
pozostałych przypadkach.
4. Przez naprawę gwarancyjną rozumie się czynności o charakterze specjalistycznym, właściwym dla usunięcia wady fizycznej objętej gwarancją.
5. Gwarancją nie są objęte:
a) części podlegające normalnemu zużyciu:
- elementy układu tnącego (prowadnice, łańcuchy, adaptery, noże, kółka, tarcze, wiertła, ściernice, uchwyty elementów),
- linki: rozrusznika, napędu, hamulca, regulacyjne,
- elementy napędowe (bębny sprzęgła, sprzęgła kółka napędowe, wałki napędowe, koła pasowe, paski klinowe i zębate, koła jezdne urządzeń),
- filtry powietrza, oleju, paliwa, wody, płynów hydraulicznych,
- świece zapłonowe, przewody zapłonowe, sprężyny, amortyzatory gumowe, membrany, dysze i zawory gaźników,
- przewody elektryczne, szczotki, szczotko trzymacze, bezpieczniki, żarówki, rozruszniki ręczne i elektryczne.
b) uszkodzenia wynikające ze stosowania innych olejów niż zalecane przez Cedrus Spółka Akcyjna oraz producenta (dotyczy silników 2-suw jak i 4-suw).
c) uszkodzenia powstałe w wyniku stosowania paliwa, mieszanki o niskiej jakości.
d) uszkodzenia, które powstały w wyniku napraw po za siecią serwisów Cedrus Spółka Akcyjna.
e) uszkodzenia mechaniczne, termiczne, chemiczne i wszystkie inne spowodowane działaniem bądź zaniechaniem przez Użytkownika.
f) uszkodzenia powstałe wskutek naturalnego częściowego lub całkowitego zużycia zgodnie z właściwościami albo przeznaczeniem sprzętu.
g) uszkodzenia powstałe w wyniku niestosowania się do zaleceń producenta z instrukcji obsługi oraz komunikatów serwisowych.
h) uszkodzenia wynikłe na skutek:
- przeróbek, napraw i zmian konstrukcyjnych dokonywanych przez Użytkownika,
- niewłaściwej lub niezgodnej z instrukcją instalacji, użytkowania, braku dbałości o sprzęt (używania nieoryginalnych materiałów),
- transportu.
i) celowe uszkodzenie sprzętu.
j) czynności konserwacyjne - czyszczenie, wymiana materiałów eksploatacyjnych, przeglądy serwisowe.
6. Akumulatory objęte są gwarancją na okres 6 miesięcy.
7. Naprawy oraz przeglądy urządzeń należy wykonywać w sieci serwisów Cedrus Spółka Akcyjna.
8. Gwarancja na części użyte do naprawy tzw. "części wkładane" udzielana jest na okres 6 miesięcy.
9. Reklamującemu przysługuje prawo do wymiany towaru/urządzenia na nowy, w przypadku gdy Autoryzowany Serwis stwierdzi na piśmie, że usunięcie wady jest niemożliwe lub nieuzasadnione z ekonomicznego punktu widzenia.
10. Reklamujący winien dostarczyć towar/urządzenie do Autoryzowanego Serwisu. Reklamowany towar/urządzenie powinien być kompletny i w stanie, w jakim znajdował się w momencie uszkodzenia. Powinien się też znajdować w odpowiednio zabezpieczającym opakowaniu.
11. Autoryzowany Serwis obowiązany jest do rozpatrzenia zasadności reklamacji w terminie 14 dni od dnia dostarczenia przez Reklamującego towaru/urządzenia. W przypadku uznania gwarancji, Autoryzowany Serwis obowiązany jest wykonać swoje obowiązki w terminie do 30 dni.
12. Karta gwarancyjna musi być prawidłowo wypełniona. Uprawnienia z tytułu udzielonej gwarancji mogą być realizowane jedynie po przedstawieniu przez Użytkownika ważnej karty gwarancyjnej oraz dowodu zakupu. Samowolne zmiany wpisów w karcie gwarancyjnej lub dokonywanie napraw we własnym zakresie powoduje utratę gwarancji.
13. W przypadku gwarancji na urządzenia akumulatorowe w karcie gwarancyjnej należy wpisać numery seryjne wszystkich elementów zestawu.
Wyrażam zgodę na przetwarzanie moich danych osobowych zgodnie z ustawą z dnia 10 maja 2018 roku o ochronie danych osobowych (Dz. Ustaw z 2018, poz. 1000) oraz zgodnie z Rozporządzeniem Parlamentu Europejskiego i Rady (UE) 2016/679 z dnia 27 kwietnia 2016 r. w sprawie ochrony osób fizycznych w związku z przetwarzaniem danych osobowych i w sprawie swobodnego przepływu takich danych oraz uchylenia dyrektywy 95/46/WE (RODO).