NORTON CLIPPER JUMBO 651 1.30.3 masonry table saw masonry table saw for masonry blocks stone Ø 650mm 2.2KW 230V - OFFICIAL DISTRIBUTOR - AUTHORIZED DEALER NORTON CLIPPER

NORTON JUMBO 651 1.30.3 is a strong and powerful NORTON Clipper table saw for cutting large bricks and blocks. Excellent for construction work.Ideal on the construction site for cutting building materials such as porotherm, silka, concrete slabs, etc


NORTON CLIPPER JUMBO 651 1.30.3
MASONRY SAW TABLE TABLE TABLE MASONRY SAW FOR STONE HOLLOW BLOCKS BUILDING BLOCKS
Ø 650mm / 2.2 kW 230V
NORTON JUMBO 651 1.30.3 is a strong and powerful NORTON Clipper table saw for cutting large bricks and blocks. Excellent for construction work.Ideal on the construction site for cutting building materials such as porotherm, silka, concrete slabs, etc.
NORTON CLIPPER offers a wide range of professional and powerful equipment. Inventors of the first masonry saw 80 years ago, Norton Clipper today offer a full range of machines with cutting blade diameters from 350mm to 1000mm. JUMBO 651 masonry cutter is the market benchmark for large block masonry saws. Ideal for continuous operation in the workplace or industrial locations.
Norton Clipper Jumbo 651 Electric and Combustion Masonry Cutters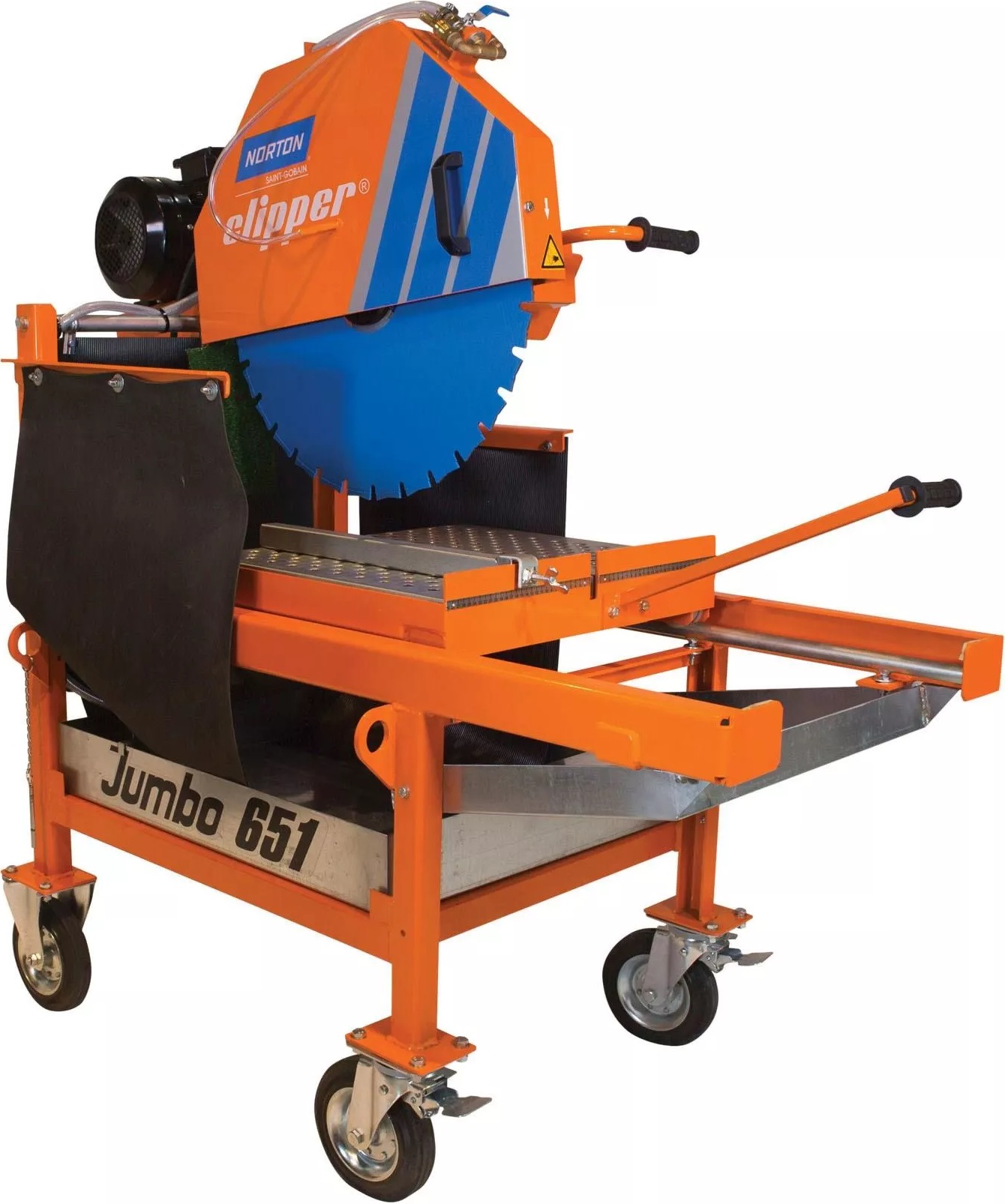 Norton Clipper Jumbo 651 Electric and Combustion Masonry Cutters are strong and durable, and thus also a popular choice for customers in the industry. These tools have many advantages, such as, for example, the ease of moving the device within the work zone or the ability to secure the device while cutting. Norton Clipper Jumbo 651 is ideal for precision cutting masonry products. It is an excellent choice for those who care not only about the speed of their work, but also about its quality and the comfort of their employees. Features of Norton Clipper Jumbo 651 Electric and Combustion Masonry Cutters are:
a sturdy frame set on 4 casters (2 equipped with a locking mechanism),

conveyor carriage placed on 4-seater rollers,

easy access to the dial.
Norton Clipper Jumbo 651 is a high quality product, which will meet the expectations of even the most demanding customers.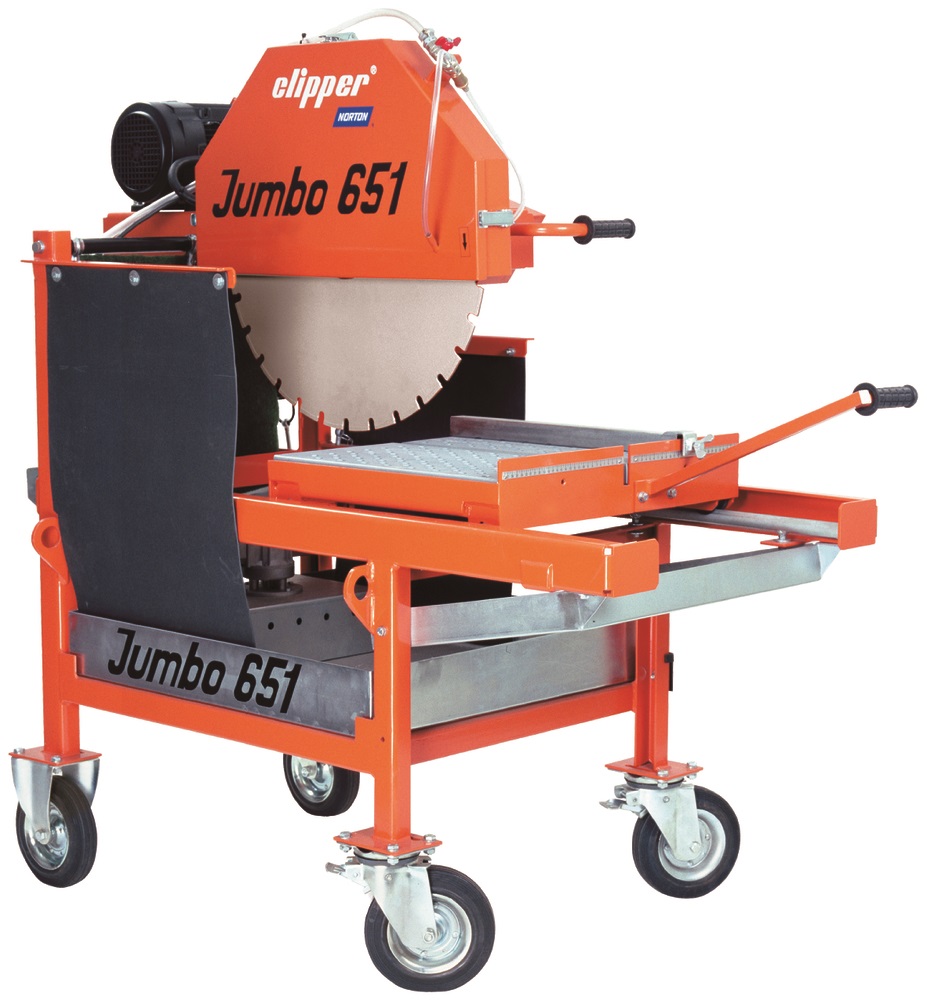 NORTON Clipper JUMBO 651 table saw, is a robust machine that is designed for permanent construction site operations or industrial applications. Durable and reliable design that has excelled for many years in the tasks for which it was built.


Jumbo 651 allows the use of a diamond blade with a maximum diameter of 650 mm and cutting to a depth of 265 mm, which dedicates the machine to cutting construction materials such as siporex or silka. 2.2 kW electric motor ensures smooth and trouble-free operation of the device. Robust water pump and closed sprinkler system extends the life of diamond tools. The cutter is equipped with four transport wheels that make it easy to maneuver the machine on the job site.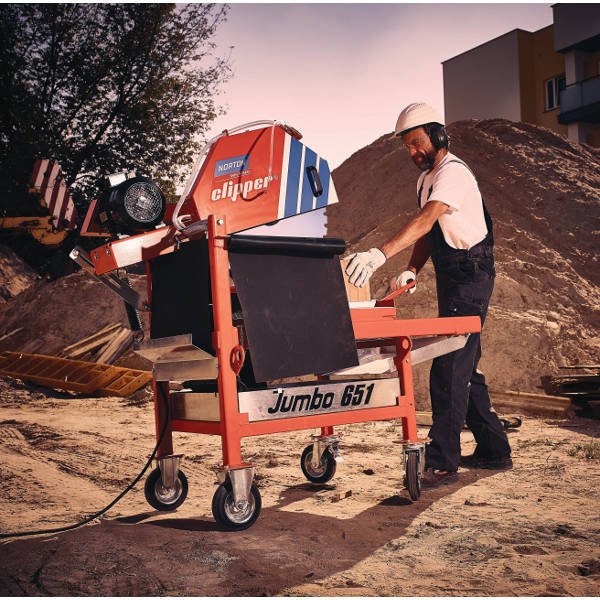 NORTON Features CLIPPER JUMBO 651 1.30.3 :
Advantages - Norton Clipper Jumbo 651 Electric and Combustion Masonry Cutter
Blade guard maximizes operator safety during operation and provides greater visibility of work pieces. Mounted in it two water jets they ensure adequate water flow on both sides of the disc,
The motor has overload protection and a low voltage trip (NVR),
The shaft of the disc is set on ball bearings and driven by three drive belts, which are designed to work in harsh conditions,
Spring-loaded cutting head engaged by a clamp allows the cutting head to be lowered smoothly and workpieces to be processed without shock,
Sturdy frame with built-in lifting handle and embedded on 4 casters provide safe transportation within the work area. It is also equipped with a large water bowl with a drain plug,
Water cooling system includes m.in. high-powered submersible water pump and 3 water curtains that limit the spraying of water,
Cutting depth lock - allows the operator to set the desired depth,
Galvanized,sturdy cart is equipped with water flow control vents for maximum stability and smooth movement. In addition, the cart has cutting guide and a measuring scale on the rear stop.

Ease of moving the device within the work zone.

Protection of the device during cutting.

Excellent cutting precision.

Shorter disc replacement time.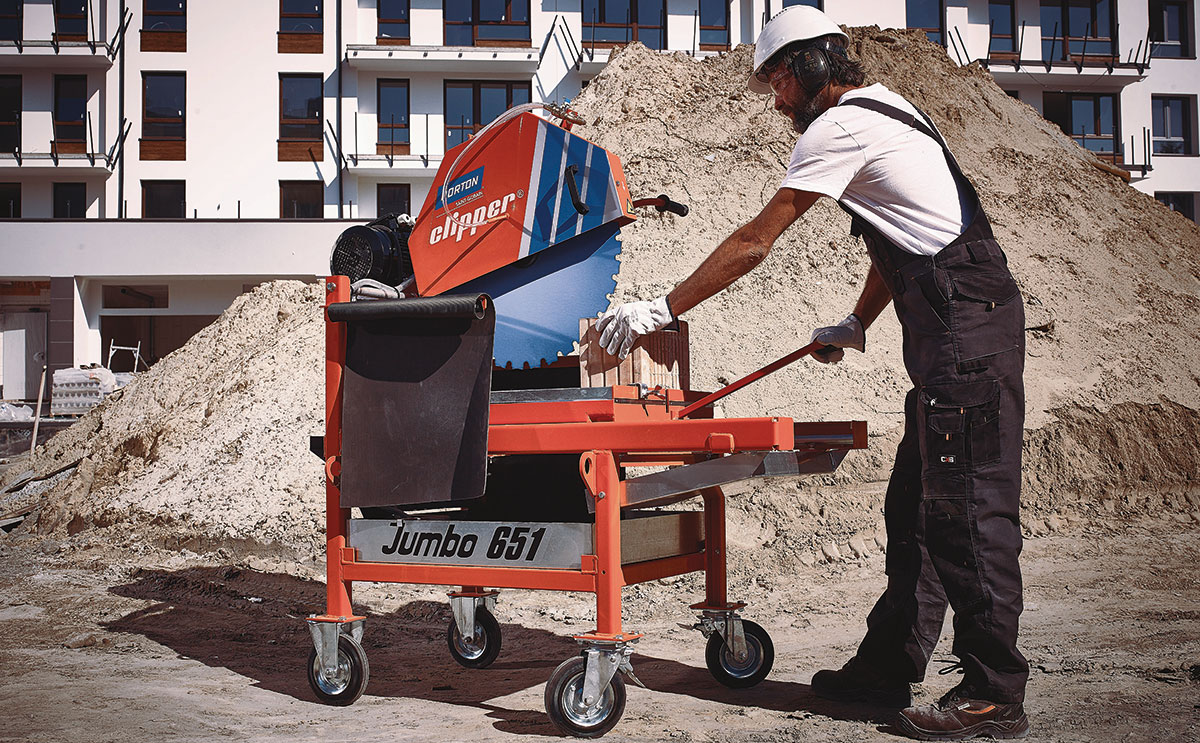 NORTON Benefits CLIPPER JUMBO 651 1.30.3 :
Sturdy frame set on 4 wheels.

2 casters equipped with a locking mechanism.

Conveyor carriage placed on 4-seater rollers.

Easy access to the dial.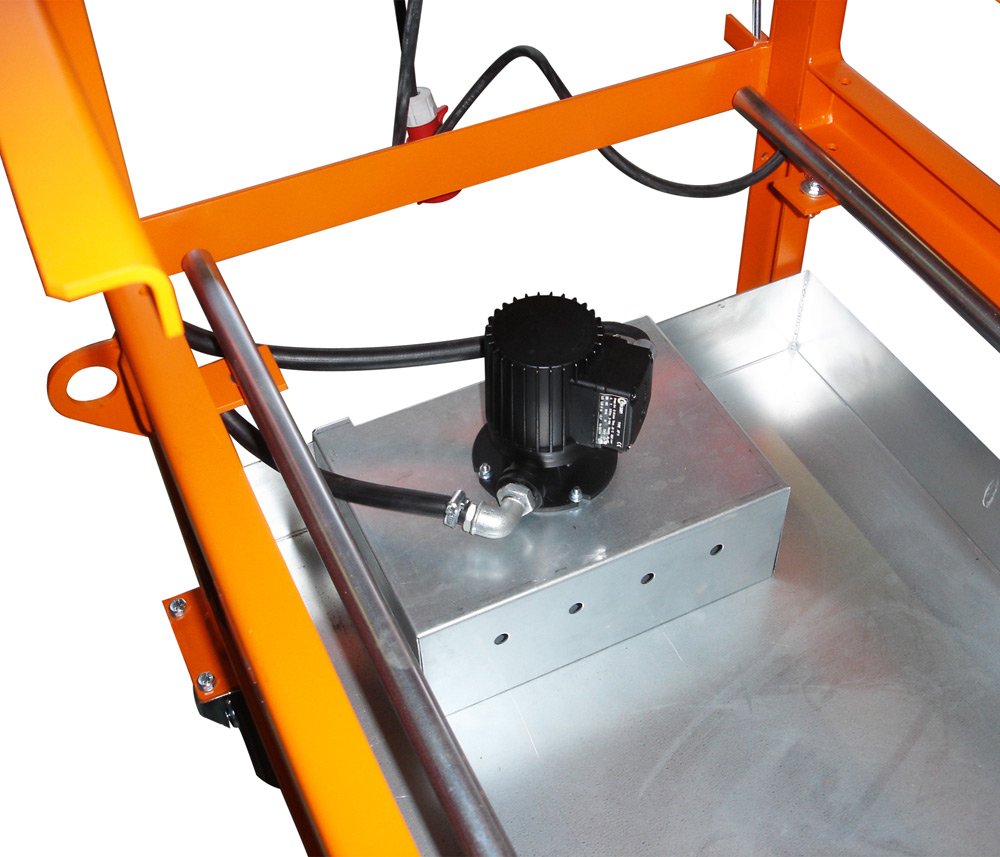 Technical data NORTON CLIPPER JUMBO 651 1.30.3 :
Voltage: 230 V (single-phase)
Engine type: Electric [230 V]
Engine power: 2.2 [kW]
Engine manufacturer and model: LS112M
Generator power: 6 kVA
Fuse: 16 A
Turnover: 1350/min
Maximum depth of cut: 265 mm
Maximum cutting length: 500 mm
Disc diameter: 650 mm
Disc mounting hole diameter: 25.4 mm
Sound pressure level: 86 dB(A)
Sound power level: 100 dB(A)
table dimensions: 600 x 500 mm
Length x width x height: 1700 x 800 x 1480 mm
Weight.: 212 kg
Cutting depth max.: 265 [mm]
Disc diameter max.:

650 [mm]

EAN:5450248596714

Shield : NORTON CLIPPER CLASSIC UNIVERSAL LASER-650-10X4.4 BS-10 /

70184647267

additionally in option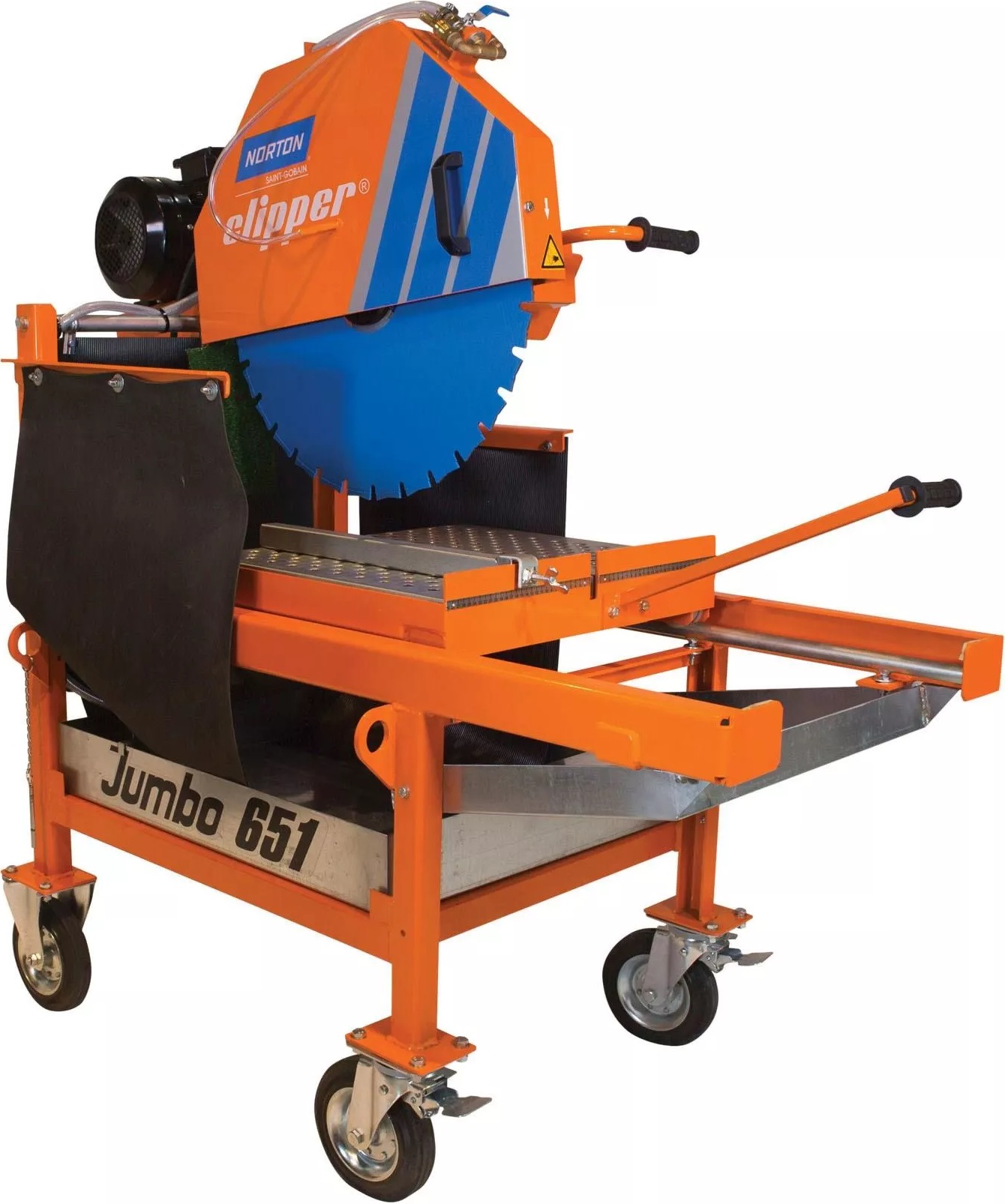 NORTON CLIPPER is a reputable manufacturer of tools. Brand products NORTON CLIPPER are characterized by high quality workmanship and reliability. The brand offers a wide range of tools, wood and tile saws, tiling tools and accessories, circular saws and air tools. NORTON CLIPPER offers comprehensive service in the field of warranty and post-warranty repairs of the product range it offers, and also sells spare parts. Provides customers with technical advice and the fastest possible turnaround times for service orders.
NORTON CLIPPER JUMBO 651 1.30.3 PIŁA PILARKA
WARUNKI GWARANCJI I SERWISU
Towary zakupione w naszym sklepie są nowe i oryginalne oraz objęte są pełną gwarancją producenta lub importera.
W przypadku reklamacji, należy zgłosić usterkę do Sprzedawcy lub Autoryzowanego Punktu Serwisowego producenta danego urządzenia. Jeśli uszkodzony produkt objęty jest gwarancją typu "door to door" należy postępować zgodnie z procedurą podaną w karcie gwarancyjnej. 

Okres gwarancji wynosi 12 miesięcy dla firm lub 24 miesiące dla 

osób

 prywatnych.