NORTON CLIPPER TR202 STONEWARE CERAMIC TILE SAW TILE CUTTER CONSTRUCTION OFFICIAL DISTRIBUTOR - AUTHORIZED NORTON CLIPPER DEALER

Professional equipment from NORTON CLIPPER TR202 guarantees reliability and convenience at work. Ideal for long materials and cutting angled tiles. Easy to transport and store. Easy setup and accurate precision cutting.

Norton Clipper TR202 Tile Cutter
with Extreme Ceram Turbo 200mm disc
Powerful cutter TR 202 thanks to its fast and trouble-free installation, it is an excellent solution for both stationary and mobile use. With a variety of capabilities, the device works well in many applications. NORTON CLIPPER TR 202 cutter is designed for precise cutting of various sizes of concrete tiles, paving stones, marble slabs, concrete slabs, bricks and tiles of all kinds. Seamlessly adjustable bevel cut, double bevel cut and Jolly cut. Thanks to the built-in cooling pump, cooling of the diamond blade and dust-free operation is ensured. Inclined head allows trouble-free processing of workpieces up to 650 mm long.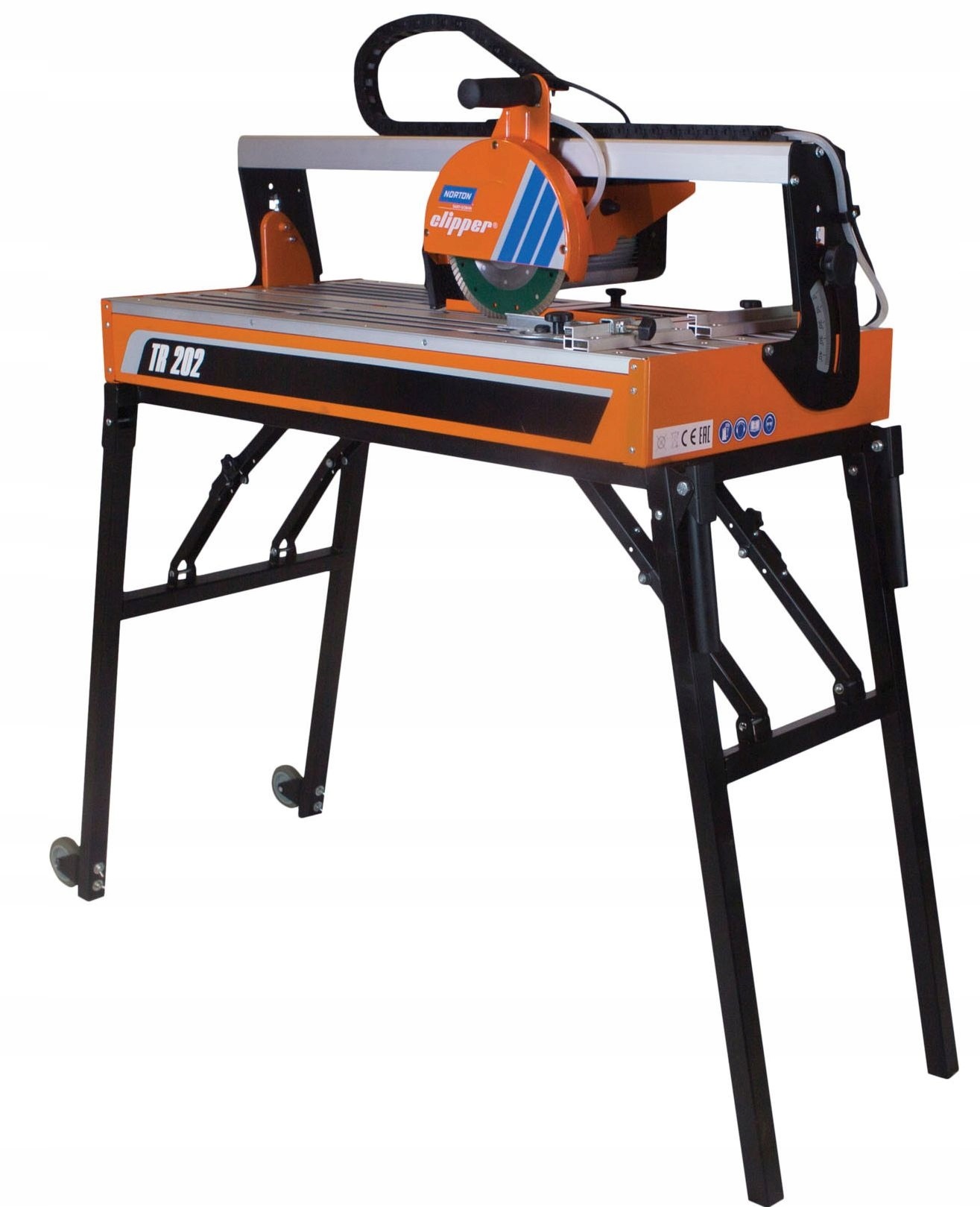 BENEFITS - Norton Clipper TR202 Tile Cutter
Smoother feed, easier maintenance, precise cutting.

High-powered professional device.

Ideal for cutting long tiles and diagonal cutting of 40x40 cm tiles.

Ideal device for bevel cutting from 0° to 45°.

Easy to transport and store.

Easy cleaning and drainage.

Rigid design and protection of detachable plastic water bowl.

Quick set-up and cutting precision.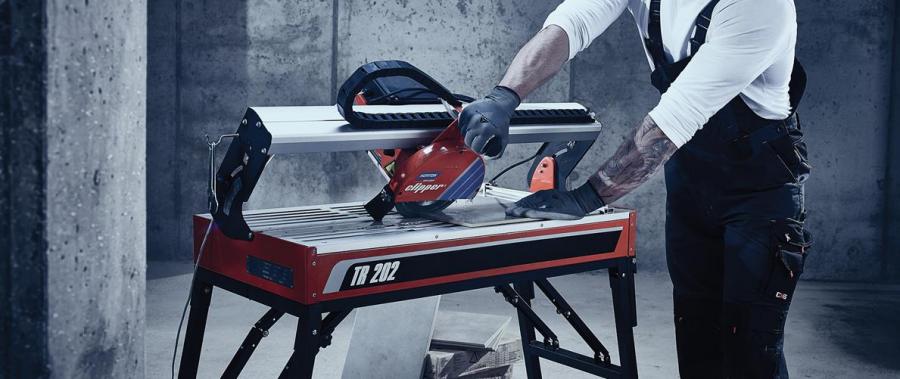 FEATURES - Norton Clipper TR202 Tile Cutter
Durable guide rail and cutting head guide.

900 W motor.

Cutting length 650 mm.

Swivel head.

Folding legs and transport wheels.

Detachable plastic water bowl with drain cock.

Metal frame with high durability.

High-speed guide with precision locking mechanism.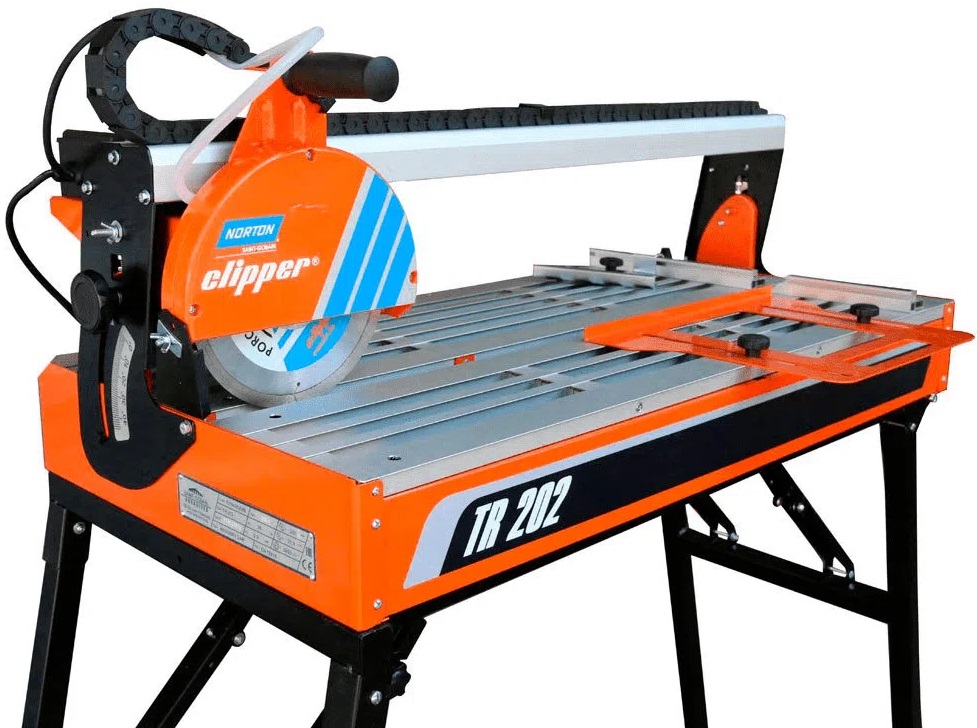 Ø200mm Clipper Extreme Ceram Turbo (SUPER GRESS XT)
MOUNTED ON THE MACHINE
Tile discs Norton Clipper Extreme Ceram Turbo are specialized tools designed to cut even the hardest ceramic and porcelain tiles. They can also cut glass, marble, terracotta, granite and other hard materials. Norton Clipper Extreme Ceram Turbo will find use on angle grinders, tile cutters and masonry cutters. Cuts made with this diamond disc are characterized by high quality. This is due to the segments with a height of 10mm, forming a continuous edge. In addition, the tool's narrow width has the benefit that material loss during operation is minimal. Norton Clipper Extreme Ceram Turbo Diamond Discs are certified by the oSa association. This means that they are fully safe for the user.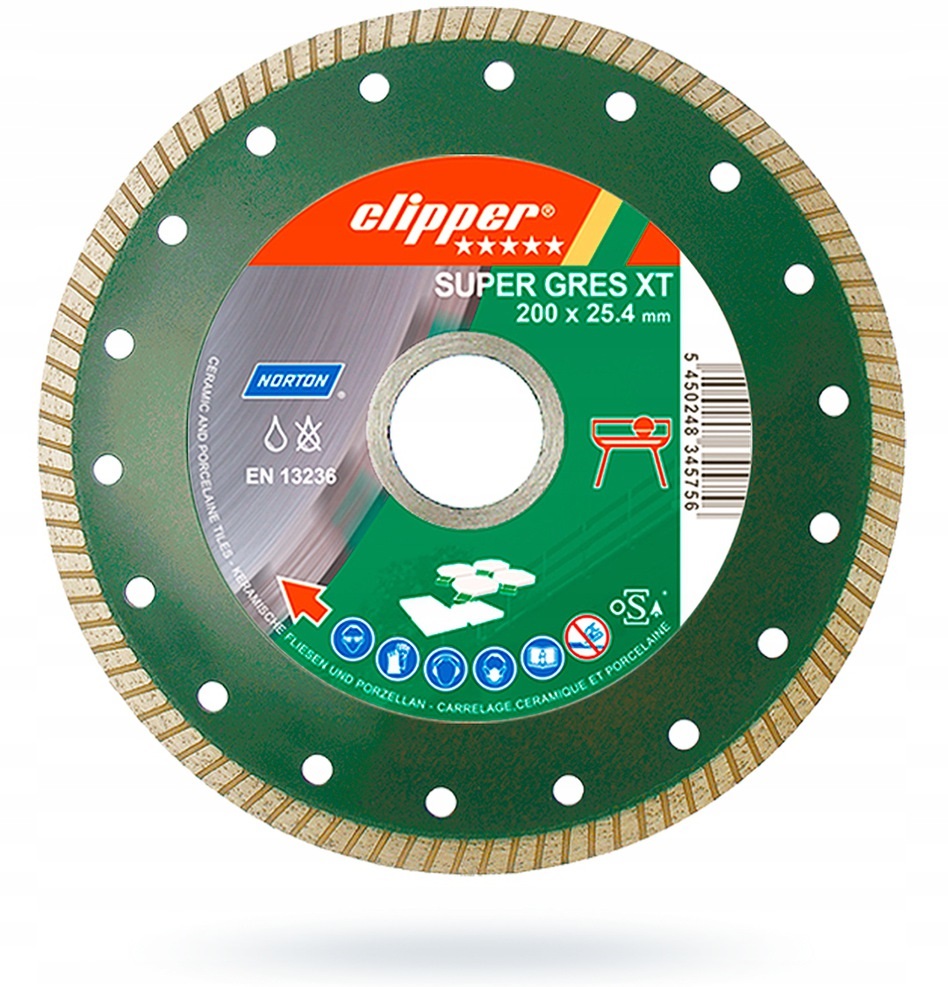 Technical specifications NORTON CLIPPER TT 202 :
Parameter: Value
Art. no.: 701846 01106
EAN code 13: 5450248 699521
Supply voltage: 230V 1~
Power: 900W (1.2 Hp)
Fuse/Generator: 16A / 3 kVA
Disc and bore diameter: Ø 200 x 25.4mm
Dimensions (L. x width. x height.): 930 x 470 x 1200mm
Package dimensions: 1020 x 490 x 465mm
Weight: 35kg
Swivel head: 0 - 45º
Maks. 90° / 45° cutting depth: 15mm / 10mm
Maks. cutting length: 650mm
Table dimensions: 810 x 470mm

Maximum disc diameter:

200 mm

Bore diameter: 25.4 mm
Maximum material dimensions: 600 x 600 x 200 mm
Maximum material weight: 15 kg
Maximum cutting height 0º: 20 mm
Maximum cutting height of 45º: 20 mm
Maximum depth of cut at 90º: 15 mm
Maximum depth of cut at 45º angle: 10 mm
Flange diameter: 70 mm
Device dimensions (DxSxW): 930 x 470 x 1200 mm
Weight - set: 35 kg
Weight in working configuration (including water): 45 kg
Manufacturer: NORTON
Speed (rpm)./min): 2950 min-1
Hand/arm vibration: < 2.5 m/s²
Sound power level / sound pressure: 80 dB (A) / 72 dB (A)
Norton Clipper 70184601106 is a professional high-powered and high-performance cutting machine.

It is designed to cut through many types of tiles, building materials and refractory products, wet or dry. Cannot be used for cutting wood and metal.

Cuts through materials with a maximum size of 600 x 600 x 20 mm and a weight of less than 15 kg.

TR202 is ideal for cutting long 40 x 40 cm tiles.

It will be perfect for bevel cutting from 0º to 45º.

It is quickly prepared. Transport wheels make it easy to carry to the construction site.

Durable steel and aluminum frame provides adequate rigidity and structural strength.

Four extendable legs guarantee stability while working.

The cutter console consists of the electric motor, guides and blade guard.

The head has a smooth feed, and it can be tilted, making it possible to make cuts at a 45-degree angle.

It is designed to handle Norton Clipper diamond discs with a maximum diameter of 200 mm.

Blade guard provides safe operation and increased visibility of the workpiece.

The high-speed guide has a precise locking mechanism.

TR202 is equipped with a 900 W single-phase motor. Along with the engine, the pump starts.

Plastic suction pipe delivers water from the bowl to the cutting head.

A removable plastic bowl that sits under the table prevents excessive water loss.

A water nozzle located in the housing ensures adequate water flow on the disc.
NORTON Application CLIPPER TR202 :
glazes

terracotta

tiles

ceramic tiles

marble tiles

stoneware

stoneware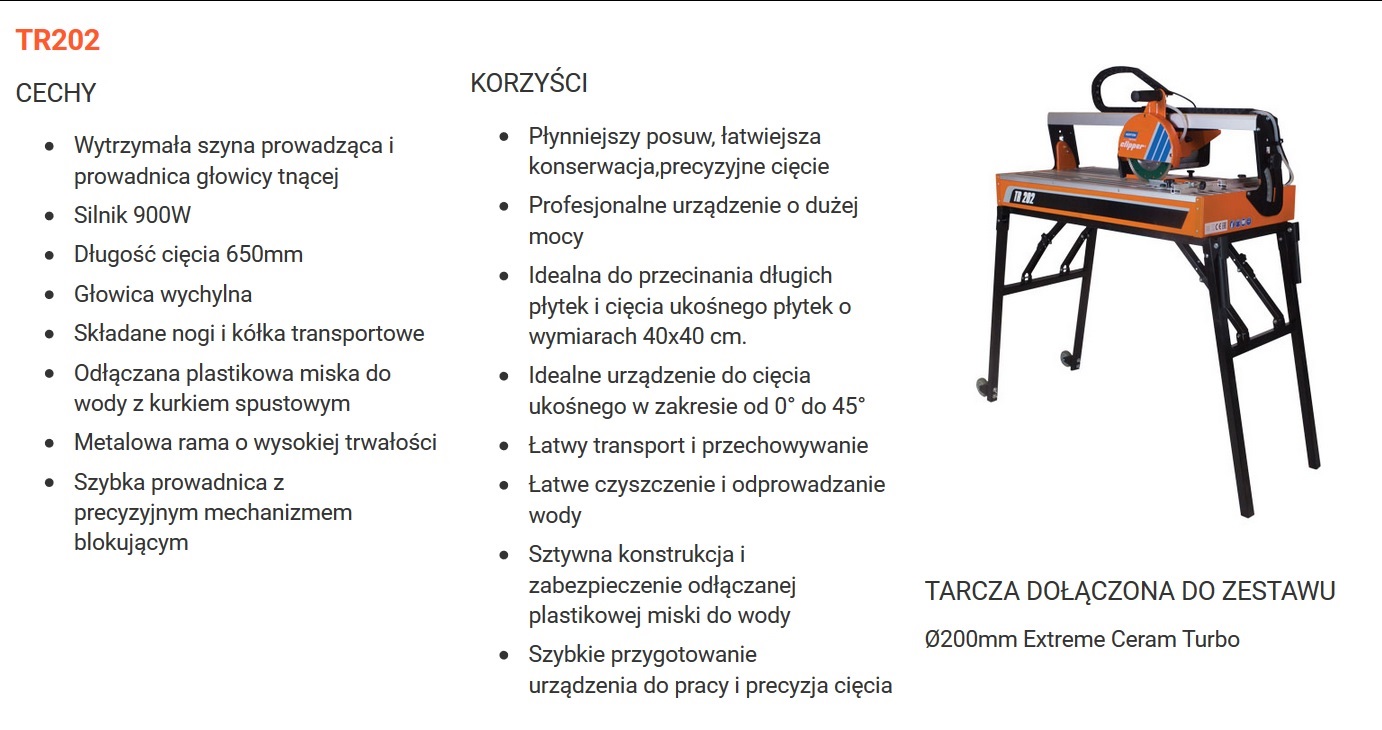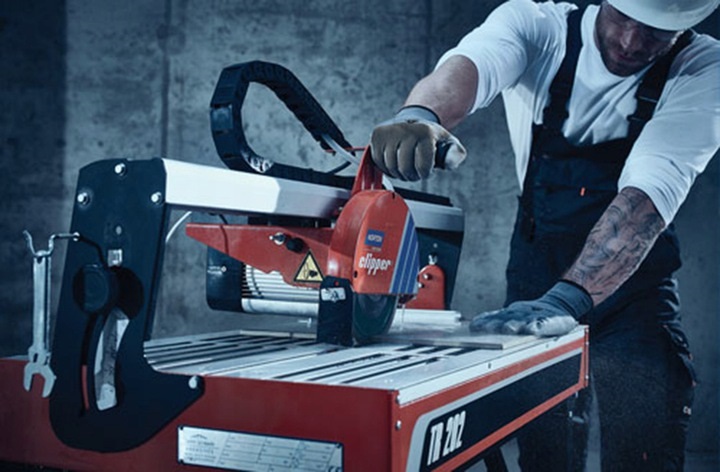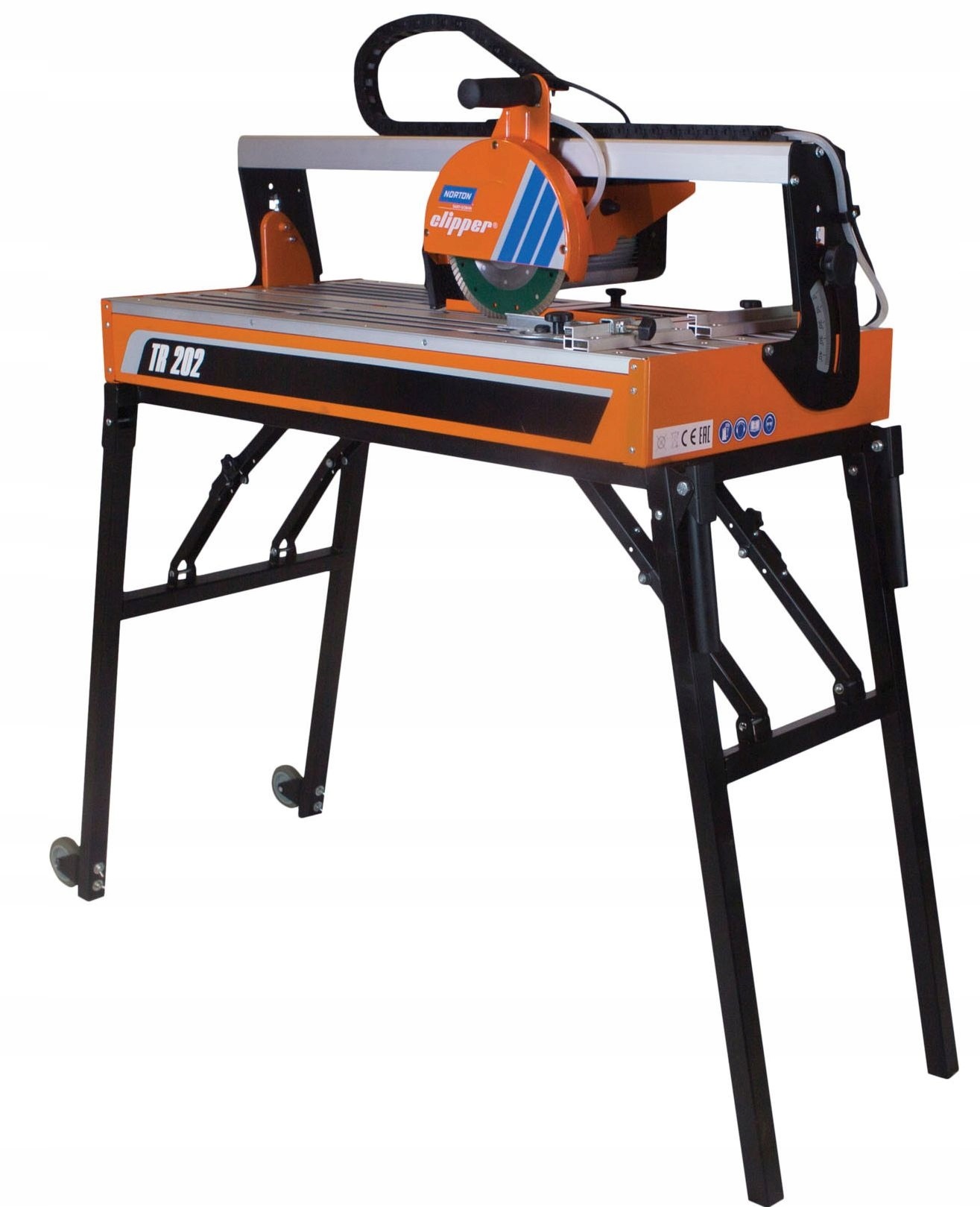 NORTON CLIPPER is a reputable manufacturer of tools. Brand products NORTON CLIPPER are characterized by high quality workmanship and reliability. The brand offers a wide range of tools, wood and tile saws, tiling tools and accessories, circular saws and air tools. NORTON CLIPPER offers comprehensive service in the field of warranty and post-warranty repairs of the product range it offers, and also sells spare parts. Provides customers with technical advice and the fastest possible turnaround time for service orders.
NORTON CLIPPER TR 202 PIŁA PILARKA PRZECINARK
WARUNKI GWARANCJI I SERWISU
Towary zakupione w naszym sklepie są nowe i oryginalne oraz objęte są pełną gwarancją producenta lub importera.
W przypadku reklamacji, należy zgłosić usterkę do Sprzedawcy lub Autoryzowanego Punktu Serwisowego producenta danego urządzenia. Jeśli uszkodzony produkt objęty jest gwarancją typu "door to door" należy postępować zgodnie z procedurą podaną w karcie gwarancyjnej. 

Okres gwarancji wynosi 12 miesięcy dla firm lub 24 miesiące dla 

osób

 prywatnych.