OLEO MAC OM 106/16 KH GARDEN TREADER HYDROSTATIC OM106 102cm SPREMIUM CLASS SPRINDLE MOWER - OFICIAL DISTRIBUTOR - AUTHORIZED DEALER OLEO-MAC

OLEO MAC OM 106/16 KH - Rugged yet compact and maneuverable mowers. Ideal for frequent use in medium to large areas .Designed using the same technological solutions as in professional models,


Garden Tractor Self-Propelled Lawn Mower
OLEO-MAC OM

106/16 KH
Rugged yet compact and maneuverable mowers. Ideal for frequent use in domestic environment, medium and large size areas. Designed using the same technological solutions , as in models for professional use, they combine excellent performance and comfort, making work a pure pleasure. The new range of rear-dump self-propelled mowers has been developed in response to the expectations of the most demanding users seeking avant-garde mowing performance combined with unprecedented driving pleasure. These are extremely versatile machines, allowing you to collect grass clippings into a spacious basket with a capacity of more than 300 liters, unload them from the rear or shred them (after inserting a cap that is standard equipment). The new platform concept, which provides exceptional stability and resistance to deformation, guarantees maximum road grip and driving comfort even on rough terrain.
They are characterized by an excellent combination of durability, reliability and enhanced mowing performance. They have a large garbage can capacity. Self-propelled mowers are the perfect solution for demanding users who regularly tend large areas for long periods of time.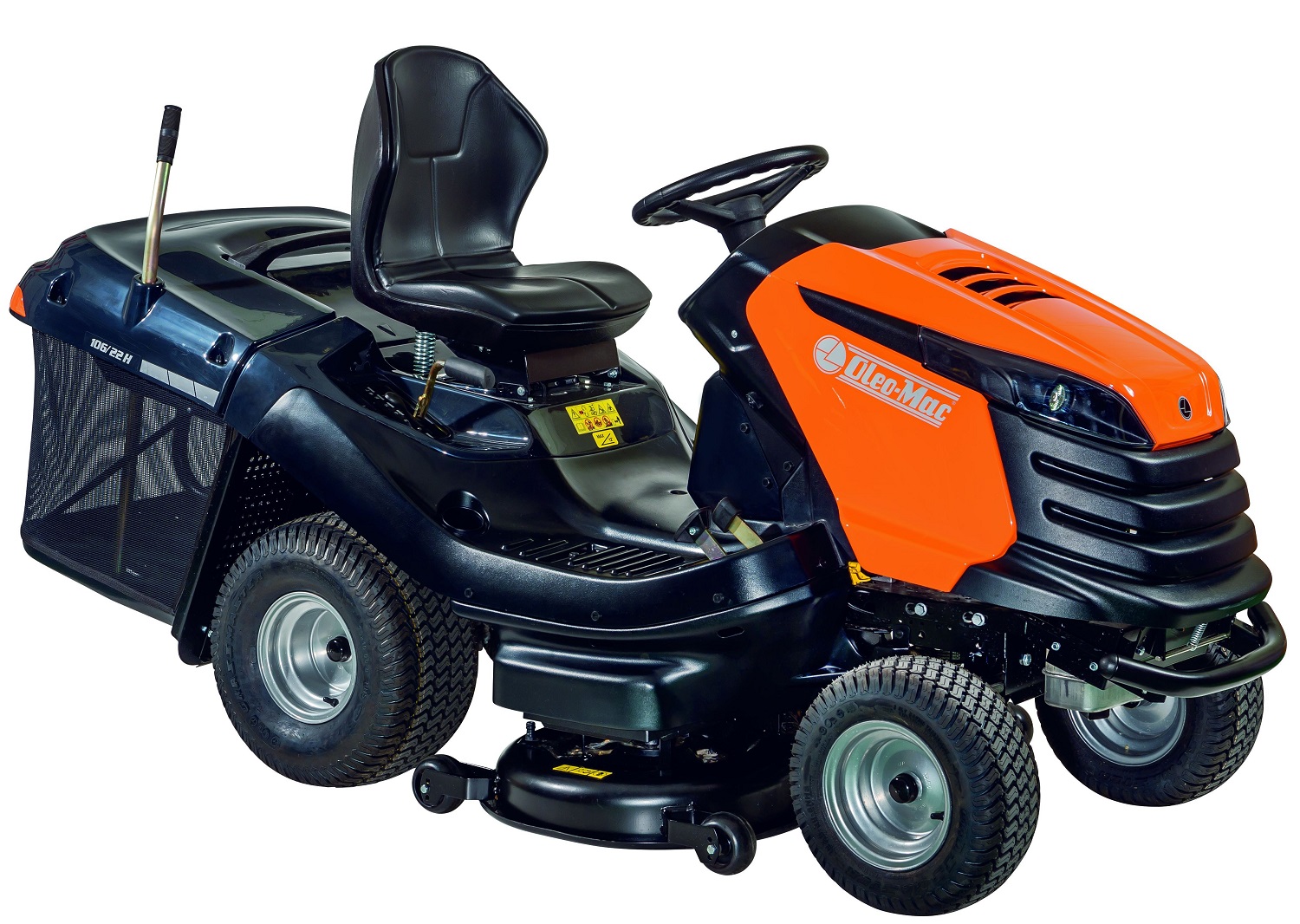 GARDEN TRACTOR RIDE-ON MOWER OLEO-MAC OM106/16 KH is an excellent device for mowing grass in home gardens, next-door gardens and allotments. It is a device equipped with all the necessary functions. In addition, the presented model is characterized by excellent value for money.Garden tractor with high quality 4-stroke, 16 hp EMAK engine. Knives with working width 102 cm collect the cut grass into a mechanically operated 320 l basket. A pair of counter-rotating steel blades, with an adjustable cutting height of 25-95 mm. Thanks to the hydrostatic gearbox, acceleration is smooth and comfortable, giving you excellent control over speed The unit has, of course, an electric starter.
Tough tech tractor

Durable and reliable equipment designed for intensive and frequent use on rural farms, designed for cutting grass, limbing and pruning trees and shrubs, cutting firewood, carrying out irrigation work and controlling pests in crops. These devices use solutions that guarantee their exceptional durability and highest performance.

The powerful Emak K1600 engine with 16 horses mechanical,

Tuff Torque pedal-operated hydrostatic transmission without having to take your hands off the handlebars for greater machine control and safety.

The clutch pedal is hydraulically actuated to reduce unexpected and dangerous speed changes.

Maximum operator ergonomics thanks to a wide entry, pedals lined with non-slip material, adjustable seat, and a set of buttons and control levers located within easy reach.

The grass tank can be emptied directly from the driver's seat.

Maintenance operations on the cutting disc are simple and quick. The wide wheels have specially designed treads that do not damage the grass on which the mower rides.

Speed is adjusted using a double pedal acting directly on the hydrostatic drive. With this solution, you can change the direction of travel and control the speed of travel also when emptying the basket.

The blades are activated by the operator by pressing the electromagnetic clutch button on the dashboard. This system always guarantees precise actuation of the blades without the risk of kickback.
The 7-stage height adjustment system of the cutting unit is controlled by a spring for effortless raising and lowering with a convenient lever (with memory lock).

Water line connection system by means of quick couplings located on the cutting unit: they guarantee fast

and effective cleaning of the entire cutting unit.

Acoustic alarm indicating that the garbage can is full, preventing clogging of the ejection tunnel.

Reduced turning radius (only 40 cm) makes it easy to move around plants and ornamental shrubs without unnecessary and cumbersome maneuvering in reverse gear or having to reposition the tractor.

Capacious fuel tank equipped with a level indicator visible directly from the driver's seat guarantees maximum working autonomy.

Towing hook supplied with the unit.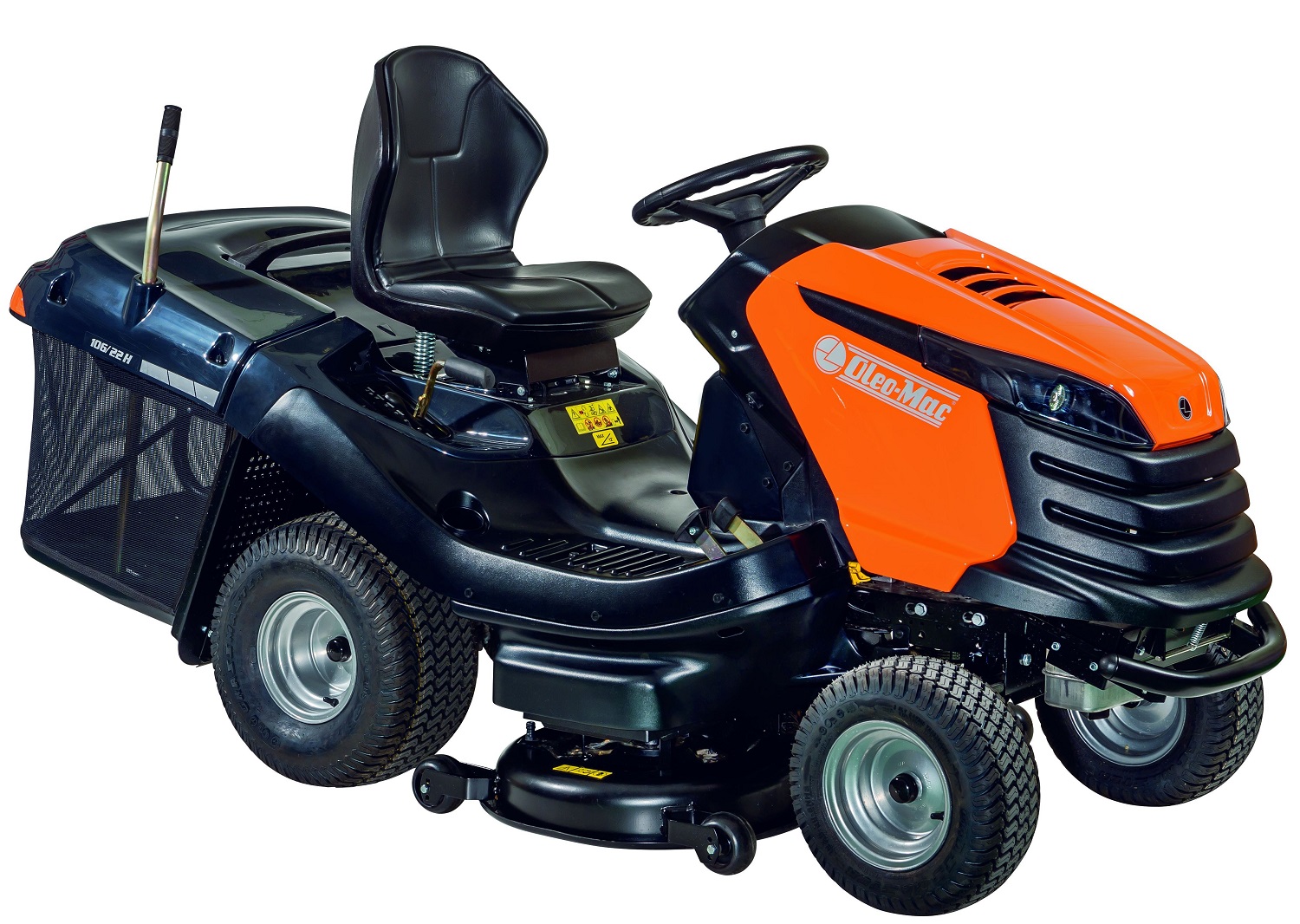 Technical data:
Model: OLEO-MAC OM

106/16 KH

Type: Tractor Tractor Garden Tractor Self Propelled Lawn Mower Combustion

Engine: Emak K1600 16HP OHV 452cc;
Maximum engine power: 16 HP

Engine RPM: 2700/min

Engine Capacity: 452 cc

Drive: HYDROSTATIC

Engine type: EMAK Professional OHV Four-stroke -

Engine type: Top-valve internal combustion

Fuel: unleaded gasoline PB95

Cutting working width: 106 cm (two blades)

Voltage: 12 V 24 Ah acid battery (no charger)

Grass ejection: Collecting into the basket, grinding (mulching) - Optional , rear ejection - optional

Basket type: Mesh

Wheels: front 16x6.5x8 / rear 20x10.00x8

Basket capacity: 320 l

Recommended oil type SAE 30

Mowing height 25-95 mm

Mowing height adjustment: 7 positions

Dimensions: 242x106x116 cm (with basket)

Turning radius: 40 cm

Weight of the device 276 kg

Additional information: Wheelbase: 74/73 cm,Hour counter, driving on slopes up to 12o (21%)
Hydrostatic transmission starts with the pedal without having to take your hands off the wheel. Reinforced and shielded bearings and cutting knife support, designed for durability even under very intensive use. Cutting height adjustment system is controlled by a spring that allows raising and lowering effortlessly with a lever. Significantly reduced turning radius makes it easier to move around plants and ornamental shrubs without unnecessary and cumbersome reverse gear maneuvers or having to reposition the tractor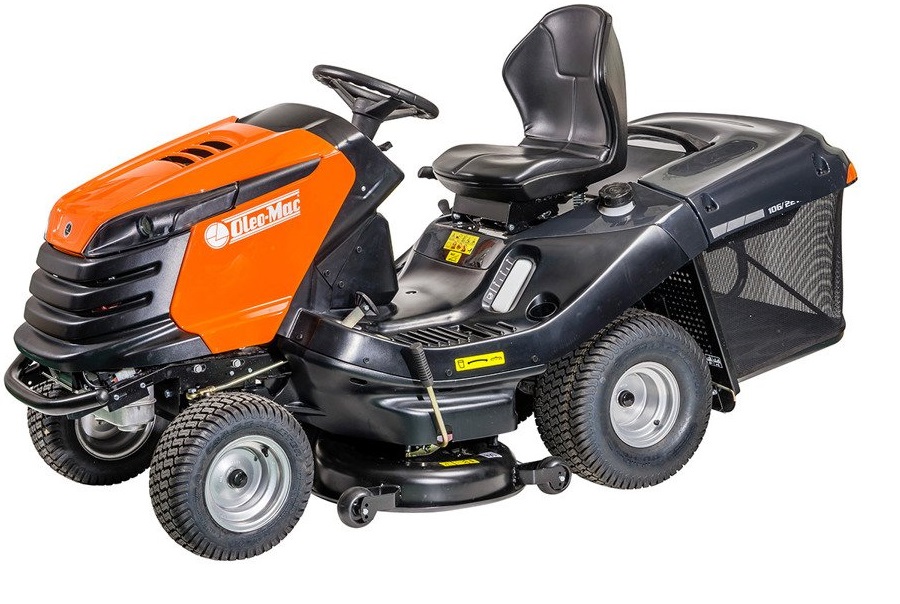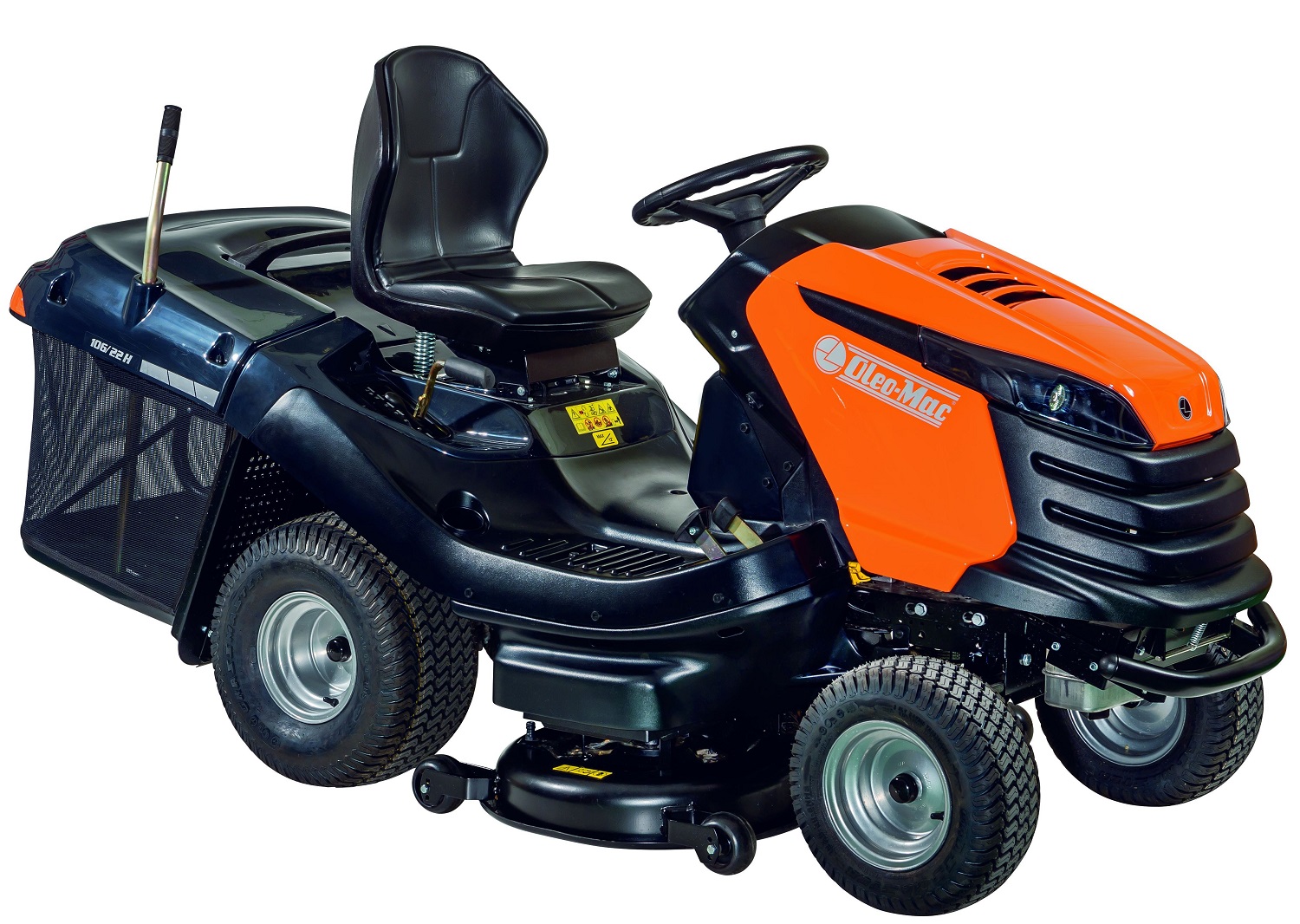 TRAKTOREK OGRODOWY KOSIARKA SPALINOWA DO TRAW
OLEO-MAC Extended Warranty for 3 Years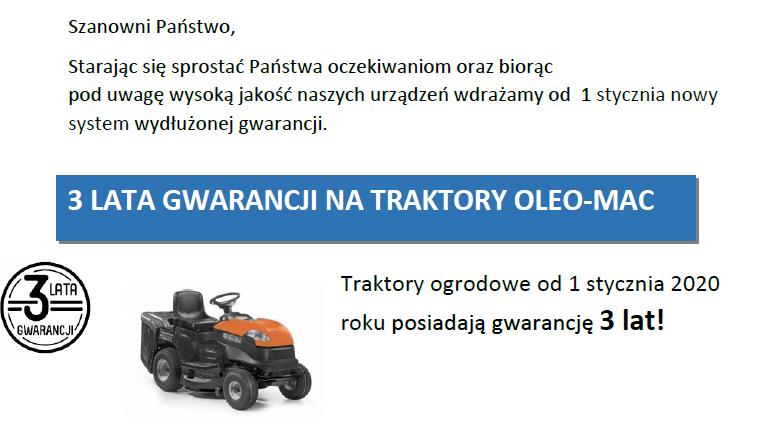 3 letnia gwarancja przy zakupie konsumenckim (Warunkiem zachowania okresu 36 miesięcznego okresu gwarancji jest dokonanie przeglądu urządzenia w autoryzowanym punkcie serwisowym