OLEO MAC OMV 22 N WET AND DRY UNIVERSAL INDUSTRIAL CLEANER 1600 W PREMIUM CLASS 9355001100 EWIMAX-OFICIAL DISTRIBUTOR - AUTHORIZED DEALER OLEO-MAC

Industrial vacuum cleaner for wet and dry surfaces OLEO MAC OMV 22 N is a device that is great for removing dirt after repair and construction work. Vacuum cleaner made of durable materials resistant to exploitation.


WET AND DRY INDUSTRIAL WORKSHOP VACUUM CLEANER OLEO MAC OMV 22 N
OLEO MAC OMV 22N vacuum cleaner is an equipment for both dry and wet work. It is worth mentioning that the accompanying accessories are made of highly durable materials. Wequipped with wheels and carrying handle. Durable motor of OLEO MAC OMV 22N vacuum cleaner provides comfortable working conditions, and 20 l tank made of stainless steel. Due to its light weight and free-moving wheels, handling industrial vacuum cleaner, will also not cause problems for individual users.
OLEO MAC OMV 22N vacuum cleaner extremely effective at removing dust and liquids. For indoor and outdoor use with blower function. Richly equipped with accessories, with the possibility of selecting additional. Essential equipment for work around the house or garage, in the workshop and store. They will also work well in renovation work oaz in hotels and factory surfaces.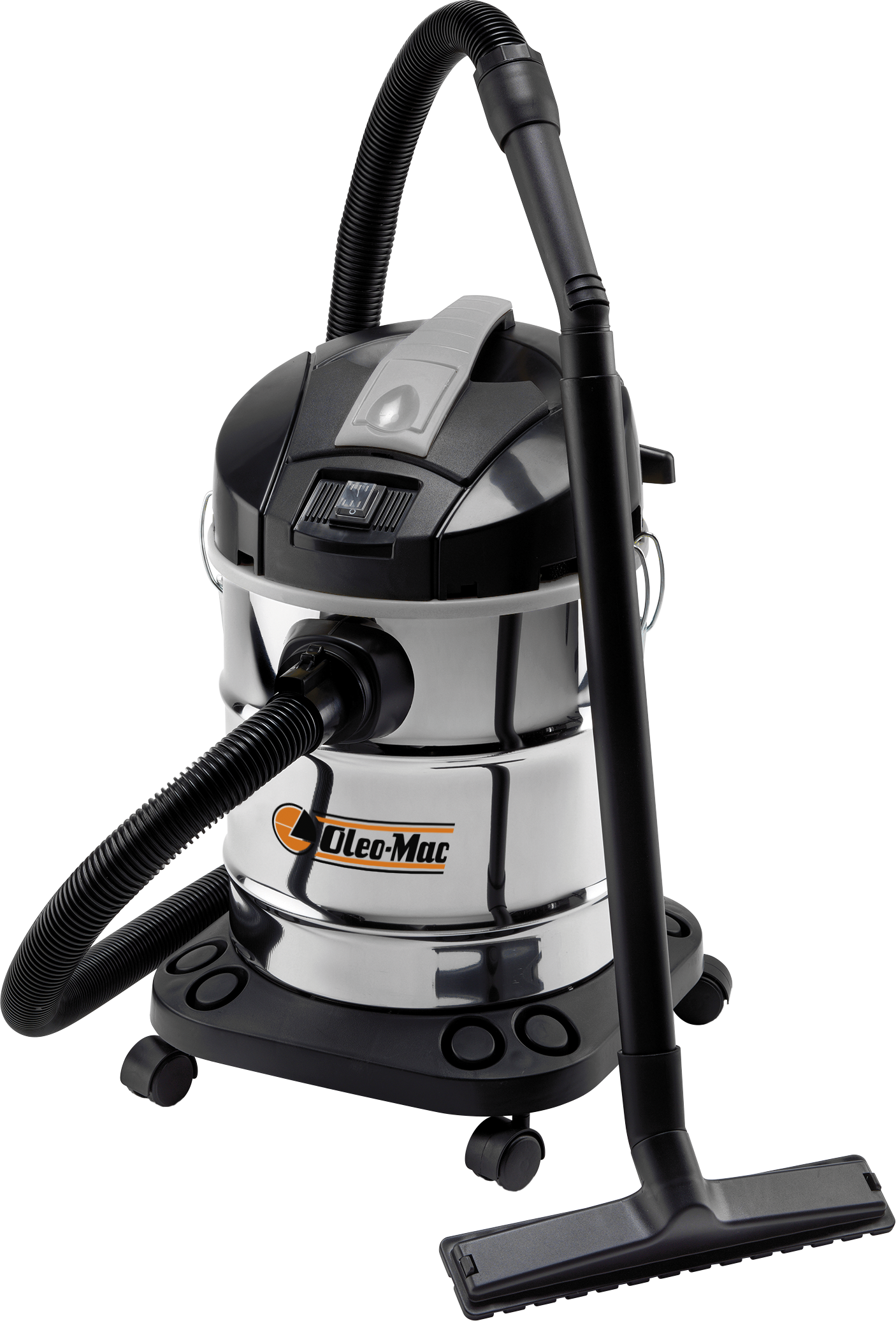 Vacuum cleaner from

Home plus series Appliances for the private user designed for garden maintenance, hedge trimming and DIY. Their distinctive feature is their lightweight and compact design, making the operator's work as easy as possible. The ease of startup, operation and maintenance makes these devices ideal for private home use.
The industrial vacuum cleaner Oleo Mac OM 22 N was manufactured by the Italian Company OLEO-MAC
Product characteristics:
Versatile vacuum cleaner designed to work on a variety of surfaces.

For indoor and outdoor use.

Richly equipped with accessories, with the possibility of selecting additional.

Essential equipment for work around the house or in the garage, workshop and store. They will also work well in renovation work and in hotels and factory surfaces.

Powerful quiet motor

Accessories made of durable materials.

20l tank

Carrying handle

Vacuum cleaner to work on a variety of surfaces

Suction power is 27 kPa, power 1600W

Features accessories made of durable materials

Steel tank

Maximum cable length 4m

Suction tube 2m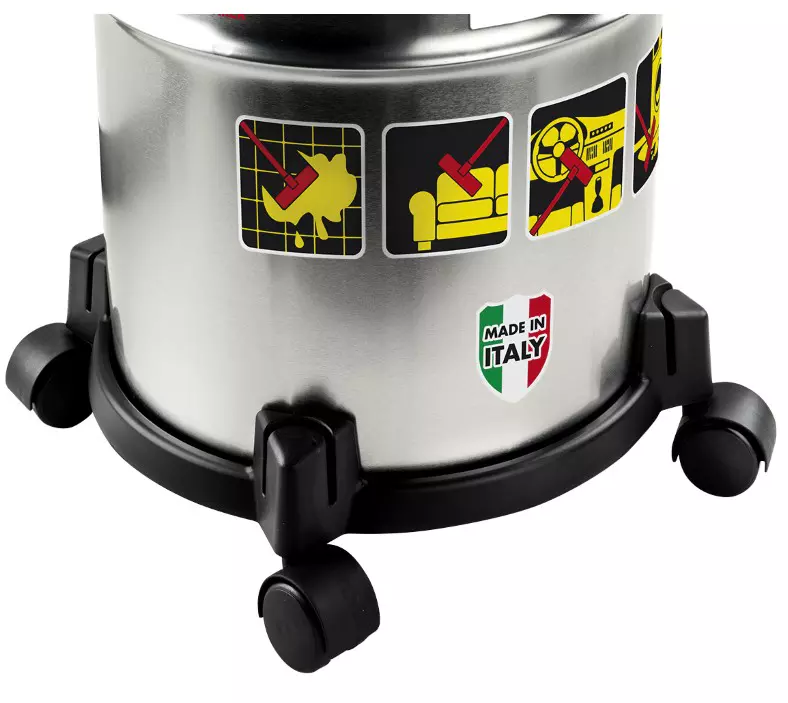 Technical data:
Model: Oleo Ma OMV 22 N

Supply voltage 220 / 240 V

1600 W maximum power

Total tank capacity 20l dust; 14l dust; 16l liquid

Maks. pressure 27 kPa

Suction force 70 l/s

Weight 6.8 kg

Suction system with bypass cooling yes

Stainless steel tank

Maks. cable length 4 m

Suction pipe 2.0 m

Accessory diameter * 35 mm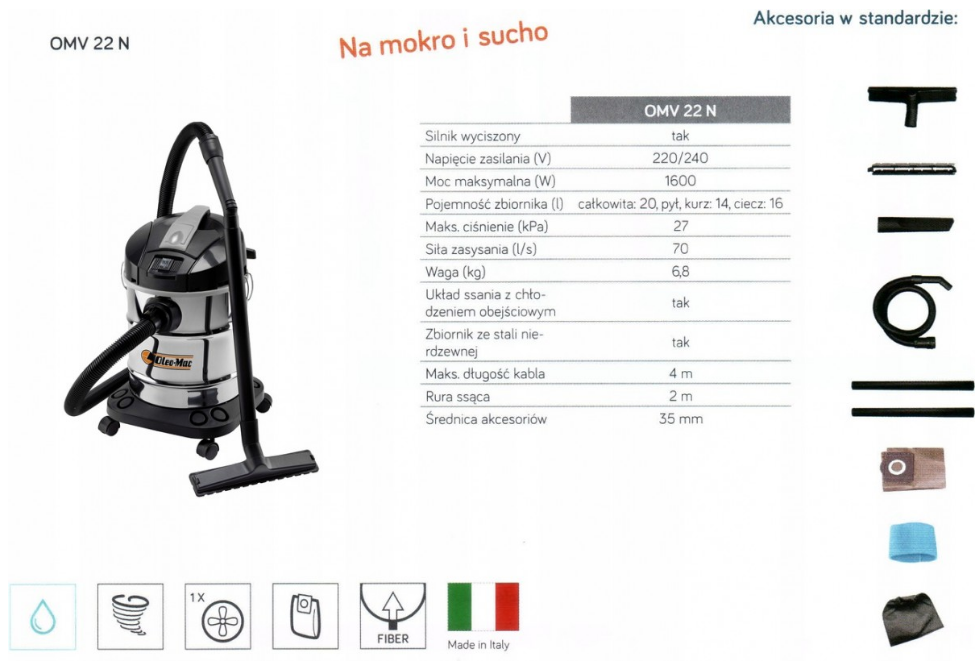 Included as standard equipment are:
1. fabric filter covering the turbine
2. wet filter (1002024000)
3. two plastic pipes (each 48 cm long) D35mm (single pipe 3208063400)
4. crevice nozzle (0219002900)
5. rectangular brush for dry work (3206017600)
6. hose 2 m (3208064000)
7. slats (cap) for wet brush (3046008700)
8. paper bag for trash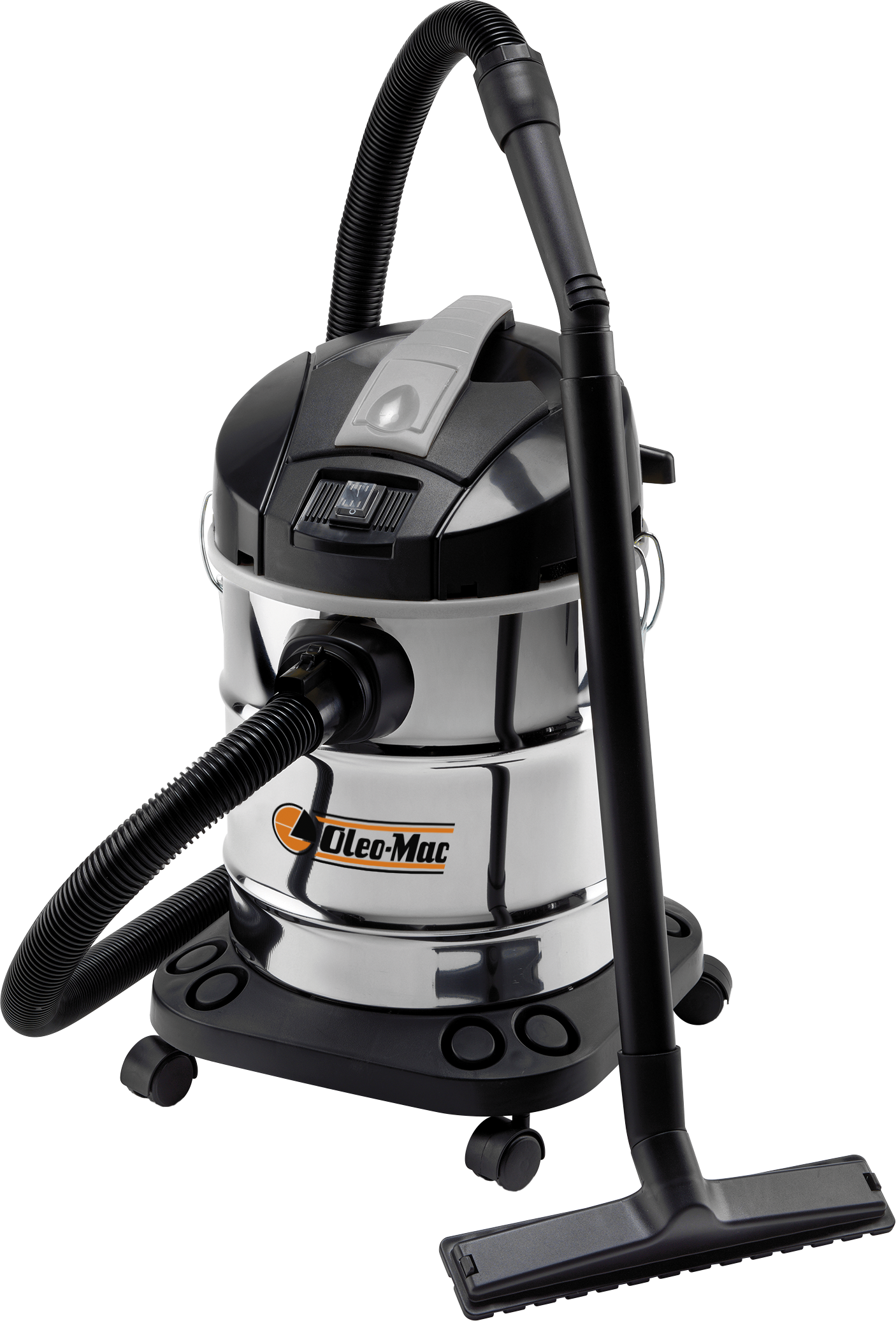 OLEO MAC OMV 22 N ODKURZACZ PRZEMYSŁOWY UNIWE
OLEO-MAC Extended Warranty for 3 Years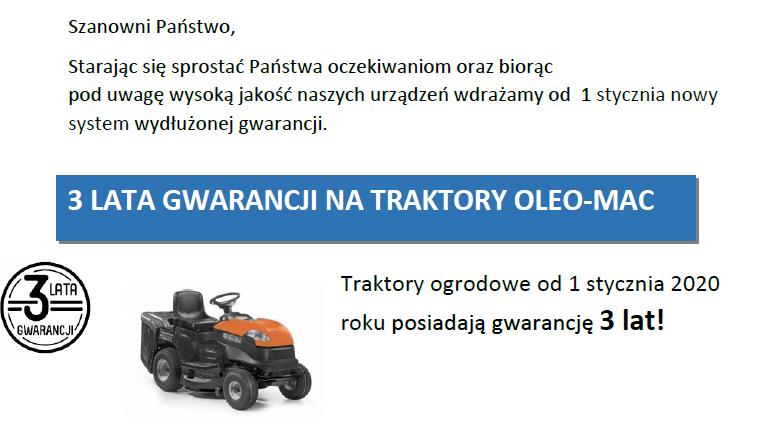 3 letnia gwarancja przy zakupie konsumenckim (Warunkiem zachowania okresu 36 miesięcznego okresu gwarancji jest dokonanie przeglądu urządzenia w autoryzowanym punkcie serwisowym