NORTON CLIPPER NORTON CLASSIC PRO BS-12 1000MM DIAMOND TARGET TO JUMBO 1000 FOR BUILDING BLOCKS OFFICIAL DISTRIBUTOR - AUTHORIZED DEALER NORTON CLIPPER

The Norton Clipper is an excellent value for money disc is a HAPPY, laser-crafted general purpose disc with 12mm segments for INCREASED DURABILITY

NORTON CLIPPER DIAMOND TARGET NORTON CLASSIC PRO BS-12 1000MM for JUMBO 1000
Professional diamond blade NORTON CLASSIC PRO BS-12 1000mm/60/55mm
Classic BS-12 discs guarantee good value for money. They have segments with a height of 12 mm, and their use makes it possible to achieve a satisfactory cutting speed.
Application: for table cutters, cuts construction materials, light blocks, Brick, Poroton, Silka other (insulation blocks).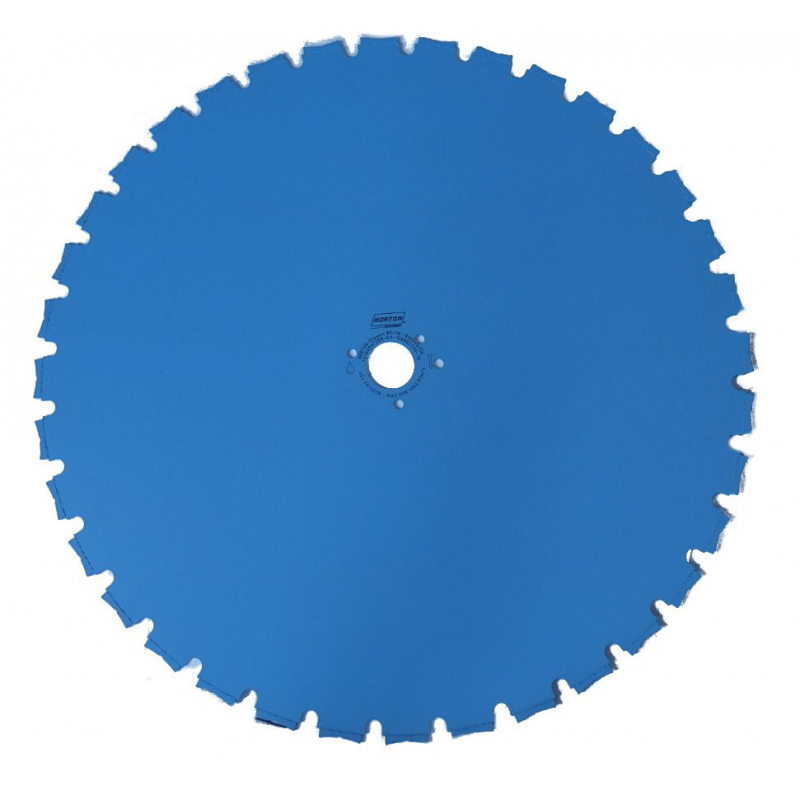 NORTON Classic BS-12 diamond disc with a diameter of 1000mm
Diamond segment height: 12mm

Mounting hole diameter: 60mm
Classic BS-12 1000mm diameter cutting blade by NORTON is a blade for cutting construction materials, lightweight blocks, Poroton (insulation blocks).
Classic BS-12 cutting discs have self-sharpening segments 10 mm high, laser-welded. Faster cutting with BS discs, ability to make cuts in granite.
Longer service life.
Norton Clipper offers a wide range of professional and high-performance diamond discs. Featuring excellent value for money, the disc is a HAPPY, laser-cut, general-purpose disc with 12mm segments for IMPROVED DURABILITY (dry or wet). Equipped with holes with UNIQUE ROMB SHAPE and grooves at 230mm diameter for increased cooling and heavy use. Application: concrete slabs and general purpose building materials.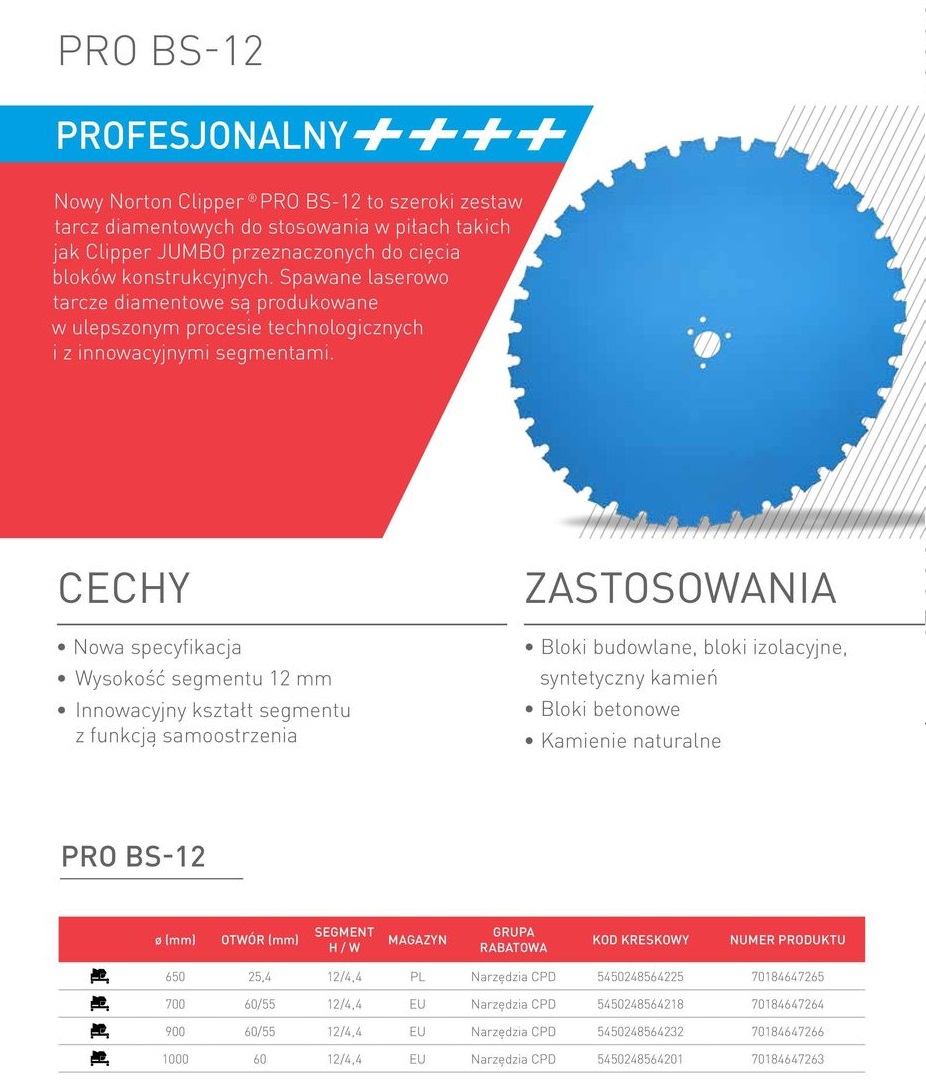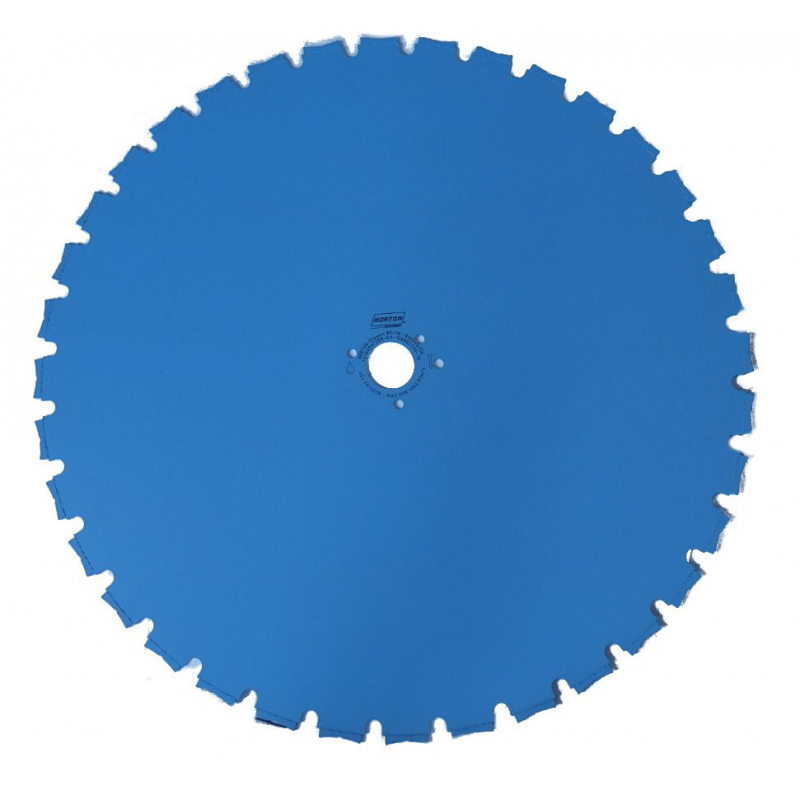 NORTON CLIPPER is a reputable manufacturer of tools. Brand products NORTON CLIPPER are characterized by high quality workmanship and reliability. The brand offers a wide range of tools, wood and tile saws, tiling tools and accessories, circular saws and air tools. NORTON CLIPPER offers comprehensive service in the field of warranty and post-warranty repairs of the product range it offers, and also sells spare parts. Provides customers with technical advice and the fastest possible turnaround time for service orders.
NORTON CLIPPER TARCZA DIAMENTOWA NORTON CLASS
WARUNKI GWARANCJI I SERWISU
Towary zakupione w naszym sklepie są nowe i oryginalne oraz objęte są pełną gwarancją producenta lub importera.
W przypadku reklamacji, należy zgłosić usterkę do Sprzedawcy lub Autoryzowanego Punktu Serwisowego producenta danego urządzenia. Jeśli uszkodzony produkt objęty jest gwarancją typu "door to door" należy postępować zgodnie z procedurą podaną w karcie gwarancyjnej. 

Okres gwarancji wynosi 12 miesięcy dla firm lub 24 miesiące dla 

osób

 prywatnych.