HECHT 5563 SXE 5in1 SPRINKLING MOWER 4.9 HP WITH DRIVE AND START - OFFICIAL DISTRIBUTOR - AUTHORIZED DEALER HECHT EWIMAX

The 5563 SXE petrol mower is a comprehensively equipped device that will satisfy most users, and whose main difference from traditional equipment is the three-wheeled driving system.


HECHT 5563 SXE 5-in-1 SPREL MOWER WITH DRIVE
Lawnmower 5563 SXE is a comprehensively equipped device that will satisfy most users, and whose major difference from traditional equipment is the three-wheeled running system, which allowed the use of a torsion front wheel. It has the ability to lock the turn while moving forward, and to release it while maneuvering.
Operating the mower with the wheel lock released is very easy. The device is ideal for use in the garden, where there are many different obstacles, flower beds and walkways. For this mower, it is not a problem to cut grass around trees, paths, and other hard-to-reach areas. If the front wheel is immobilized, the mower will move in a straight line, and its use will be the same as in conventional equipment.
Another aspect that sets the device apart from most other mowers is the built-in electric starter - the panel on the handle is equipped with an ignition box, so the mower is started with the push of a button. The panel also includes 12 V 4.5 Ah starter battery. Of course, the ability to start the device with a traditional cord has been retained.

The mower has speed adjustments 4 SPEED VARIABLES (3-4.5 hp/h)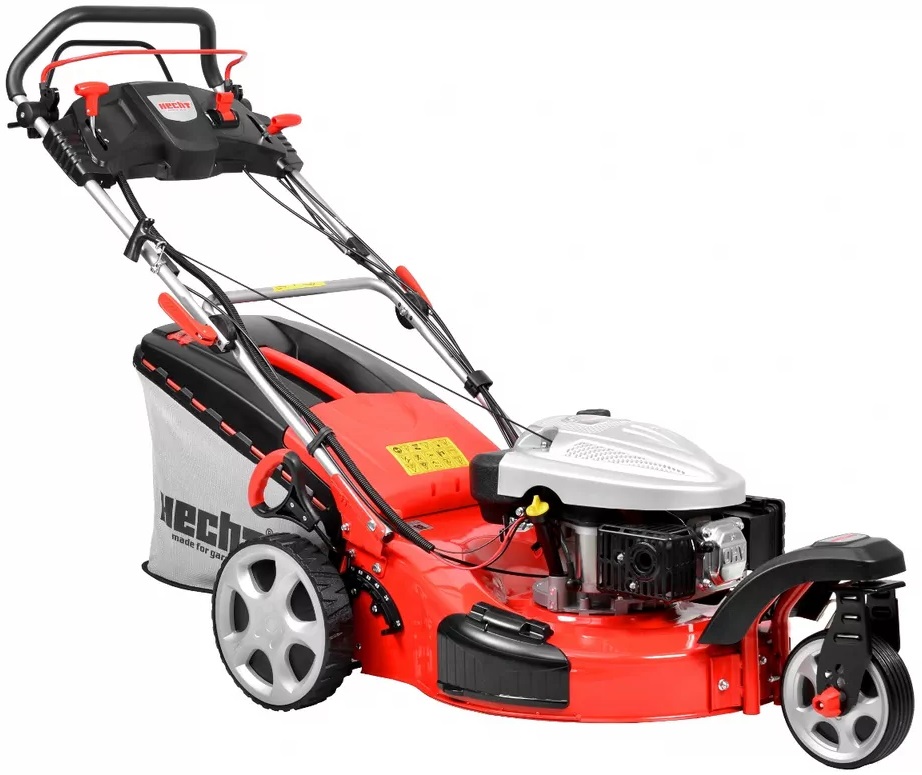 The driving unit of the device is the proven hECHT OHV engine with a capacity of 173 cm3 and 4.9 hp. Stable and robust housing is provided with a hole with a plug for side ejection. The kit also comes with a side tunnel that allows you to mow grass in side throw mode. This solution makes it possible for us to mow the grass without using a basket, especially when working on large overgrown areas.
The width of the cutting blade is 56 cm, mowing height is adjusted by using the lever above the left rear wheel, moving it to the appropriate hole in the range from 25 to 75 mm. The wheels are mounted on ball bearings, of course. In normal mowing mode, grass is collected in a 60 l textile basket. It has been equipped with an aerodynamic flap for easy monitoring of its filling level.
Another alternative mowing option is tzw. mulching. The mulching plug included in the kit blocks the outlet tunnel of the basket, and thanks to the special design of the blade, a fine chopping of the cut grass occurs. Such finely ground grass gets into the roots of the lawn, acting as a natural fertilizer. An interesting point is that such a process, contrary to appearances, does not clog the pores of the soil, on the contrary, it protects the soil from moisture loss, thereby promoting its healthy growth.
Comfortable padded handle, thanks to the use of clip clamps, can be easily and quickly folded for transport or storage of the mower, and adjust the appropriate height. The panel on the handle is equipped with a mounted ignition box and storage space for various small items (keys, drinks, etc.).).
Unlike other three-wheel mowers, which can be unstable during operation due to their high center of gravity, on our mower the center of gravity is set low, just in front of the rear wheels, making it virtually impossible to tip the mower over during operation. Such high stability is fully comparable to mowers equipped with 4 wheels. Another advantage of this solution is that at all times of use, all three wheels are in contact with the ground, distributing the weight evenly, causing significant relief to the operator, and extending the life of the housing and the entire mower.
Electric starter battery charger is included.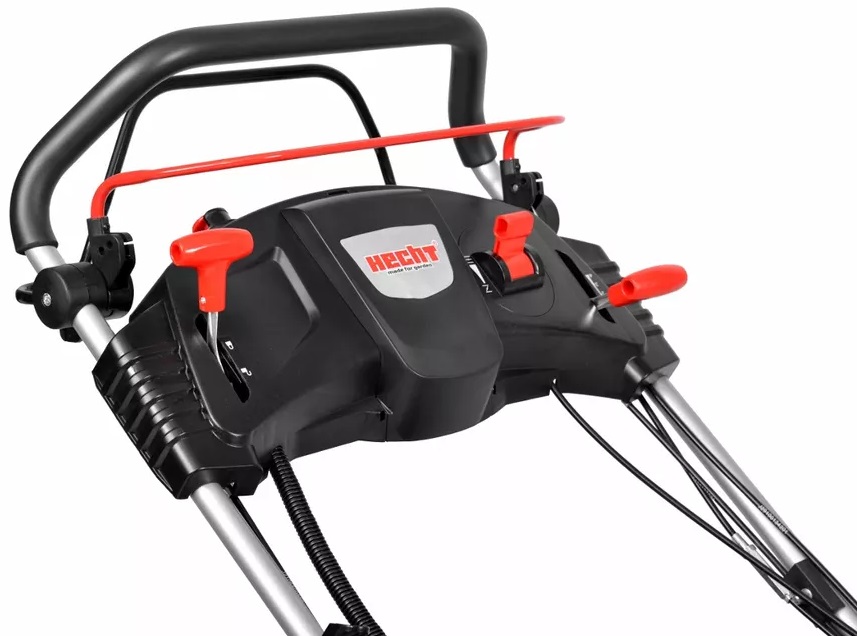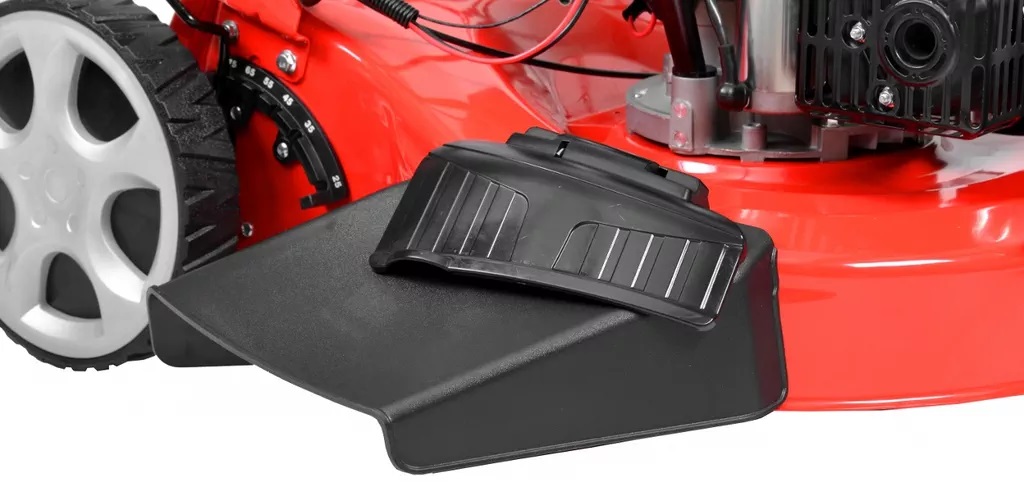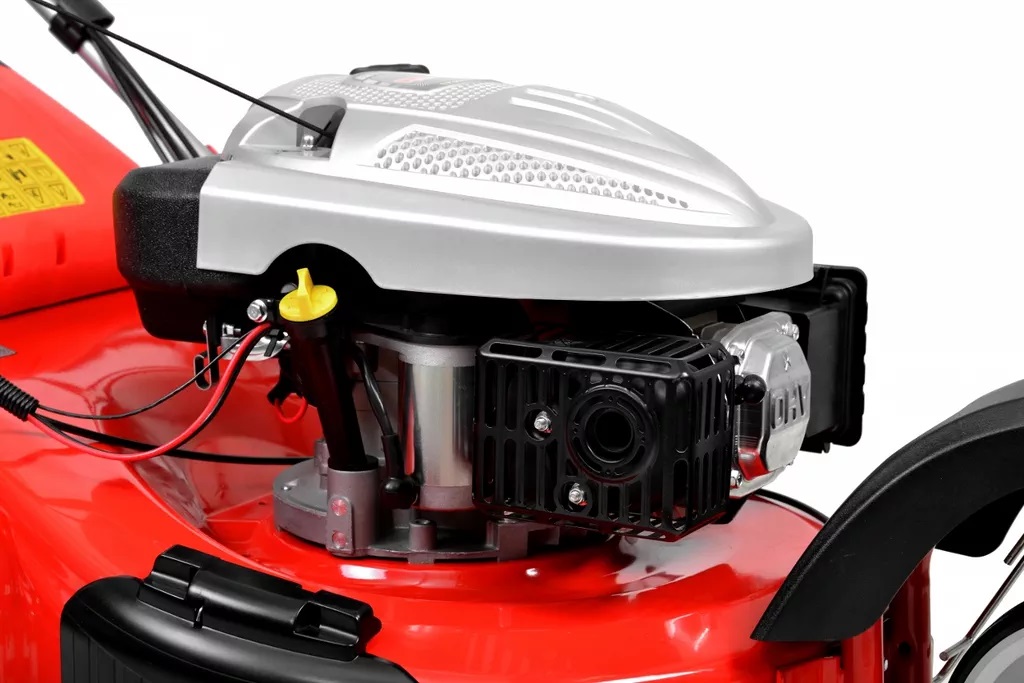 Product characteristics:
HECHT 5563 SXE petrol lawnmower

Equipped with a 173cc HECHT OHV engine

Robust metal housing ensures long life of the mower

Resistant to harsh conditions and corrosion

Three-wheel running system allows better maneuverability

Ability to lock the turn while moving forward

Wheels mounted on ball bearings

Mowing height adjustment with a lever

Comfortable handle

Grass collected in a textile basket

Built-in electric starter

Speed control 4-speed variator (3-4.5 hp/h)

Petrol mower with integrated drive

Wheels to help overcome obstacles

Adjustable handle height

Mulching and side discharge function

Sturdy grass cutter basket included

Powerful OHV internal combustion engine
5 in 1**** means mowers that have a function: 1) cutting 2) collecting 3) driving 4) mulching5) side discharge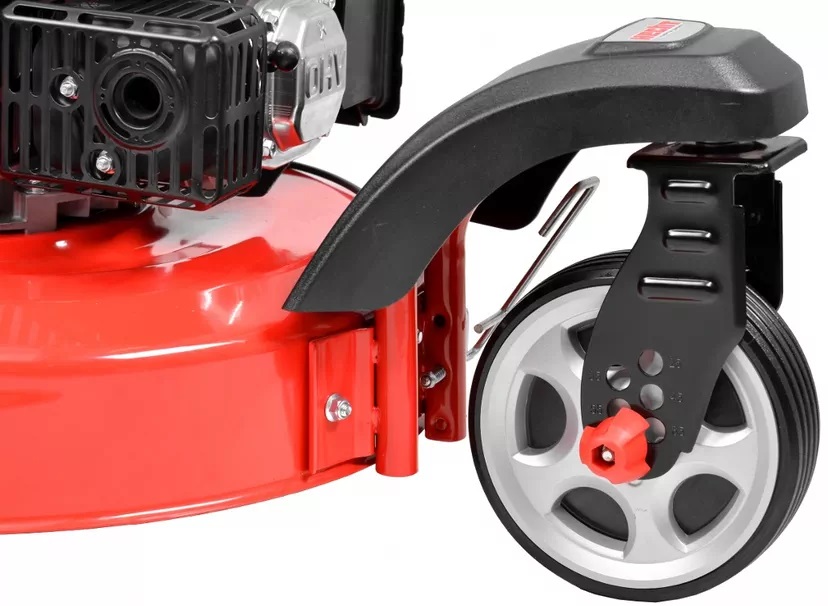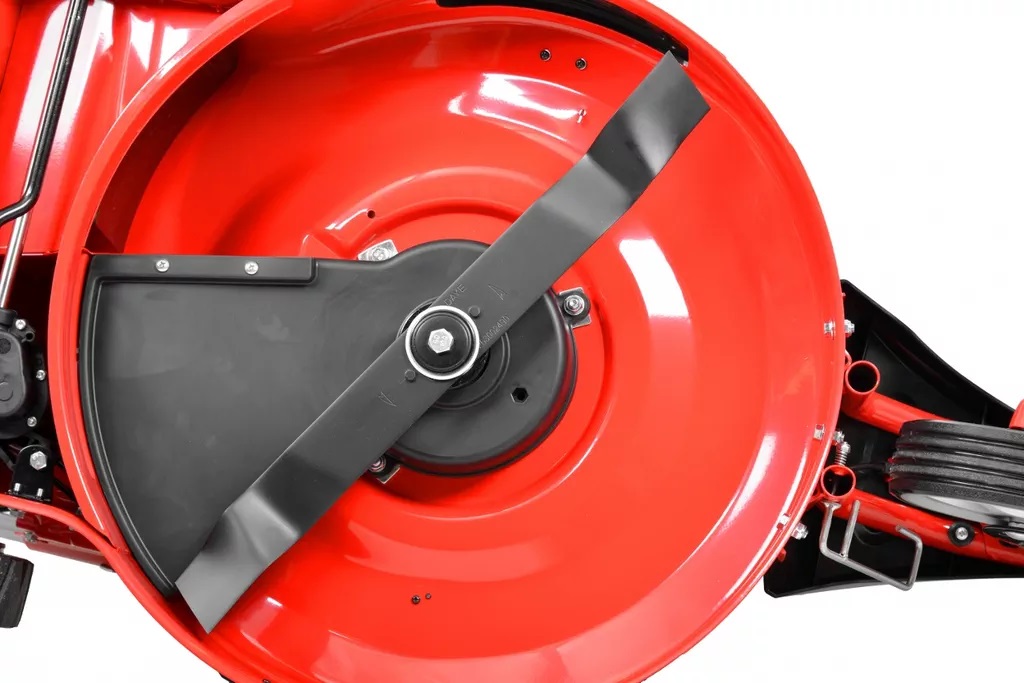 Technical data:
Engine: HECHT OHV: 4-stroke

Engine power according to SAE J1940 standard: 4.9 HP

Edge Cutting: Yes

Max. engine rpm: 2800 rpm

Max. torque: 10 Nm

Mowing height adjustment: 25 - 75 mm

Wheels on bearings: Yes

Front/rear wheel diameter: 8/11 inches

Side ejection: Yes

Mulching: Yes

Engine Capacity: 173 cm3

Electric starter: Yes

Mowing width: 56 cm

Housing: metal

Weight: 46 kg

Basket: 60 l

Drive: Yes

Drive speed: 3 - 4.5 km/h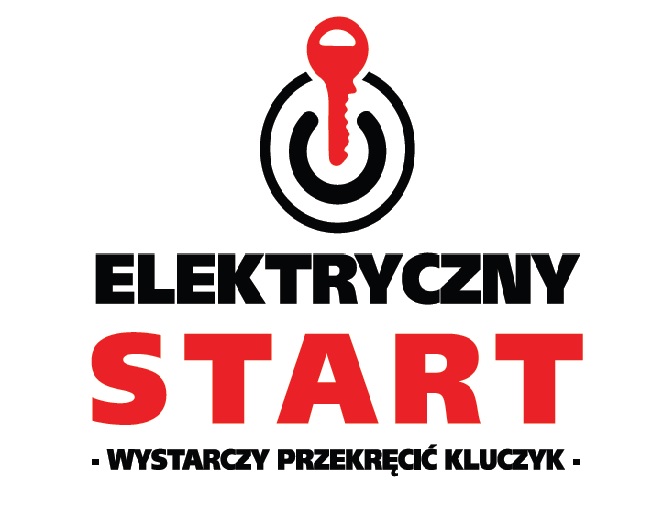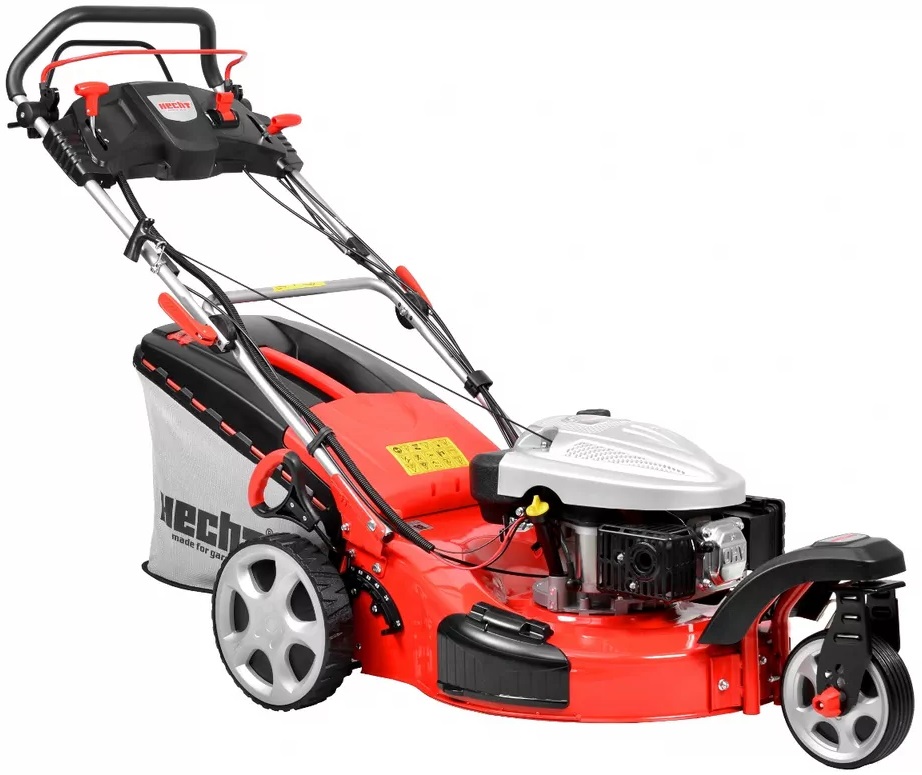 HECHT 5563 SXE 5 w 1 KOSIARKA SPALINOWA DO TR
HECHT Door to Door Extended Warranty For 24 Months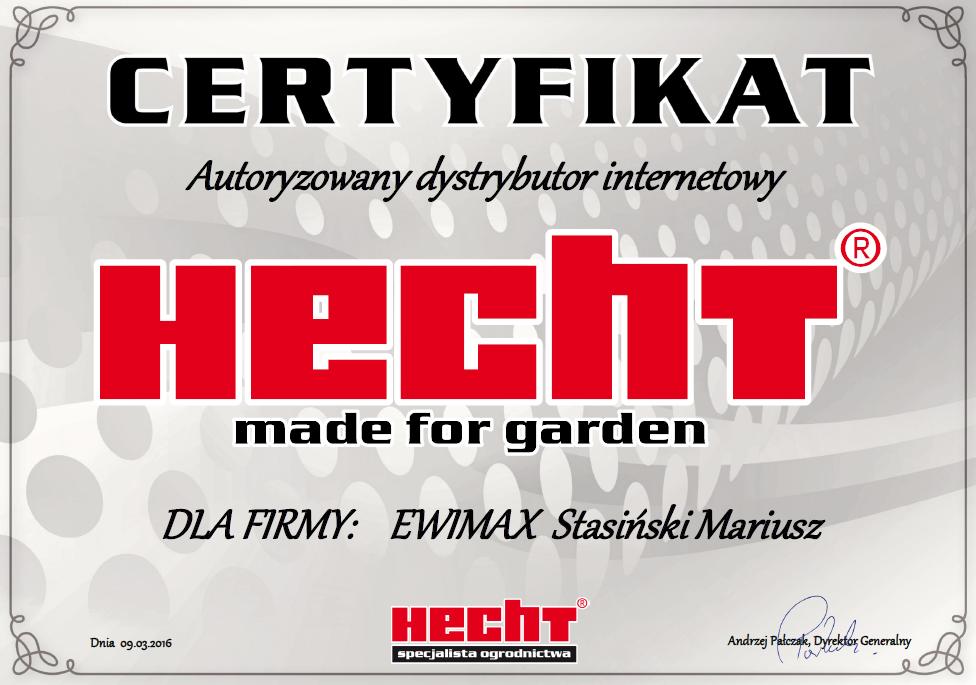 EWIMAX OFICJALNY DYSTRYBUTOR - AUTORYZOWANY DEALER HECHT
DLACZEGO WARTO KUPIĆ U NAS ?
Jesteśmy oficjalnym dystrybutorem marki HECHT 
Gwarancja
Wszystkie oferowane przez nas produkty są fabrycznie nowe i posiadają gwarancję producenta
Realizacja zamówień
Zamówienia realizujemy z pełną starannością, niezależnie od ilości przedmiotów zakupionych na naszych aukcjach płacisz tylko za jedną przesyłkę
14 dni na zwrot
Konsument posiada prawo do odstąpienia od umowy bez podania przyczyny
Narzędzia czeskiej marki HECHT wyróżnia wysoka jakość wykonania oraz rozbudowana sieć serwisów zapewniająca naprawy gwarancyjne oraz pogwarancyjne.
Gwarancja na produkty HECHT
Wszystkie oferowane przez nas produkty są fabrycznie nowe i posiadają 24 miesięczną gwarancję konsumencką producenta. Do każdego sprzedawanego urządzenia dodawany jest paragon fiskalny lub faktura VAT co jest podstawą do rozpatrzenia reklamacji.
Firma HECHT zapewnia najlepszy system gwarancyjny
Ponad to Firma HECHT zapewnia najbardziej rozbudowaną sieć autoryzowanych serwisów w całym kraju.
Infolinia serwisowa - doświadczony serwisant udzieli porady nt. konserwacji, drobnych napraw i użytkowania.
Narzędzia czeskiej marki HECHT wyróżnia wysoka jakość wykonania oraz rozbudowana sieć serwisów zapewniająca naprawy gwarancyjne oraz pogwarancyjne.
Gwarancja udzielana jest na okres:
- 24 miesięcy od daty sprzedaży -
zakup konsumencki (paragon)  
- 6 miesięcy od daty sprzedaży -
zakup komercyjny (faktura)  
- 90 dni na Silniki Briggs&Stratton: w przypadku zakupu urządzeń z silnikiem  Briggs&Stratton gwarancja na silnik wynosi 90 dni od daty sprzedaży  -  
zakup komercyjny (faktura)  
PRODUKT POCHODZI Z OFICJALNEJ DYSTRYBUCJI NA RYNEK POLSKI !
HECHT - Gwarancja udzielana przez producenta na okres 24 miesięcy. 
Warunki gwarancji

1. Okres gwarancyjny nowych produktów zakupionych na użytek konsumencki, nieprofesjonalny i niekomercyjny wynosi 24 miesiące od daty sprzedaży.

2. Na sprzęt nabywany i użytkowany w celu związanym z działalnością (zarobkową) zawodową lub gospodarczą, inaczej zakup komercyjny, udziela się gwarancji na okres 6 miesięcy.
Zakup konsumencki w rozumieniu ustawy z dnia 27 lipca 2002 r. (Dz.U.02.141.1176) jest to zakup dokonany przez osobę fizyczną, która nabywa tę rzecz w celu niezwiązanym z działalnością zawodową lub gospodarczą. Zakup dokonany przez podmiot gospodarczy lub osobę fizyczną prowadzącą działalność gospodarczą uważa się za zakup komercyjny.

3. Gwarantem na silniki Briggs & Stratton jest ich producent. Na sprzęt zakupiony na działalność gospodarczą lub zawodową udziela 3 miesięcznej gwarancji, w pozostałych przypadkach gwarancja jest udzielana na okres 2 lat.
4. Gwarancja zapewnia użytkownikowi bezpłatne usunięcie usterek zaistniałych w czasie eksploatacji sprzętu w okresie gwarancyjnym, wynikających z błędów konstrukcyjnych, ukrytych wad materiałowych, błędów wykonania lub montażu fabrycznego.

5. Prawo oceny zgłoszonego uszkodzenia mają tylko autoryzowane punkty serwisowe. Ocena odbywa się według zasad ustalonych przez producenta, jednakowych dla wszystkich użytkowników na całym świecie.

6. W przypadku uszkodzenia, użytkownik zobowiązany jest do dostarczenia kompletnego sprzętu wraz z dokumentem zakupu do autoryzowanego punktu serwisowego lub serwisu centralnego który znajduję się na stronie hechtpolska w Dziele Obsługi Reklamacji

7. Pod rygorem utraty gwarancji, niedopuszczalne jest dostarczenie do naprawy zdemontowanych elementów lub części sprzętu.

8. Użytkownik traci prawo do gwarancji w przypadku: stosowania sprzętu niezgodnie z przeznaczeniem, uszkodzeń powstałych na skutek niewłaściwej obsługi, uszkodzeń mechanicznych sprzętu i wynikających z tego konsekwencji, używania nieoryginalnych części zamiennych i niewłaściwych materiałów eksploatacyjnych, dokonywania we własnym zakresie napraw, wymiany podzespołów, dokonywania zmian konstrukcyjnych lub stwierdzenie przez autoryzowany serwis ingerencji wewnątrz sprzętu przez osoby nieuprawnione, niewłaściwego przechowywania.

9. Gwarancji nie podlegają elementy uszkodzone wskutek niewłaściwej eksploatacji lub powstałe wskutek uszkodzeń mechanicznych, takie jak: noże, piasty, koła jezdne, łańcuchy tnące, prowadnice, paski klinowe, linki rozruchowe, koła linowe, bębny sprzęgła, głowice tnące, świece zapłonowe i inne elementy robocze.

10. Naprawie gwarancyjnej nie podlegają powstałe z przyczyn leżących po stronie użytkownika: zagięcia lub pęknięcia wału korbowego powstałe w wyniku uderzenia i związane z tym konsekwencje, zerwania klina koła magnesowego, zatarcia silnika, uszkodzenia mechaniczne, uszkodzenia powstałe na skutek stosowania niesprawnych przewodów połączeniowych, zwłaszcza o niewłaściwym przekroju powodujące wytopienie styków włącznika elektrycznego.

11. W zakres gwarancji nie wchodzą takie czynności jak: montaż, konserwacja, obsługa okresowa, regulacja i czyszczenie oraz przeglądy.

12. Postępowanie gwarancyjne rozpoczyna się z chwilą dostarczenia urządzenia do autoryzowanego serwisu naprawiającego sprzęt, nie do punktu przyjęć. Wykonawca naprawy zobowiązany jest do udzielenia informacji odnośnie roszczeń gwarancyjnych w terminie 14 dni roboczych od daty otrzymania sprzętu. Wykonanie naprawy nastąpi w możliwie najkrótszym terminie (uzależnione jest to od dostaw części zamiennych, spoza terenu Polski).

13. Uprawnienia z tytułu gwarancji nie obejmują prawa kupującego do domagania się zwrotu utraconych zysków oraz poniesionych kosztów w związku z czasem naprawy sprzętu.

14. Punkt serwisowy może odmówić przyjęcia do naprawy sprzętu brudnego lub oczyścić go na koszt reklamującego.

15. Wybór sposobu usunięcia wady należy do gwaranta, który może naprawić rzecz poprzez naprawę lub wymianę uszkodzonej części lub wymianę towaru. Niezależnie od sposobu usunięcia wady, gwarancja trwa dalej, przedłużona o czas usunięcia wady przez gwaranta.

16. Gwarancja nie wyłącza, nie ogranicza, ani nie zawiesza uprawnień kupującego wynikających z przepisów o rękojmi za wady rzeczy sprzedanej.
REKLAMACJA PRODUKTU


1. Podstawa i zakres odpowiedzialności Sprzedawcy względem Klienta, jeżeli sprzedany Produkt ma wadę fizyczną lub prawną (rękojmia) są określone powszechnie obowiązującymi przepisami prawa, w szczególności w Kodeksie Cywilnym.
W przypadku wystąpienia wady zakupionego u Sprzedawcy towaru Klient ma prawo do reklamacji w oparciu o przepisy dotyczące rękojmi w kodeksie cywilnym.
2. Reklamację należy zgłosić wypełniając formularz reklamacyjny, który znajduję się na stronie hechtpolska w Dziele obsługi reklamacji oraz odesłanie produktu na adres serwisu centralnego. Reklamację można również zgłosić w jednym z naszych serwisów lub sklepów detalicznych.

adres: HECHT POLSKA Sp. z o.o.
            ul. Mickiewicza 54
            66-450 Bogdaniec
adres poczty elektronicznej: serwis@hechtpolska.pl
numer telefonu: 48/957117140 wew.3

3. Zaleca się podanie przez Klienta w opisie reklamacji:

(1) informacji i okoliczności dotyczących przedmiotu reklamacji, w szczególności rodzaju i daty wystąpienia wady;
(2) żądania sposobu doprowadzenia Produktu do zgodności z Umową Sprzedaży lub oświadczenia o obniżeniu ceny albo odstąpieniu od Umowy Sprzedaży;
(3) danych kontaktowych składającego reklamację – ułatwi to i przyspieszy rozpatrzenie reklamacji przez Sprzedawcę. Wymogi podane w zdaniu poprzednim mają formę jedynie zalecenia i nie wpływają na skuteczność reklamacji złożonych z pominięciem zalecanego opisu reklamacji.
4. Sprzedawca ustosunkuje się do reklamacji Klienta niezwłocznie, nie później niż w terminie 14 dni kalendarzowych od dnia fizycznego przyjęcia urządzenia na serwisie. Brak ustosunkowania się Sprzedawcy w powyższym terminie oznacza, że Sprzedawca uznał reklamację za uzasadnioną.
5. W przypadku, gdy do ustosunkowania się przez Sprzedawcę do reklamacji Klienta lub do wykonania uprawnień Klienta wynikających z rękojmi niezbędne będzie dostarczenie Produktu do Sprzedawcy, Klient zostanie poproszony przez Sprzedawcę o dostarczenie Produktu na wskazany adres.
6. Prośba o dostarczenie Produktu, o której mowa w pkt. 5 Regulaminu nie ma wpływu na bieg terminu na ustosunkowanie się Sprzedawcy do reklamacji Klienta, o którym mowa w pkt. 5 Regulaminu oraz nie narusza prawa Klienta żądania od Sprzedawcy demontażu wadliwego Produktu i ponownego zamontowania Produktu po dokonaniu wymiany na wolny od wad lub usunięciu wady, o którym mowa w art. 561[1] Kodeksu cywilnego.