HECHT 554 SXE Lawn Mower is a powerful machine with a cutting width of 53 cm. Height adjustment from 2.5 to 7.5 cm. The capacity of the basket of the Hecht 554SX combustion mower is as much as 75 liters.


HECHT 554 SXE 5-in-1 SPREL MOWER WITH DRIVE
Lawn Mower Hecht 554 SXE 5 in 1 ideal combination of durability and both modern solutions that make mowing from hard work a pleasure. Mower 554 SXE 5 in 1 is equipped with a modern HECHT four-stroke, overhead-valve engine that features low vibration and noise levels and fuel economy. The mower is equipped with electric starter thanks to which the start of the mower translates into a minimum effort is a sensational solution useful for ladies taking care of their home lawns on their own. The mower housing is made of metal which prolongs its life and operation. Robust large rear wheels and an ergonomic handle make it easier and lighter to drive the mower. The handle can be folded for easy storage and transportation. Despite its sturdy design, the mower weighs only 41 kg. However, since the basket is filled with grass during mowing, its weight increases. However, the mower is equipped with a drive, so the operator does not have to push it and the work is not cumbersome. The mower has a variety of mowing functions: collection into the trash, rear and side discharge, rear and side mulching, provide any choice of operation mode according to individual needs.
- OFFICIAL DISTRIBUTOR - AUTHORIZED HECHT DEALER -


HECHT 554 SXE 5in1 petrol lawnmower with drive is very powerful and durable. The undeniable advantage of the petrol mower Hecht 554 SXE 5 in 1 is the mulching function thanks to which fine particles of grass cut several times are pressed into the turf, making the lawn look more aesthetically pleasing and at the same time the pressed grass is a natural fertilizer for the ground. Mower Hecht 554 SXE is perfect for both home lawn care and larger areas great for cutting near fences and walls, it is not limited by the range of electricity, which allows you to work freely in the field. Mowing the lawn with the mower 554 SXE 5 in 1 will cease to be tedious and hard work and thanks to and practical technical features of the mower will become a pleasure thanks to it the lawn will be neatly looked after resembling a green carpet.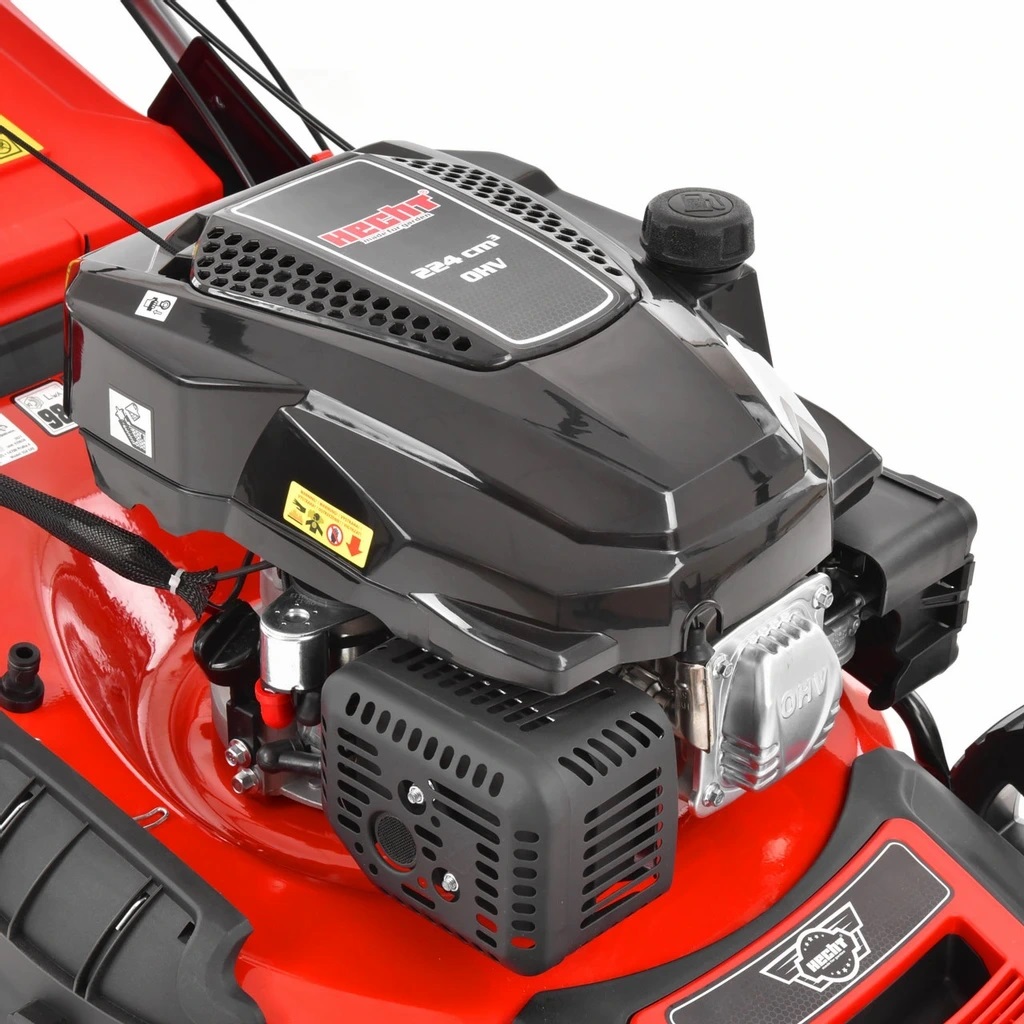 Product characteristics:
High-quality gasoline engine with OHV system 224 cm3

5w1

E-start - easy push-button start

Comes with a cap for side throwing and mulching

High torque can handle even denser lawns

Ideal for medium-sized plots of land

The 3.6 km/h drive makes mowing faster and less strenuous

Users will appreciate the durable metal casing

Quick folding handles for easy transport and space saving in the garage

Comfortable soft grip handles to increase user comfort

8-inch front and 10-inch rear wheels improve mowing handling and are rather unique in this category (they contain ball bearings)

The front bumper serves as protection and also includes a handle for occasional carrying

Central mowing height adjustment for increased comfort

The perimeter of the basket made of sturdy, breathable fabric improves airflow and thus guarantees excellent grass collection

High-quality collection container with plastic lid with fill level indication

Modern gearbox guarantees longer life
5 in 1**** means mowers that have a function: 1) cutting 2) collecting 3) drive 4) mulching 5) side discharge
Technical data:
HECHT OHV engine

Capacity 173 cm3

Power 6 hp

Start Electric

DC 12 V; 4.5 Ah battery

Drive speed 4 speeds: 3 - 4.5 km/h

Metal Housing

Adjustable handle height Yes

Mowing width 51 cm

Cutting height adjustment 25-75 mm

60 l basket

Mulching function Yes

Rear ejection plug Yes

Weight 41 kg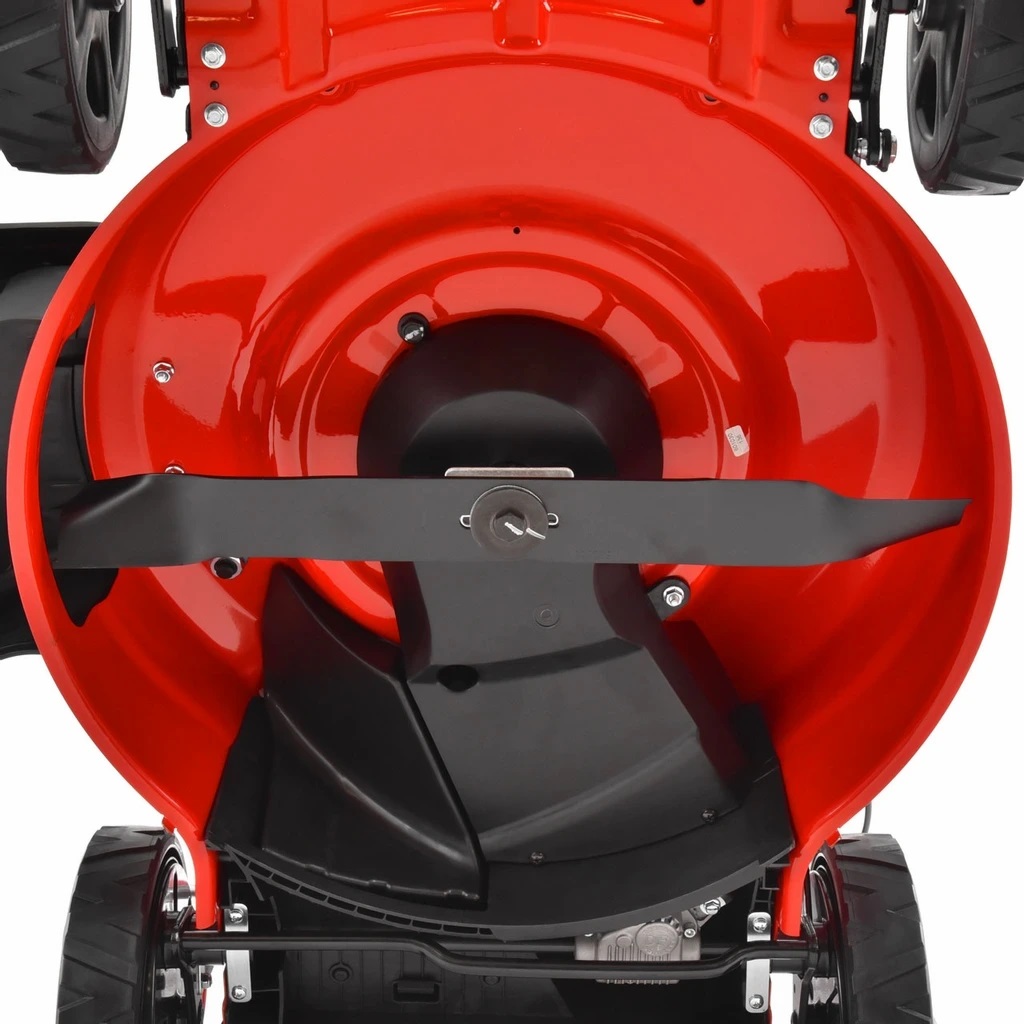 HHECHT 554 SXE 5w1 KOSIARKA SPALINOWA DO TRA
HECHT Door to Door Extended Warranty For 24 Months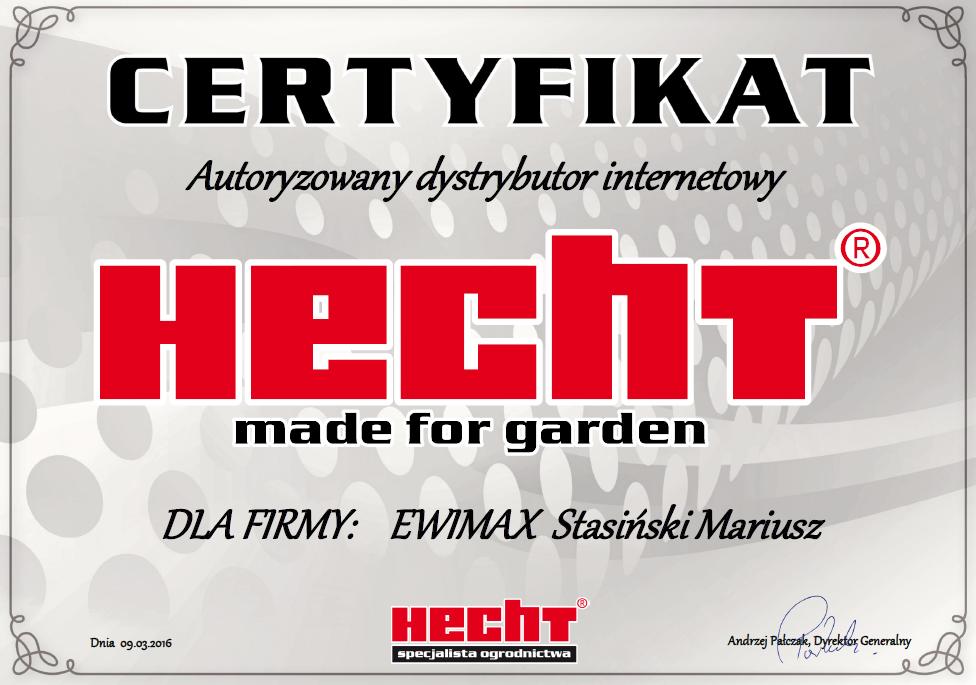 EWIMAX OFICJALNY DYSTRYBUTOR - AUTORYZOWANY DEALER HECHT
DLACZEGO WARTO KUPIĆ U NAS ?
Jesteśmy oficjalnym dystrybutorem marki HECHT 
Gwarancja
Wszystkie oferowane przez nas produkty są fabrycznie nowe i posiadają gwarancję producenta
Realizacja zamówień
Zamówienia realizujemy z pełną starannością, niezależnie od ilości przedmiotów zakupionych na naszych aukcjach płacisz tylko za jedną przesyłkę
14 dni na zwrot
Konsument posiada prawo do odstąpienia od umowy bez podania przyczyny
Narzędzia czeskiej marki HECHT wyróżnia wysoka jakość wykonania oraz rozbudowana sieć serwisów zapewniająca naprawy gwarancyjne oraz pogwarancyjne.
Gwarancja na produkty HECHT
Wszystkie oferowane przez nas produkty są fabrycznie nowe i posiadają 24 miesięczną gwarancję konsumencką producenta. Do każdego sprzedawanego urządzenia dodawany jest paragon fiskalny lub faktura VAT co jest podstawą do rozpatrzenia reklamacji.
Firma HECHT zapewnia najlepszy system gwarancyjny
Ponad to Firma HECHT zapewnia najbardziej rozbudowaną sieć autoryzowanych serwisów w całym kraju.
Infolinia serwisowa - doświadczony serwisant udzieli porady nt. konserwacji, drobnych napraw i użytkowania.
Narzędzia czeskiej marki HECHT wyróżnia wysoka jakość wykonania oraz rozbudowana sieć serwisów zapewniająca naprawy gwarancyjne oraz pogwarancyjne.
Gwarancja udzielana jest na okres:
- 24 miesięcy od daty sprzedaży -
zakup konsumencki (paragon)  
- 6 miesięcy od daty sprzedaży -
zakup komercyjny (faktura)  
- 90 dni na Silniki Briggs&Stratton: w przypadku zakupu urządzeń z silnikiem  Briggs&Stratton gwarancja na silnik wynosi 90 dni od daty sprzedaży  -  
zakup komercyjny (faktura)  
PRODUKT POCHODZI Z OFICJALNEJ DYSTRYBUCJI NA RYNEK POLSKI !
HECHT - Gwarancja udzielana przez producenta na okres 24 miesięcy. 
Warunki gwarancji

1. Okres gwarancyjny nowych produktów zakupionych na użytek konsumencki, nieprofesjonalny i niekomercyjny wynosi 24 miesiące od daty sprzedaży.

2. Na sprzęt nabywany i użytkowany w celu związanym z działalnością (zarobkową) zawodową lub gospodarczą, inaczej zakup komercyjny, udziela się gwarancji na okres 6 miesięcy.
Zakup konsumencki w rozumieniu ustawy z dnia 27 lipca 2002 r. (Dz.U.02.141.1176) jest to zakup dokonany przez osobę fizyczną, która nabywa tę rzecz w celu niezwiązanym z działalnością zawodową lub gospodarczą. Zakup dokonany przez podmiot gospodarczy lub osobę fizyczną prowadzącą działalność gospodarczą uważa się za zakup komercyjny.

3. Gwarantem na silniki Briggs & Stratton jest ich producent. Na sprzęt zakupiony na działalność gospodarczą lub zawodową udziela 3 miesięcznej gwarancji, w pozostałych przypadkach gwarancja jest udzielana na okres 2 lat.
4. Gwarancja zapewnia użytkownikowi bezpłatne usunięcie usterek zaistniałych w czasie eksploatacji sprzętu w okresie gwarancyjnym, wynikających z błędów konstrukcyjnych, ukrytych wad materiałowych, błędów wykonania lub montażu fabrycznego.

5. Prawo oceny zgłoszonego uszkodzenia mają tylko autoryzowane punkty serwisowe. Ocena odbywa się według zasad ustalonych przez producenta, jednakowych dla wszystkich użytkowników na całym świecie.

6. W przypadku uszkodzenia, użytkownik zobowiązany jest do dostarczenia kompletnego sprzętu wraz z dokumentem zakupu do autoryzowanego punktu serwisowego lub serwisu centralnego który znajduję się na stronie hechtpolska w Dziele Obsługi Reklamacji

7. Pod rygorem utraty gwarancji, niedopuszczalne jest dostarczenie do naprawy zdemontowanych elementów lub części sprzętu.

8. Użytkownik traci prawo do gwarancji w przypadku: stosowania sprzętu niezgodnie z przeznaczeniem, uszkodzeń powstałych na skutek niewłaściwej obsługi, uszkodzeń mechanicznych sprzętu i wynikających z tego konsekwencji, używania nieoryginalnych części zamiennych i niewłaściwych materiałów eksploatacyjnych, dokonywania we własnym zakresie napraw, wymiany podzespołów, dokonywania zmian konstrukcyjnych lub stwierdzenie przez autoryzowany serwis ingerencji wewnątrz sprzętu przez osoby nieuprawnione, niewłaściwego przechowywania.

9. Gwarancji nie podlegają elementy uszkodzone wskutek niewłaściwej eksploatacji lub powstałe wskutek uszkodzeń mechanicznych, takie jak: noże, piasty, koła jezdne, łańcuchy tnące, prowadnice, paski klinowe, linki rozruchowe, koła linowe, bębny sprzęgła, głowice tnące, świece zapłonowe i inne elementy robocze.

10. Naprawie gwarancyjnej nie podlegają powstałe z przyczyn leżących po stronie użytkownika: zagięcia lub pęknięcia wału korbowego powstałe w wyniku uderzenia i związane z tym konsekwencje, zerwania klina koła magnesowego, zatarcia silnika, uszkodzenia mechaniczne, uszkodzenia powstałe na skutek stosowania niesprawnych przewodów połączeniowych, zwłaszcza o niewłaściwym przekroju powodujące wytopienie styków włącznika elektrycznego.

11. W zakres gwarancji nie wchodzą takie czynności jak: montaż, konserwacja, obsługa okresowa, regulacja i czyszczenie oraz przeglądy.

12. Postępowanie gwarancyjne rozpoczyna się z chwilą dostarczenia urządzenia do autoryzowanego serwisu naprawiającego sprzęt, nie do punktu przyjęć. Wykonawca naprawy zobowiązany jest do udzielenia informacji odnośnie roszczeń gwarancyjnych w terminie 14 dni roboczych od daty otrzymania sprzętu. Wykonanie naprawy nastąpi w możliwie najkrótszym terminie (uzależnione jest to od dostaw części zamiennych, spoza terenu Polski).

13. Uprawnienia z tytułu gwarancji nie obejmują prawa kupującego do domagania się zwrotu utraconych zysków oraz poniesionych kosztów w związku z czasem naprawy sprzętu.

14. Punkt serwisowy może odmówić przyjęcia do naprawy sprzętu brudnego lub oczyścić go na koszt reklamującego.

15. Wybór sposobu usunięcia wady należy do gwaranta, który może naprawić rzecz poprzez naprawę lub wymianę uszkodzonej części lub wymianę towaru. Niezależnie od sposobu usunięcia wady, gwarancja trwa dalej, przedłużona o czas usunięcia wady przez gwaranta.

16. Gwarancja nie wyłącza, nie ogranicza, ani nie zawiesza uprawnień kupującego wynikających z przepisów o rękojmi za wady rzeczy sprzedanej.
REKLAMACJA PRODUKTU


1. Podstawa i zakres odpowiedzialności Sprzedawcy względem Klienta, jeżeli sprzedany Produkt ma wadę fizyczną lub prawną (rękojmia) są określone powszechnie obowiązującymi przepisami prawa, w szczególności w Kodeksie Cywilnym.
W przypadku wystąpienia wady zakupionego u Sprzedawcy towaru Klient ma prawo do reklamacji w oparciu o przepisy dotyczące rękojmi w kodeksie cywilnym.
2. Reklamację należy zgłosić wypełniając formularz reklamacyjny, który znajduję się na stronie hechtpolska w Dziele obsługi reklamacji oraz odesłanie produktu na adres serwisu centralnego. Reklamację można również zgłosić w jednym z naszych serwisów lub sklepów detalicznych.

adres: HECHT POLSKA Sp. z o.o.
            ul. Mickiewicza 54
            66-450 Bogdaniec
adres poczty elektronicznej: serwis@hechtpolska.pl
numer telefonu: 48/957117140 wew.3

3. Zaleca się podanie przez Klienta w opisie reklamacji:

(1) informacji i okoliczności dotyczących przedmiotu reklamacji, w szczególności rodzaju i daty wystąpienia wady;
(2) żądania sposobu doprowadzenia Produktu do zgodności z Umową Sprzedaży lub oświadczenia o obniżeniu ceny albo odstąpieniu od Umowy Sprzedaży;
(3) danych kontaktowych składającego reklamację – ułatwi to i przyspieszy rozpatrzenie reklamacji przez Sprzedawcę. Wymogi podane w zdaniu poprzednim mają formę jedynie zalecenia i nie wpływają na skuteczność reklamacji złożonych z pominięciem zalecanego opisu reklamacji.
4. Sprzedawca ustosunkuje się do reklamacji Klienta niezwłocznie, nie później niż w terminie 14 dni kalendarzowych od dnia fizycznego przyjęcia urządzenia na serwisie. Brak ustosunkowania się Sprzedawcy w powyższym terminie oznacza, że Sprzedawca uznał reklamację za uzasadnioną.
5. W przypadku, gdy do ustosunkowania się przez Sprzedawcę do reklamacji Klienta lub do wykonania uprawnień Klienta wynikających z rękojmi niezbędne będzie dostarczenie Produktu do Sprzedawcy, Klient zostanie poproszony przez Sprzedawcę o dostarczenie Produktu na wskazany adres.
6. Prośba o dostarczenie Produktu, o której mowa w pkt. 5 Regulaminu nie ma wpływu na bieg terminu na ustosunkowanie się Sprzedawcy do reklamacji Klienta, o którym mowa w pkt. 5 Regulaminu oraz nie narusza prawa Klienta żądania od Sprzedawcy demontażu wadliwego Produktu i ponownego zamontowania Produktu po dokonaniu wymiany na wolny od wad lub usunięciu wady, o którym mowa w art. 561[1] Kodeksu cywilnego.